Homs: Distribution of subsidized diesel oil limited to five stations, disrupted by Way-in app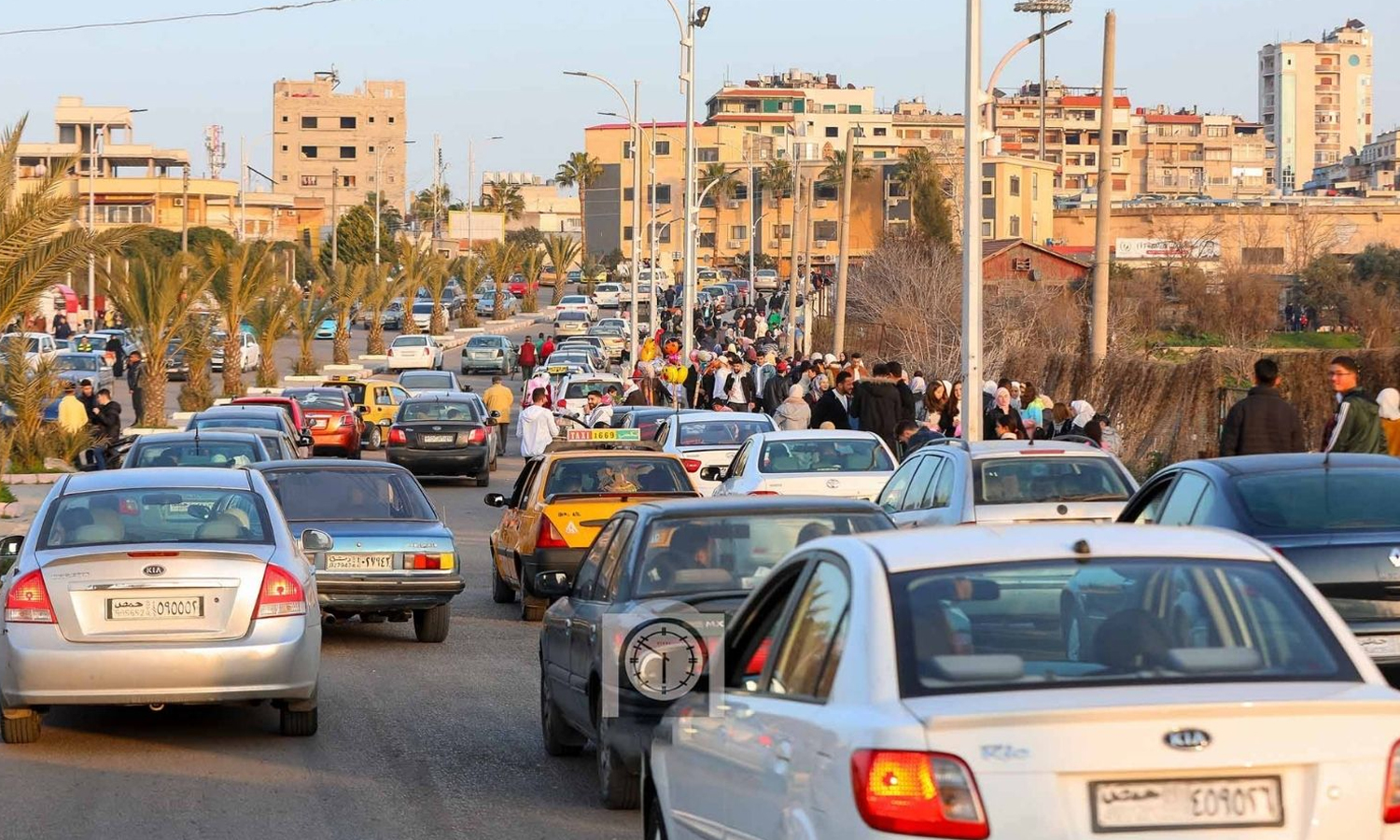 Enab Baladi – Homs
Mahmoud, 32, places three 150-liter diesel oil containers on his motorbike in preparation to head to the nearest station that sells unsubsidized diesel, 37 kilometers from the village of al-Zafarana in the northern countryside of Homs governorate.
Mahmoud, whose full name Enab Baladi withheld for security reasons, makes a living from filling up and transporting plastic containers filled with unsubsidized diesel oil. 
"I charge 10,000 Syrian pounds (3 USD) from every smart-card holder. There are only four fuel stations in Homs that sell diesel oil at an unsubsidized price. So people bring me their family smart cards to receive their allocations through me, and I only transport three cards' allocations at a time," Mahmoud explained to Enab Baladi.  
After the Syrian regime's government finished distributing the first batch of diesel oil used for heating, it opened the door for residents in its areas to register for the second batch, in conjunction with the launch of a new service; distributing an additional 50 liters at cost price per every family card.
On 20 January, the Ministry of Oil and Mineral Resources published on its Facebook account that those wishing to purchase 50 liters of diesel oil under the family card's cost price can do so from stations designed to sell unsubsidized diesel oil in all governorates starting from the date of the publication of this announcement.  
Although more than 20 days have passed since the Ministry announced the start of the distribution of subsidized and cost-priced diesel oil allocations, only a small group of Homs residents received a message informing them of their shares after they were the first to register in the Way-in software application owned by Takamol company, that runs the distribution process. 
The "smart card" project, implemented by Takamol company since August 2018, was adopted to distribute allocations of petrol for vehicles, heating diesel oil, and cooking gas. It also aimed to provide basic foodstuffs to households at reduced prices and set monthly allocations to Syrian families from these materials for "rationalization of consumption of allocations."
Only five stations
The Syrian Ministry of Oil and Mineral Resources has designated only five fuel stations to sell subsidized diesel oil in Homs governorate, four of which on the city's four entrances and one in the village of al-Mashrafa, about 40 kilometers east of the governorate.
The limited number of fuel stations has prevented most residents of the governorate's remote rural areas and at the center from purchasing diesel oil at the cost price because they had to bear high transportation costs.   
Samer, 51, a resident of Palmyra city in the eastern countryside of Homs, told Enab Baladi that the nearest station selling unsubsidized diesel oil is more than 100 kilometers away from the city. The transportation cost to travel this distance is over 60,000 Syrian pounds (15 USD), making diesel oil sold on the black market cheaper than that sold at the cost price under the family smart card system.
The price of a liter of diesel oil on the black market is 2500 Syrian pounds (70 US cents), while fuel stations sell it at the cost price of 1,700 Syrian pounds per liter (50 US cents). Citizens can save 40,000 Syrian pounds (11 USD) by obtaining their allocations of 50 liters of subsidized diesel oil. 
However, the fact that stations selling cost-priced diesel oil are located outside the city has denied Homs residents saving money, owing to taxis' high costs.
Mounira, 36, a resident of al-Bayyada neighborhood in Homs governorate, told Enab Baladi, "The minimum cost for a taxi ride to obtain subsidized diesel oil is 20,000 Syrian pounds (about 6 USD). All fuel stations selling state-supported diesel oil are located outside the governorate, and it is difficult to share the taxi with another family, as the two families must receive a message on the same day, which is hardly likely to happen. The taxi ride is costing us half of the amount saved to reach the station at the defined date."   
Meanwhile, residents of villages and towns near the city entrances are close to subsidized diesel oil selling stations and can obtain their allocations at the cost price. 
The first batch
The Syrian government finished distributing the first batch of subsidized diesel oil to citizens and opened registration for the second batch. Nevertheless, only a limited number of people were able to obtain their second batch allocations.
The delay in registration via the Way-in app, which almost completely stopped working when registration started for the second batch of subsidized diesel oil, made most families in Homs governorate unable to access the app or register their application.
if you think the article contain wrong information or you have additional details Send Correction