Zeinab Masri | Saleh Malas | Diana Rahima
Khawla, 45, could never have imagined that her twenty-four-year-old son, Hussein, would lose the ability to lead a normal life; however, what happened in August 2017 turned both of their lives into a tragedy that continues to this day. 
On that fateful date, Hussein was hit by shrapnel from airstrikes by the International Coalition Forces (ICF) on Raqqa city in northeast Syria during battles against the Islamic State (IS) groups. 
The shrapnel set in Hussein's head and penetrated the brain tissue, causing chronic complications, Khawla told Enab Baladi on the condition of anonymity for security reasons.
Hussein was then twenty years old, she added.
In 2014, the Islamic State of Iraq and Syria (ISIS) started to impose its control over large areas in northeast Syria, and its black banners were seen everywhere there. ISIS faced limited resistance on its way to control Raqqa, but the intensive airstrikes by the US-led ICF have cracked down on IS hideouts through a series of military battles inside heavily populated cities.  
The population density in Raqqa city was a key factor in complicating military operations against IS, as this required greater efforts to preserve civilian lives and avoid civilian casualties.
However, the ICF's airstrikes in Syria were far from cautious and led to the killing of hundreds of civilians without any compensation to local communities affected by those strikes.
In this in-depth article, Enab Baladi discusses reasons pushing the United States to wash its hands of responsibility for civilian casualties of its airstrikes in Syria since launching a campaign to expel IS from the northeastern region to this day. 
Enab Baladi also talks with Syrian legal specialists about the necessity for US legal compensation programs for the victims of ICF bombing in Syria, as part of extensive infrastructure rehabilitation programs in the region, and the mechanism for providing such compensation.
Human pains on the sidelines of IS battles
When Hussein sustained the brain injury, his family rushed him to the Raqqa National Hospital, which was still operating with little capacity at the time because of the siege imposed on the city by the Syrian Democratic Forces (SDF).
The surgical intervention carried out in the hospital with simple capabilities led to removing the shrapnel from Hussein's brain; however, the operation's complications left the young man disabled and with severe brain atrophy. 
"Death is more merciful than this endless suffering," Khawla said, adding, "Death is part of life; it will affect all of us, but illness brings humiliation. It is killing me inside to watch my son suffer every day."
Hussain's family did not want to leave Raqqa city during military battles against IS and decided to stay at their house in the Rumaila neighborhood in Raqqa's northeastern countryside. 
Hussein has lost the ability to move his legs due to neurological damage and developed cognitive problems and severe tendon cramps.  
Khawla did not receive any compensation from any actors in northeast Syria, despite raising several complaints and appeals to civil society organizations operating in Raqqa city. 
Khawla is working with two of her daughters in embroidering clothes to provide for her son's medical needs of medications, supplements, and anti-seizure or cramp drugs, in addition to essential daily personal hygiene requirements, mainly adult diapers, amid rising prices and overall deteriorating living conditions.    
Back when Hussein sustained his injury, the then spokesperson for the ICF, Ryan Dillon, said that the ICF had intensified its bombing of Raqqa city, carrying out over 250 airstrikes during August 2017.
On 23 August 2017, France 24 published that battles between the ICF-supported SDF and IS were concentrated in the old city of Raqqa and the al-Dariyah and al-Barid neighborhoods to the west of the city, and the environs of the city center to the southern side.  
In 2018, Amnesty International issued a report saying, "The US-led Coalition's ongoing failure to admit to, let alone adequately investigate, the shocking scale of civilian deaths and destruction it caused in Raqqa is a slap in the face for survivors trying to rebuild their lives and their city."
The report added that "Winning the battle came at a terrible price, with almost 80 percent of the city destroyed and many hundreds of civilians dead, the majority of which killed by the Coalition's bombardment."
The organization mentioned that it was able to ascertain the names of 641 victims.
A report by the Human Rights Watch (HRW) issued in 2019 said that "The coalition has not thoroughly investigated the attacks that killed civilians or created a program for compensation, 'condolence' (or ex gratia) payments, or other assistance to civilians who suffered harm from coalition operations."
The report added, "The US Defense Department has attributed the lack of such payments to 'practical limitations' and 'limited US presence,' which reduces the situational awareness required to make ex gratia payments."
The report cited Lama Fakih, the deputy Middle East director at Human Rights Watch, saying, "While active fighting against ISIS may be over, civilians harmed by coalition strikes are still suffering. The Coalition should extend the payments made in January to civilians harmed in other actions in Syria."
According to the report, "The Coalition apparently provided approximately 80,000 USD to victims of a January 2019 attack that killed 11 civilians, including four children from the same family. However, Human Rights Watch investigations into four apparently unlawful coalition airstrikes in al-Hasakah governorate in 2017-2018, which killed 63 civilians and damaged and destroyed property, resulted in no compensation or payments to victims."
Yassin (aged 35) was also affected by the ICF's airstrikes on Raqqa city in September 2017, as he lost his brother at one of the strikes that hit their house in the al-Fardous neighborhood in central Raqqa city. 
"My brother left behind a wife and three children, whom I now responsible for their financial needs," Yassin told Enab Baladi.
Unfortunately, Yassin (works in the vegetable trading business) faces great difficulty securing all of the children's requirements, "which are increasing as they get older." 
Yassin, whose full name was withheld by Enab Baladi for security concerns, did not receive any compensation for the killing of his brother. He called for preparing a list for those harmed by the Coalition strikes on Raqqa city during IS' control period over Raqqa, to be compensated by the Coalition's points stationed in the region to date.   
The impact of the ICF's battles against IS were not limited to the city of Raqqa, as it was extended to other cities, including al-Tabqa city in the western countryside of Raqqa, Manbij in Aleppo's eastern countryside, Hajeen and al-Baghouz town in Deir Ezzor's eastern countryside.  
In the absence of serious efforts by ICF to investigate the effects of the Raqqa military campaign on civilians, Syrian and international human rights organizations continue to collect more evidence on the broader patterns of casualties among civilians in the city of Raqqa and other cities in northeast Syria.
Accountability instruments at the hands of those affected
CENTCOM refuses to acknowledge compensation duty to harmed civilians 
Recently, there has been intense coverage by US media about the US Defense Department (Pentagon)'s concealment of information and documents relating to civilian casualties from US strikes on sites and targets in Syria, claiming that it withheld the actual numbers of civilian victims and refused to admit responsibility seven years ago to this date.  
The strong media coverage has led to a lawsuit against the Pentagon to force it to publish documents relating to civilian casualties caused by a US airstrike in northern Syria in 2019.
In the latest drone strike targeting a senior al-Qaeda leader and planner near Idlib city in northern Syria on 3 December, the US Central Command (CENTCOM) indicated that "initial review of the strike indicated the potential for possible civilian casualties."
In a statement on the day following the drone strike, CENTCOM spokesperson Bill Urban said that the Central Command takes all possible measures "to prevent civilian casualties."
Nevertheless, a report by the US newspaper The New York Times published on 18 December said that CENTCOM has concealed information on the number of civilian casualties resulting from its airstrikes in Syria, Iraq, and Afghanistan over the past years.
According to the report, the US Defense Department did not publish its estimates for possible civilian casualties only in a few cases. Furthermore, the internal procedures did not involve any changes in preparation for future strikes, only in rare incidents, and have never led to disciplinary action against military personnel. 
The CENTCOM recommended full investigations only in fewer than 12 percent of the credible cases of airstrikes in which civilians were killed, and those investigations were often based on incorrect or incomplete evidence and were regularly dismissed, according to the report.
A previous report by The New York Times published on 13 November revealed that the US hid a 2019 airstrike in Syria that killed dozens of civilians during the ICF's war against IS in al-Baghouz town in eastern Syria. 
The report pointed out that "The death toll was almost immediately apparent to military officials and a legal officer flagged the strike as a possible war crime that required an investigation." 
However, "The US military made moves that concealed the catastrophic strike. The death toll was downplayed. Reports were delayed, sanitized, and classified. United States-led coalition forces bulldozed the blast site. And top leaders were not notified," the report added.
A lawsuit against the Pentagon
The US Defense Department (Pentagon) faces a lawsuit and accusations of hiding information on civilian deaths in Syria caused by US airstrikes against IS.
On 8 December, the US National Public Radio (NPR) filed a lawsuit against the Pentagon in the US District Court for the Southern District of New York for "failing to comply with its legal obligation to provide documents or respond in a timely manner" to its requests to release documents regarding possible civilian casualties during the October 2019 military raid in northern Syria that resulted in the Death of IS leader Abu Bakr al-Baghdadi.
"The US Central Command has a documented history of overlooking civilian deaths and injuries until challenged by the media," the NPR's lawsuit read.
It added, "The records sought in this request, which pertain to yet another airstrike where CENTCOM may have undercounted civilian deaths, are of vital public importance."
According to NPR, the release of hidden records could shed light on the circumstances of the attack and whether the Pentagon covered up evidence of civilian casualties or failed to thoroughly investigate the claims.
Evidence gathering requires matching information  
Syrian human rights defender and co-founder and executive director of Syrians for Truth and Justice (STJ) organization, Bassam al-Ahmad, told Enab Baladi that the United States is hiding information and documents on civilian casualties from its military airstrikes in Syria to evade responsibility for these civilian deaths. 
The Pentagon does not have information on all civilians killed by US airstrikes, as this requires field investigation and gathering information from local and international organizations and interviewing witnesses, al-Ahmad said.
Sometimes civilian casualties caused by US airstrikes in Syria were attributed to inaccurate intelligence on military targets, he added.
Flawed intelligence causes civilian targeting, and sometimes a strike may be directed at a military target adjacent to a building, house, or site with civilians in it, resulting in "collateral damage."
Al-Ahmad added that international laws require armed conflict attacks against legitimate military targets to guarantee a definite military advantage far greater than collateral damages.
The international law has also established legal principles to prevent further indiscriminate attacks and protect civilians, most notably the principle of proportionality between the military advantage gained from a direct attack and the anticipated damage and its impact on civilians.
Can those responsible for civilian casualties be held accountable?
On 12 December, a report by The New York Times revealed that a top-secret US strike cell code-named "Talon Anvil," which operated informally and without orders from the CENTCOM, fought IS in Syria and killed many civilians.
The newspaper quoted people who had worked with the cell as saying that it had circumvented rules imposed to protect non-combatants and alarmed its partners in the military and the Central Intelligence Agency (CIA) by killing people who had no role in the conflict: farmers trying to harvest, children in streets, families fleeing fighting, and villagers sheltering in buildings.   
On the possibility of holding members of this cell accountable for killing Syrian civilians, al-Ahmad said that first, there must be an investigation to find out whether this strike cell has violated international legal principles in armed conflicts, such as the principles of distinction, proportionality, military necessity, and unnecessary suffering.
He added, in the Talon Anvil case, the US government is responsible for civilian casualties in Syria, even if the cell did not take orders from the CENTCOM, given that it is an American combat unit. Moreover, if the Pentagon did not send the cell, it could be sent by the CIA, an entity affiliated with the US government; thus, the liability lies on the US.
Al-Ahmad noted that IS used civilians in Raqqa as human shields and its militants entrenched in civilian sites, and as attacking forces are responsible in cases of civilian casualties, targeted forces should not take shelter in civilian locations.
Other French or British combat units could be involved in the strikes, in which case the responsibility for the attacks would be on the ICF and the country involved in the attack, so it is necessary to track and find out who is liable for the strikes for prosecution and compensation.
Al-Ahmad called on families affected by US military attacks in Syria to organize themselves to pressure the US government to establish a compensation program, not only for civilian deaths but also for damage, destruction of homes, and injuries.
He also recommended hiring lawyers in the US or authorizing organizations and companies to claim restitution, including the US-based Syrian Justice and Accountability Center (SJAC).
Al-Ahmad noted that media pressure and actions by human rights organizations could play a vital role in the demand for accountability and compensation; however, the pressure coming from affected families can force investigations and compensation. 
Many think that the International Coalition that has fought IS in Syria has committed repeated violations and left civilian casualties, injuries, damages, and destruction to basic infrastructure, for which neither the US nor the international community can turn their back to or prevent organizations from investigating them.
Enab Baladi conducted an opinion poll on its official website, in which 51 percent of the 212 participants said that the United States refrain from publishing information on the number of civilian casualties caused by its airstrikes in Syria because it does not want to admit responsibility, while the remaining 49 percent believe that the United States is doing so to escape compensation for those affected.
In Syria, civilian protection is on paper only
International principles to protect civilians in armed conflicts
The International Humanitarian Law (IHL) aims to protect civilian non-combatants in armed conflicts and limits the right of parties to the conflict to use military force for the protection of civilian property, which is not directly linked to military operations.
IHL also entails maximum protection to individuals in armed conflicts, and its rules are binding on both States and members of armed forces, but there are many violations of these rules on the pretext of "military necessity."
Four basic principles
There are four principles under the IHL or the Law of Armed Conflict (LOAC):
Military Necessity: Any urgent or exceptional circumstances that leave insufficient time for conflicting parties to ponder warfare instruments to make split-second military decisions instead. 
Parties to an armed conflict must maintain a balance between military necessity and humanitarian imperatives.
Military necessity helps achieve legitimate military gains that can only be attained through unusual military action, but any damage to civilians or their property outside the frame of military necessity is considered a violation.
Moreover, military necessity is not to be taken as a reason to allow crimes against humanity, war crimes, or crimes of genocide. 
Proportionality: The loss of life and damage to property incidental to attacks must not be excessive in relation to the concrete and direct military advantage expected to be gained.
This means that when considering a target, the damage to civilians and their property cannot be excessive in relation to the military advantage gained.
Proportionality is not a requirement if the target is purely military, but it brings with it an obligation to conflicting parties to consider all options when making targeting decisions: verify the target, timing (is there a time when fewer civilians will be around?), weapons used, warnings, and evacuations for civilian populations.
This principle is viewed as a means to reduce damage caused by military operations by selecting weapons suitable for a military operation.
Distinction: In order to ensure respect for and protection of the civilian population and civilian objects, the parties to the conflict shall at all times distinguish between the civilian population and combatants and between civilian objects and military objectives and accordingly shall direct their operations only against military objectives.
Unnecessary Suffering: This principle restricts the parties to the conflict's right to employ weapons, projectiles, and materials, and methods of warfare of a nature to cause superfluous injury or unnecessary suffering.
Proposed compensation mechanisms
How can affected civilians receive compensation?
In recent years, the United States and its European allies have reduced the number of ground forces deployed outside their territories during wars on "terrorism," turning instead to airstrikes, while their local partners continued to perform land-based military operations.
The increasing reliance on air war made attackers' identities almost anonymous and made it impossible for affected civilians to receive compensation for collateral damage. 
In 2007, the US paid at least 32 million USD in compensation to civilians harmed in Iraq and Afghanistan, while the United Kingdom paid over £20 million to cover compensation claims against the British army in Iraq during the period between 2003 and 2009. 
The modest compensatory flows stopped as the number of ground troops in war zones declined.
The US compensation program for civilians harmed in Iraq and Afghanistan is based on classifying cases of collateral damage, providing a letter of apology to victims' relatives besides nominal condolence payments way less than the amounts requested by the US as compensation for US citizens killed by foreign parties.
The main aim of such compensation is to acknowledge wrongdoing and civilian casualties.  
The US-offered compensation is also intended to help affected families move forward, particularly in cases of victims who were sole breadwinners to their families and children.
SJAC proposes a US Amends Program to cover civilian damage in northeast Syria
At a time when Syrian political and human rights entities have failed to demand compensation for civilians affected by US airstrikes in Syria, the Syria Justice and Accountability Center (SJAC) has called for the establishment of a US Amends Program to compensate families of civilians harmed by military attacks in northeast Syria, as part of broad infrastructure repair programs in the region.
A research paper by the SJAC called on the US to support local communities affected by the ICF's airstrikes and demanded it to provide targeted financial compensation whenever possible, the Executive Director of the SJAC, Mohammad al-Abdullah, told Enab Baladi.  
Affected civilians unqualified for compensation payments due to lack of official documents related to war incidents or because of emotional distress impeding them from receiving remedies following the loss of loved ones, can still obtain compensation on the local level; that is receiving amends for being residents of regions damaged by the ICF's bombing. 
According to the paper, Syrians who were injured by or lost family members to ICF's actions should be provided ex gratia payments, including both monetary compensation as well as official apologies.
An ex gratia program is feasible and appropriate considering the legacy of civilian casualties caused by US military action in northeast Syria, the paper added.
Reparation can be in several forms besides monetary compensations
Reparation programs should not be limited to apology letters and monetary compensations, as there are cases of permanent and lifelong disabilities that cannot be addressed in northeast Syria. In such cases, affected persons must be granted a visa to enter the United States and get treated at the expense of the US government, al-Abdullah said.
Affected civilians can also be compensated through a collective reparation program to fund the reconstruction of the Raqqa's Children Hospital, which was turned into a military outpost for IS and then was bombed by US airstrikes. In addition, the new specialized hospital should be equipped with advanced and modern technology to compensate locals. 
The rehabilitation of bridges and roads destroyed by ICF's airstrikes (to prevent IS from transporting equipment and weapons) also alleviates some of the hardships faced by locals who complained about damaged roads by previous bombing operations, which disrupted public movement and made roads unfit for transport or passage.
The US contribution to mine clearance efforts in northeast Syria would help locals overcome many of the problems left by IS in the region.
Starting investigations to find the kidnapped and disappeared by IS in northeast Syria
When IS entered Northeast Syria, those who stood up against the group were kidnapped and disappeared. Families of the missing and kidnapped hoped that information would come to light after the US and its allies defeated the terrorist group in March 2019. However, information remains extremely difficult to collect, including for the 12,000 families who have reported missing persons to the local First Responders Team, according to the SJAC's research paper.
The paper called on the US to open an investigation and review evidence of IS crimes collected by the US and the Syrian Democratic Forces (SDF).
It also demanded the US to facilitate the interrogation and questioning of detained IS fighters in northeast Syria.
The Pentagon thwarted compensation programs in Syria
US funds allocated to Iraq and Afghanistan are included in a program linked to current US operations in Syria called the Commander's Emergency Response Program (CERP).
The US Congress authorized the US Defense Department (Pentagon) to make condolence payments to the families of civilians killed or injured by US airstrikes in Syria in December 2016 under the National Defense Authorization Act (NDAA), but the Pentagon did not activate the payments. 
According to al-Abdullah, the US Defense Department claims that the US military deployment on the ground in northeastern Syria is too limited to verify such cases directly, unlike the situation in Iraq and Afghanistan. In these two countries, the US troops were deployed on the ground not far away from people and did not fear revenge acts by civilians.
Compensation programs are usually carried out directly and during military operations, not after the end of wars. Such programs' political or strategic objective is to prevent families of civilian victims from becoming enemies and combatants against the US forces.
The US Defense Department has developed an apology and compensation policy for military operations outside the United States, but the key point in this policy is the 90 days following incidents for investigation and compensation. As a result, Syria became automatically excluded from compensations due to the passage of over four years in some cases. 
Where do the Syrian community and organizations in the US stand on the compensation case? 
US organizations should play a greater role in the quest for restitution, according to the Washington-based political activist Mohammad Ghanem, who added that assuming such a role is not easy as it requires political lobbying and pushing forward the political process on Syria in Washington with substantial money and effort.
According to Ghanem, the practical obstacles to compensation should not prevent the political opposition claiming to represent the Syrian people from actually making moves in the way of demanding compensation.
He added, since incidents of civilian deaths by the ICF were first reported, these entities failed to submit any requests to the US government, even during meetings with US officials, keeping such topics off meetings' agendas, as if they never happened.
While US media continue to publish reports on US responsibility for civilian damage during its wars, the Syrian opposition takes a silent and shameful position, Ghanem said, adding that the opposition has to raise its voice and express objection against the US lack of response in the compensation issue, whether in official meetings or by releasing statements.
As for al-Abdullah, he said that the Syrian community in Washington had limited its role and activities to the political side within the framework of "lobbying" or practicing political pressure.
Al-Abdullah added that it is a shame that the Syrian community in the US achieved so little in that field, with the exception of the Caesar Act, which was essentially the product of the US Congress, while human rights files remain of no priority for the Syrian-American community.
The Syrian Justice and Accountability Center (SJAC)'s focus on the issue of claiming compensation for Syrian victims by US airstrikes comes from the fact that it is both a human rights file and a just cause to demand amends for affected civilians.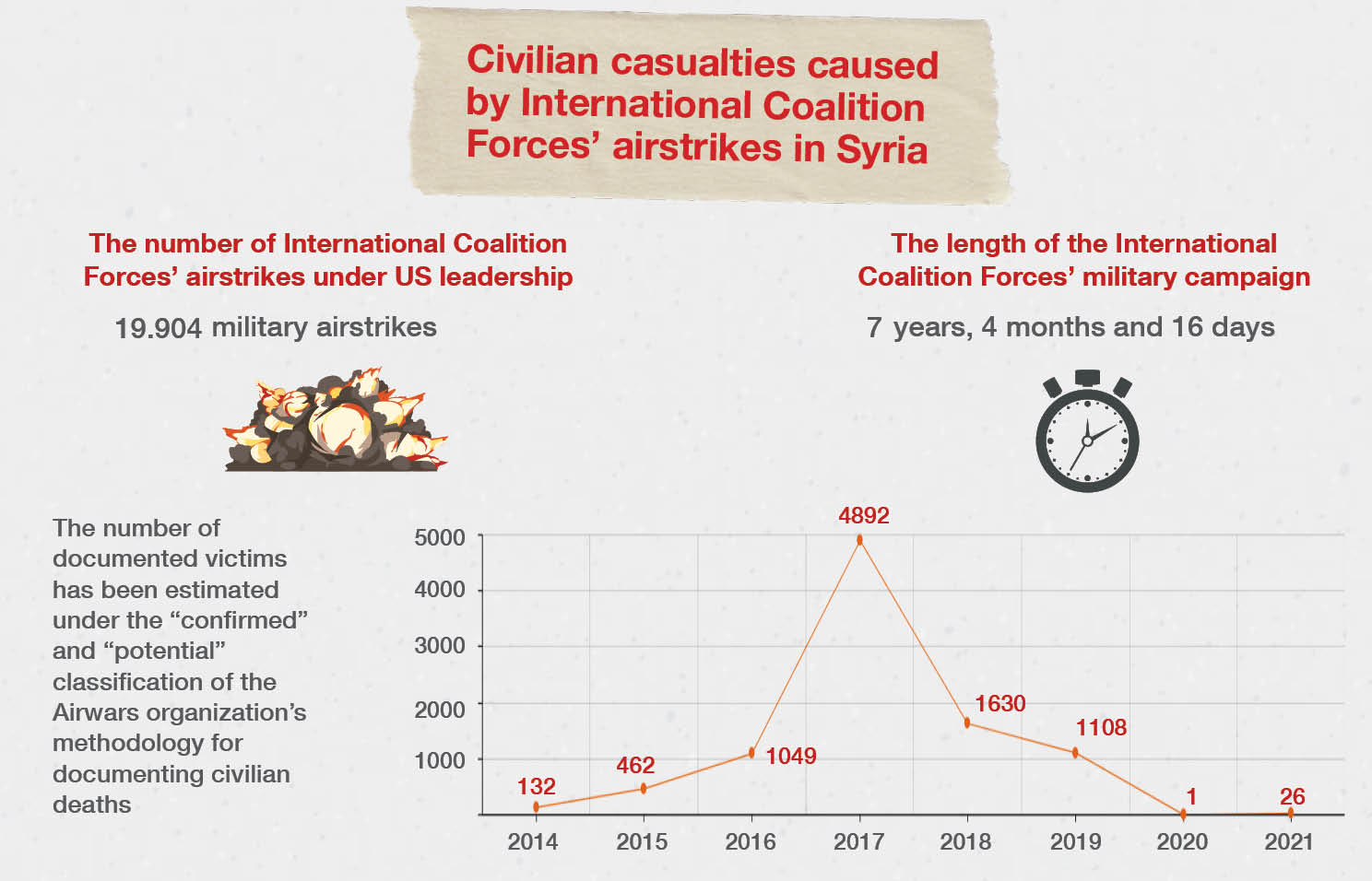 if you think the article contain wrong information or you have additional details Send Correction