Infant formula so expensive families in Idlib are searching for alternatives threatening children's health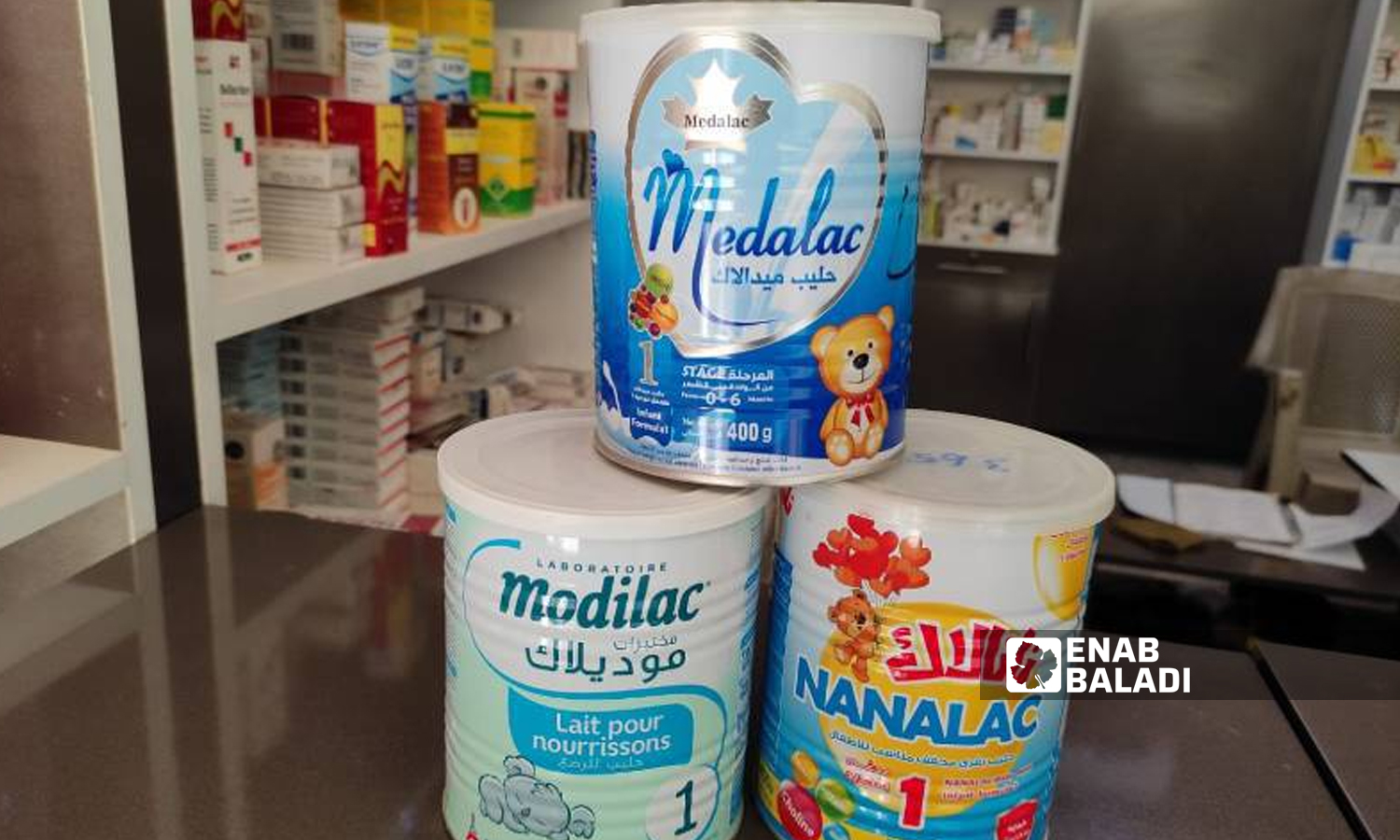 Idlib – Hadia Mansour
Thirty-eight-year-old mother Salma al-Sabbagh has to endure the painful and recurring crying of her four-month-old baby, Sohaib, since his father failed to provide him baby formula, which price hiked lately, making it unaffordable.  
Al-Sabbagh told Enab Baladi that her family's dire financial situation had deprived her infant of his most basic right to food and milk after baby formula prices rose dramatically from 40 to 75 Turkish liras in Idlib city, due to the Turkish lira's unprecedented depreciation against the US dollar. 
At the end of November, the Turkish lira hit a record low against hard currencies, as it dropped to 13 TL against the US dollar on 23 November. 
The Turkish lira's slump in value against the US dollar has impacted the already struggling economy and daily-paid workers in northwestern Syria, who are paid low wages in the Turkish lira amid a massive increase in commodity prices. 
Al-Sabbagh said that her baby consumes a can of infant formula every two days; however, her husband gets paid a daily small amount, barely enough to buy bread for their four children. This unfortunate situation has driven her to search for an alternative to baby formula. 
Al-Sabbagh started melting starch in water and heating it until the mixture becomes ready to be filled in her baby's milk bottle. 
The absence of baby formula and the resort to alternative food resources for infants have risked digestive problems and malnutrition among the region's babies.  
According to the World Health Organization (WHO), undernutrition is estimated to be associated with 2.7 million child deaths annually or 45 percent of all child deaths worldwide, as many infants do not receive optimal nutrition.
Finding alternatives to baby formula 
The selling of the monthly aid basket is no longer helping Mariam Hajj Hamido (aged 32) and her family in covering their basic needs, including her five-month baby girl Sally's formula milk. 
The high price of baby formula has made Hamido's husband unable to buy it amid poverty and lack of jobs.   
Hamido resorted to other options to feed her baby by cooking rice with water after grinding it. At first, the baby refused to eat the rice porridge but then started eating it because of hunger. 
The destitute woman told Enab Baladi that she realizes rice porridge can never replace formula milk, nor can it give the same nutritional value; however, it remains better than starving her infant under the current circumstances.  
Hamido wondered about the lack of action taken by concerned civil society organizations in providing displacement camps with baby formula despite its crucial importance to infants' lives.
Syrian children at risk from poor nutrition
Pharmacies of Idlib city import baby formula from Turkey or European countries in the US dollar. This fact, according to pharmacist Mohammed al-Bakour, is the main reason for this commodity's soaring price, adding that the entire northwestern region has no factories to produce formula milk. 
Although locals managed to find a replacement to baby formula, this replacement is unhealthy for infants in terms of low nutrients and vitamins and diseases it could cause to their digestive and immune systems, al-Bakour said.
Only breast or formula milk can provide babies with sufficient nutrients necessary for infants between the age of a day and six months, as in this age group, a baby's stomach is still not ready to digest food substances including starch, water, sugar, rice, and even cow and goat milk, al-Bakour added.    
Formula milk is usually made from cows' milk treated with vitamins and nutrients to make it more suitable for babies.
Most infants can handle cows' milk with no digestive issues, but babies who cannot tolerate the protein found in cows' milk need other kinds of baby milk.  
Al-Bakour stressed that the lack of nutrients in baby milk impacts infants' well-being, who become vulnerable to several diseases, mainly malnutrition, rickets, impaired development, brain atrophy, osteoporosis, thyroid gland swelling, and anemia.
The rise in formula milk prices, which coincided with the poverty of a large segment of civilians, made malnutrition one of the most common diseases among children in the region, owing to the lack of healthy food in sufficient quantities, in addition to poor health care services.
There are 6.8 million children in need of humanitarian assistance in all Syrian regions, while 2.5 million children live in hard-to-reach areas, according to a United Nations International Children's Emergency Fund (UNICEF) report released on 18 November.
Another report by the REACH Initiative mentioned that the number of internally displaced households in immediate need of humanitarian assistance in northwestern Syria is huge, where 35 percent of displaced families suffer food insecurity, and 83 percent of key staples are sold in the Turkish lira.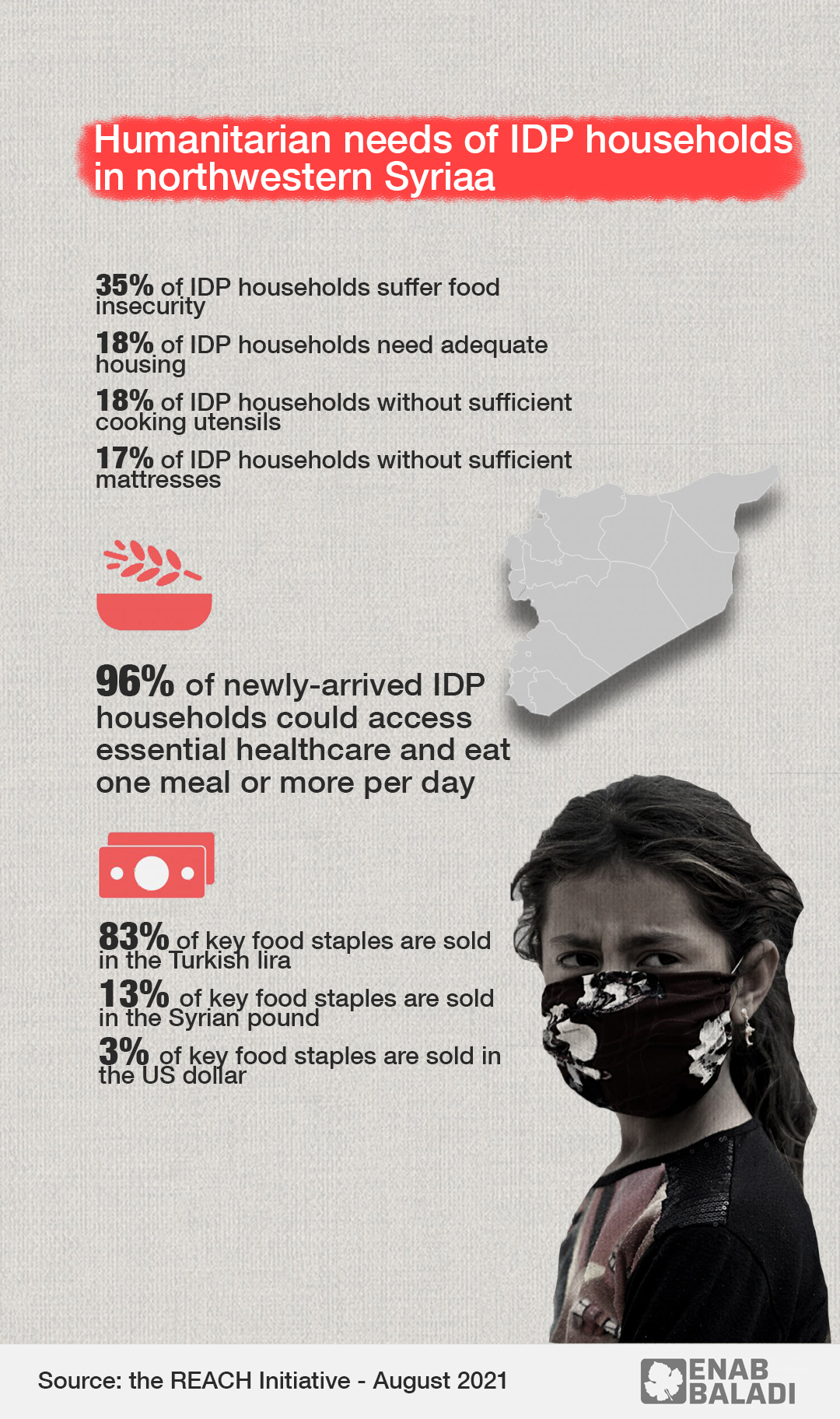 if you think the article contain wrong information or you have additional details Send Correction