In northwestern Syria, devastating conflict leaves a toxic environmental legacy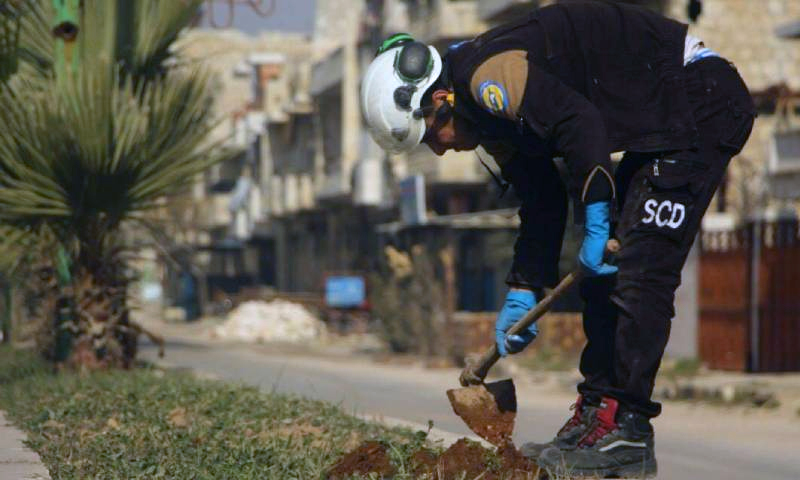 The continuance shelling on the al-Ghab Plain area in northern Hama governorate has affected many agricultural lands completely or partially. 
Thirty-five-year-old Mosab al-Yassin is one of the landowners affected by the shelling on the al-Ghab Plain area, with nearly 30 dunums damaged, including lands planted with fruit trees.
Al-Yassin usually plants tomato, wheat, and apple crops to make a living for his family of ten members.  
However, the continued bombardment of areas in northwestern Syria, including the al-Ghab Plain, subjects the residents of these areas to life-threatening risks, accidents, and constant pressure. It also threatens security, as locals live amid a full-fledged armed conflict that continues to affect living conditions, destroys the environment, and impacts the climate.
Randa al-Saghir, the coordinator of the awareness program at the SCD, told Enab Baladi that environmental issues in areas of armed conflicts should not be addressed with effective humanitarian assistance only but also with awareness-raising efforts to draw the attention of all society segments to the link between climate change and security, an issue that usually receivers a relatively limited interest.        
To this end, the SCD launched a reforestation initiative in the northwestern region, which lasted for several days last November. The initiative aimed to raise locals' awareness of the importance of the environment and the climate, the "indirect victims of wars," to preserve a rich and healthy life.  
While climate change is a world problem, challenges associated with environmental and climate issues are bigger and more complex in conflict zones, including Syria, where social, security and economic circumstances significantly affect the region's environment. These factors are mostly related to the ongoing armed conflict and are not an outcome of natural phenomena.     
In certain circumstances, the environmental damage caused by a persistent armed conflict can contribute to climate change, requiring the protection of the natural environment by relevant organizations operating in conflict regions through organizing events and activities to raise community awareness about such risks.
Economic and livelihood losses
Al-Yassin told Enab Baladi, "the Syrian regime's bombing has damaged many orchards of olive, pomegranates, and pistachio trees and destroyed a significant part of the infrastructure of several farmers. 
He added that the blaze of incendiary shells significantly impacts fruit trees during their growing process, threatening the productivity of farmlands and subjecting crops to diseases.
Moreover, damaged crops cannot be sold to merchants, depriving farmers of the possibility of making money or enhancing their living conditions. 
Part of arable lands in northwestern Syria is uncultivated for being close to conflict zones, particularly in the Jabal al-Zawiya area to the south of Idlib and the al-Ghab Plain area, where many civilians were killed, and others were injured while planting their lands or preparing them for plantation.
The agricultural land area in the opposition areas of northwestern Syria is estimated at 1,500 square kilometers, according to statistics by the Nors Center for Studies and Research.
Awareness-raising efforts by the SCD
During the past period, the debate on climate change, an issue that used to be discussed only by those interested in environmental protection, has expanded to include a broader segment of society and became viewed as a matter of security at the national and international levels.
Last November, the COP 26 United Nations Climate Change Conference was held in Glasgow, the United Kingdom, with the participation of over 197 countries to address this grave issue under the Paris International Climate Agreement. 
Nevertheless, international laws on protecting the environment and confronting climate change are sidelined in countries of armed conflicts, meaning that climate impacts will continue to be an under-addressed issue in conflict zones. 
Commenting on the role of civil society organizations in environmental protection, al-Saghir said that the SCD's replanting initiative in the northwestern region is aimed at "communicating awareness messages about the importance of the environment, highlighting the dangers and climatic effects of war, and the need to raise civilians' awareness on their role in mitigating the devastating effects of war on the environment."
Al-Saghir additionally added that the initiative also "emphasizes that environmental resources are a treasure to be passed to future generations, not the property of one generation."
Weapon contamination threatens the environment in Syria
According to al-Saghir, several areas in northwestern Syria are affected by environmental contamination of remnants of weapons and unexploded ordnance, where mines and unexploded munitions, such as grenades, mortars, artillery shells, cluster munitions, bombs, and rockets, continue to kill civilians and damage the environment even after the end of the conflict.
She added that weapon contamination is threatening for affected populations, as it affects water sources and agricultural work, hampers relief work, and exacerbates humanitarian crises.
Specific groups, such as children and women, are the most affected by weapon contamination which hinders their access to essential sources and return to their homes and schools.
The security importance attributed to environmental contamination caused by armed conflicts and the link between environmental security and food and living security is a good way to bring people's attention to this issue.
In addition, reminding people of the International Day for Preventing the Exploitation of the Environment in War and Armed Conflict, celebrated on 6 November of every year, highlights the destructive effects of armed conflicts on the environment, al-Saghir said. 
She added that the reforestation initiative by the SCD is an attempt to "raise awareness for taking an active role and practical steps to deal with environmental and climatic issues." 
According to the World Food Programme (WFP) data, 12.4 million Syrians are food insecure and have difficulty accessing their basic meal.
Additional crises
Conflict pollution due to toxic remnants of war is also a reason for the water crisis in several Syrian regions. 
Syrian environmental journalist, Zaher Hashem, told Enab Baladi that several factors have led to a water crisis in Syria, including high temperatures, decreased precipitation, and the armed conflict.
He added that the water shortage crisis became worse due to drought and climate change, causing a freshwater scarcity in the country.
The disruption of drinking water treatment and pumping plants due to the lack of electricity and fuel has led people to rely on unhealthy water sources, resulting in the spread of bacterial and viral diseases among them, Hashem said.
The lack of irrigation water has led to deterioration in agriculture, land degradation, and poor living conditions, while the disruption of wastewater treatment plants has caused contamination to soil, groundwater, and crops.
Meanwhile, military actions and insecurity during the Syrian conflict have contributed to increasing tree cutting and intentional fires, threatening wildlife, crops, and livestock.
The hostilities against northwestern Syria have left lands polluted with remnants of conventional and chemical weapons and rendered them unfit for cultivation, Hashem said, adding that the bombing of oil installations and oil leakage has contaminated soil and ground and surface water with very hazardous pollutants.
Besides, old primitive refineries have increased contamination levels of ground and surface water, soil, and air due to oil burning and its toxic waste. 
According to Hashem, the impact of makeshift oil refineries is not limited to the environment as they cause serious health risks through direct contact and inhalation of smoke.
He also said that the increased deterioration of living conditions and the absence of basic necessities, including water, electricity, and fuel, leaves no room for individuals to make moves towards protecting the environment. Therefore, there must be an outside intervention supported with a large budget to overcome environmental consequences in areas of armed conflict.
Hashem concluded that the environmental and climate crisis could only be contained in northwestern Syria after establishing political and security stability, receiving international aid to rehabilitate water resources, electricity networks, and agricultural lands. This way, consequences of climate change and drought can be mitigated, and food security can be ensured for the region's residents.
if you think the article contain wrong information or you have additional details Send Correction