Children of northeast Syria: From ISIS trauma to AANES ideology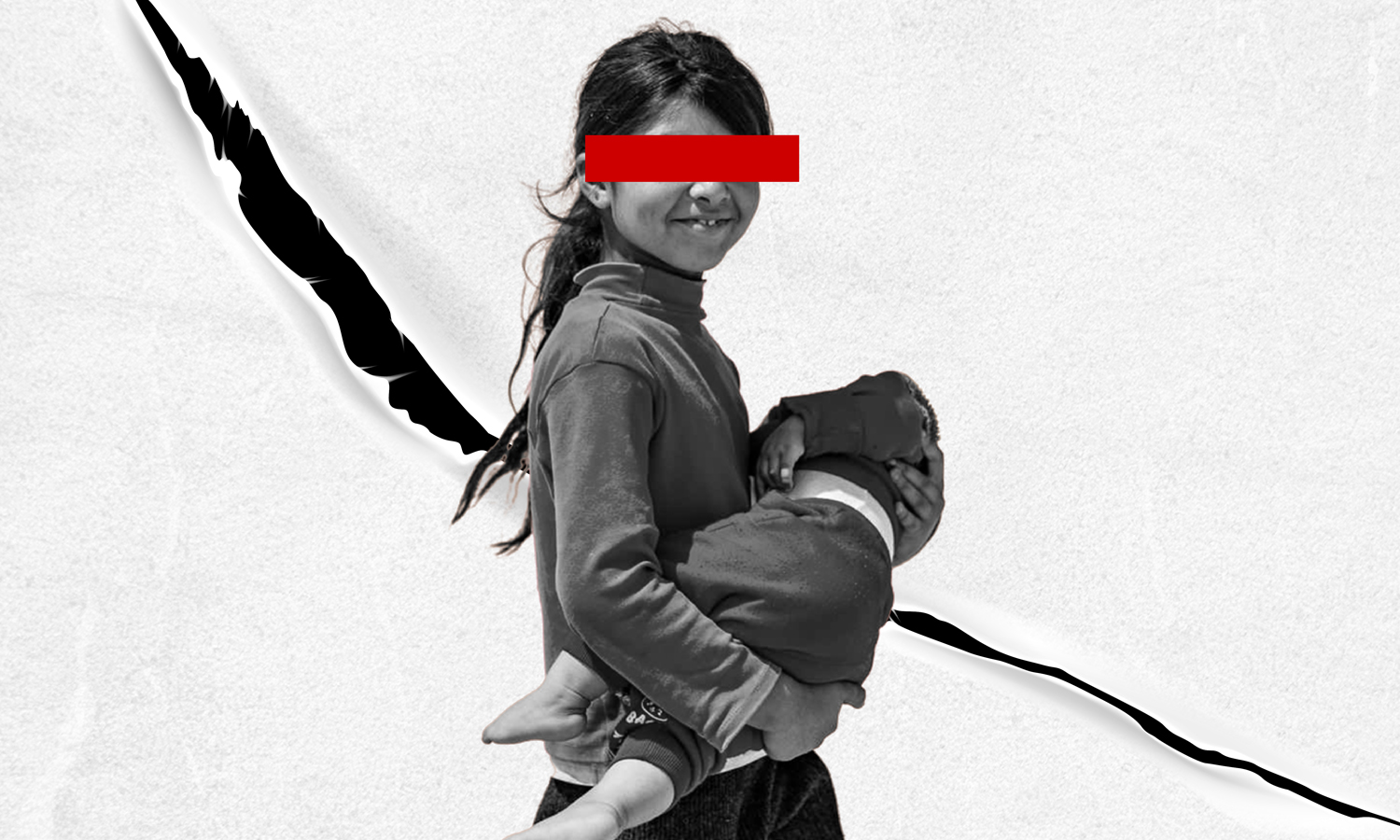 Enab Baladi – Lujain Mourad 
The Syrian war was especially devastating to the children of northeast Syria, as many of them fell victims or were affected by the so-called Islamic State (IS)' ideologies during its control of the region. IS made sure to imprison children's minds and bodies within its beliefs, ideas, and principles by clearing many religious and intellectual concepts that were part of these children's culture in the northeastern region. The demise of IS and its radical ideas did not help end children's struggles, as the region's military and political conflict denied children the opportunity to live a normal life and transferred them from IS' trauma to the ideologies and nationalism of the Autonomous Administration of North and East Syria (AANES).  
IS adopted a policy of intimidation to spread its ideas amid "bloody" scenes as described by the region's residents to Enab Baladi, who referred to IS' arbitrary qisas or retaliation punishments justified by the infringement of the sharia. IS also suspended the educational process altogether and replaced it with da'wah (exhortation to beliefs) points to spread its policies and beliefs.
As for AANES, it transcended ethnicity and religion and adopted the theory of the democratic nation established by the Kurdistan Workers' Party (PKK)'s leader Abdullah Öcalan, a study by the Omran Center for Strategic studies mentioned.
AANES also worked on rooting the idea of revolutionary force, especially among children, by sharing images of female and male fighters with "glorifying" profiles in school curricula. 
Enab Baladi conducted an opinion poll, in which 87 percent of participants said that the children of northeastern Syria had suffered a cultural shock after being riven by IS' fanaticism and AANES's politicized ideologies.  
"Children fear the strongest"
"IS militants stopped the bus that was taking me and my daughters to the market and forced us to attend the execution of the qisas verdict." With these words, thirty-three-year-old Alaa began to describe the terror her daughters had to endure under IS' rule in Raqqa governorate.
Alaa told Enab Baladi, "My daughter was constantly looking at me throughout the implementation of the retribution sentence fearing that I might cover my eyes or those of her sisters," adding that IS did not tolerate such an act and criminalized it for attempting to hide the truth from children's eyes.  
The almost daily qisas scenes and arrests by IS' hisbah forces terrorized children and became an example according to which they calculated their acts and behaviors.   
Alaa added, "To this day, children fear the strongest," and their fear is reflected in numerous details in their daily lives.
The hisbah units are patrols from IS members who roam the streets to uphold community morals and arrest infringers of sharia, according to locals.  
"Any violation to sharia law by a child led to the punishment of the father and the child in some cases," Hussein, 38, told Enab Baladi, explaining that this was the reason that made him prevent his children from leaving the house. 
He added that his house became another prison for his children during the IS control period, as everyone, including parents and children, was afraid of IS-controlled streets.  
Murtada, a thirty-six-year-old father of six children, also expressed the fear he witnessed under IS' rule, saying that fear haunted parents and children at every moment since children did not have enough awareness to avoid committing what IS described as an infringement of the sharia.
"From bleakness to a colorful life"
Alaa recounted to Enab Baladi some of the difficulties she faced trying to reintegrate her daughters into society after removing IS from Raqqa. She said that her daughters' school administration office contacted her because they refused to play with boys of their age or do any activity with them. 
According to Alaa, many children are still surprised to see unveiled girls, mixing of the sexes, and many other details that once called for qisas sentences under IS rule.
Alaa added that children's lives were altered "from bleakness to a more colored version" following IS demise and said they would need a long time to get used to this drastic change. 
She also noted that the education children are receiving in the region's schools or their life in general "is not perfect but is fit to be called life."
Alaa pointed out that aspects of normal life had begun to return to the region with the opening of schools and the allowing of residents to move about freely in streets to practice their daily activities away from IS' "nonsensical" restrictions.
Locals met by Enab Baladi confirmed that life has become almost normal under AANES's control. 
Murtada commented that today life seems safer and more stable for parents and children alike, as things have changed, even if partially.
Thirty-three-year-old Iman, a psychological support worker in northeast Syria, told Enab Baladi that IS was keen on implanting thoughts of long-lasting effects in children's minds and that many children still follow IS' prohibition policy for fear of punishments that affected several children and their families for years. 
The Executive Director of the Day After (TDA) organization, Mutasem al-Syoufi, stated to Enab Baladi that "IS had done injustice in word and deed, and that was the biggest factor that contributed to creating a state of fear among children."
Al-Syoufi added that thoughts and feelings absorbed by children during their early years of consciousness leave a significant impact and become part of their psychology. 
He said that the "radical and hardline" approach of IS was beyond logic, particularly for children still in the consciousness development stage.  
IS control of northeastern Syrian regions began in early 2014 after many battles against opposition factions, to announce then the formation of the Islamic State (IS).
The Syrian Democratic Forces (SDF), the military arm of AANES, took control of Raqqa city in late 2017 after battling IS for nearly 166 days, thus ending IS caliphate rule that took Raqqa as a capital. 
"The true religion"
Al-Syoufi said, commenting on the factors that contributed to distorting children's mindset, "IS ideology was promoted through the exploitation of what is sacred to people, for religion holds a central place in most people's lives in our country and shapes their culture, intellectual identity, and system of sacred beliefs and symbols."
He added that IS promoted its approach as "the true religion" to reinforce its ideologies in children's minds, who regard religion as a fundamental part of their lives. 
Meanwhile, Alaa stressed that parents' attempts to distinguish between the true teachings of Islam and IS practices played a key role in saving their children from getting lost or being drifted by IS' callings for "terrorist" acts, as she put it.
She noted that parents tried to maintain the right religious background in their children's minds, but fear was more dominant most of the time.
Life under AANES's rule
AANES's governing policy in northeast Syria is no different from that of the Ba'ath Party, which constitutes a real violation of human rights by imposing a certain ideology and designating an entire life controlled completely by AANES even in educational curricula, according to al-Syoufi.
AANES's policy led to the emergence of new problems for the children of northeast Syria and failed to guarantee them security or stability. It adopted an intellectual reference alien to society's culture and ideals, raising fears of increased security tensions besides an intellectual conflict triggered by cultural and national differences between society and AANES, according to al-Syoufi.  
He added that AANES's policy was to control the northeastern region politically, militarily, and even economically, affecting children's lives and forcing many of them to work to secure a living. 
As for Murtada, he commented on AANES's policy by saying that AANES established service institutions that were necessary to the region after it went out of the regime's control and confirmed that the existence of these institutions does not clear AANES from many accusations, most notably corruption. 
AANES and child recruitment
AANES has committed numerous violations since it gained control over the northeastern region in an effort to maintain its influence and gain greater military power. The most notable of these violations is the recruitment of children, part of AANES's endeavors to influence children's mindset.
Despite AANES's repeated promises and claims to end and prevent the recruitment of children, nearly 156 children are still conscripted by the military arm of AANES, i.e., the SDF, according to a report by the Syrian Network for Human Rights (SNHR).
The report mentioned that "the SDF routinely either voluntarily or forcibly conscript children, as part of its efforts to recruit or coerce children into joining its armed forces, which involve attempts to persuade and encourage children and offer them inducements."
"In parallel with these various efforts, conscription is also carried out by kidnapping children from schools, streets, or neighborhoods," the report added.
In a previous talk, psychiatrist Ismail al-Zallq told Enab Baladi that "children continue to be the hardest hit by recruitment." 
Enlistment into the military affects children on two levels—child-society, as it impacts children's behavior towards their community and child him/herself.
Within these two levels, recruitment's impact on children's relationship with society remains the most toilsome. When children are forcibly enlisted through kidnapping or other coercive means, they are deprived of the ability to make decisions. That is, they are robbed of the capability to tell risk from safety. Consequently, children can be easily tricked into fighting with little effort.
Recruitment's influence on children might not be limited to childhood, and the effects might not disappear at a certain age. The fighting experience might as well influence his or her adult life. Fighting might change children's mentality about how people deal with each other and convince them that weapons are the way that all people use [to communicate]. This is likely to develop a greater tendency towards violence inside children, particularly those who lack knowledge and social support.
The collapse of education under IS rule 
"We tried to stop children from mixing or engaging in any activity that could foster IS' ideas in their minds. We believed that their situation without education would still be better than receiving distorted education," Alaa said, confirming that most parents refused to send their children to IS' presumed educational centers, which failed to provide anything but more calls to join the IS group.
IS canceled the entire educational process run previously by the regime in the northeastern region. As a result, children stopped receiving education under IS control except for da'wah points, where IS promoted its publications, locals told Enab Baladi.  
IS prohibited private tutoring sessions and considered them a "crime," requiring "retribution sentences" to prevent the spread of ideas contrary to its policy and approach.
A study on the collapse of Syria's educational sector by the Harmoon Center for Contemporary Studies mentioned that IS burned students' official documents and learning materials under the pretext of fighting the blasphemy that the Syrian regime's curricula used to spread. IS also distributed digital copies to teachers, including basic education, after ensuring it was in line with IS' policies.
According to the study, IS reopened schools after it printed new curricula consistent with its principles and ideas and canceled many school subjects that were against its approach.
IS employed education as a tool of indoctrination, aiming propaganda at children to foster a new generation of recruits. The armed group turned schools into training camps for children to be used in combat roles through a systematic method of military training and the gathering of children for screenings of videos depicting mass executions of regime soldiers to eradicate children's emotions towards extreme violence, a report entitled "Rule of Terror: Living under ISIS in Syria" by the Independent International Commission of Inquiry on the Syrian Arab Republic (IICISyria) said. 
A transitional phase
The resumption of education was a challenge after AANES declared its control of northeast Syria. Early after their establishment, educational institutions relied on civil entities to manage their affairs, including the Education Committee of the Raqqa Civil Council, Enab Baladi's correspondent in Raqqa Hussam al-Omar said.
Youth groups who volunteered to reopen schools after the expulsion of IS from the region faced challenges such as the lack of experience and the refusal of a large proportion of experienced teachers to engage in the new educational process as an expression of opposition to AANES's rule.
A school teacher in Raqqa countryside named Dahham, 33, told Enab Baladi that most volunteers were forced to place large numbers of children of varying ages in the same classroom to teach them basic information because of their prolonged absence from education. 
Parents were reluctant to trust the newly opened schools, fearing they would provide their children distorted information; however, the gradual return of life to normalcy, even partially, helped parents overcome their fears and send their children back to school.
A gap between children and education
Twenty-eight-year-old teacher in one of AANES's schools, Saleh, said that teachers in northeastern Syria had to find new mechanisms to simplify information to students who have been out of school for over four years.
The AANES government provided summer courses to teachers on ways of dealing with school non-attenders in light of the impact of the disruption of education on children's comprehension abilities. 
Saleh pointed out that children are not interacting with teachers as they should and are often distracted, noting that educational institutions can still not motivate children, revive their love for knowledge, and fill the gaps caused by IS.
Meanwhile, some parents, including Alaa, told Enab Baladi that AANES's schools saved children's future after years of school interruptions.  
AANES employs education as a tool to reinforce its principles
The study by the Harmoon Center for Contemporary Studies said that AANES employed school curricula based on the philosophy of Abdullah Öcalan, the spiritual leader of the Kurdish people in the region, however these curricula were rejected by a large segment of Arabs, Kurds, and other components due to fears for children's future. 
Current AANES school curricula include ideas against the Islamic religion and significant amendments to historical and geographical information in line with its principles.
Moreover, the SDF has converted the majority of schools to military centers. 
Mutasem al-Syoufi, the executive director of the Day After (TDA) organization, said that the educational process administered by AANES did not contribute to rehabilitating children from the effects of IS rule, as its school materials are also aimed at influencing children's minds and imposing a unified approach over a vast geographical area of national and intellectual diversity.
Children's mental health and the role of organizations
The psychological effects of the violence perpetrated by IS are reflected in children's behaviors and their "aggressive" reactions, which parents often fail to deal with, psychological support worker Iman told Enab Baladi.
Iman noted that providing psychological support for children's families to overcome the damaging impact of IS on adults and young people is an essential factor for the full rehabilitation of children and society.
According to Iman, the psychological damage has affected children's physical health, with many children developing diabetes and, in some cases, hearing disabilities, panic attacks, and seizures.
Al-Syoufi said that there are not enough resources in Syria to rehabilitate children exposed for years to extremist ideology, violence, and fear. 
He added that the Syrian society, alongside government institutions and civil society organizations in Syria, is witnessing a state of instability and cannot afford the enormous capacity needed for rehabilitation.  
United Nations agencies played a vital role in the rehabilitation of children, providing psychological support through awareness-raising sessions for parents and children and establishing activities that have contributed to mitigating the traumatic effects on children's psychology.
Psychiatrist Nusseibeh Jalal told Enab Baladi that the traumas experienced by children in northeastern Syria were reflected later in the form of behavioral disorder, or what is known as post-traumatic stress disorder (PTSD) or stress, anxiety disorders.
Jalal added that in the post-traumatic phase, children recall events in their memories which influences their behaviors. 
Jalal said that it is in the best interest for children to live in a happy environment and to have their traumas treated through activities of positive effects on their psyche and personality.
if you think the article contain wrong information or you have additional details Send Correction