Bread crisis in Idlib: Residents can no longer afford prices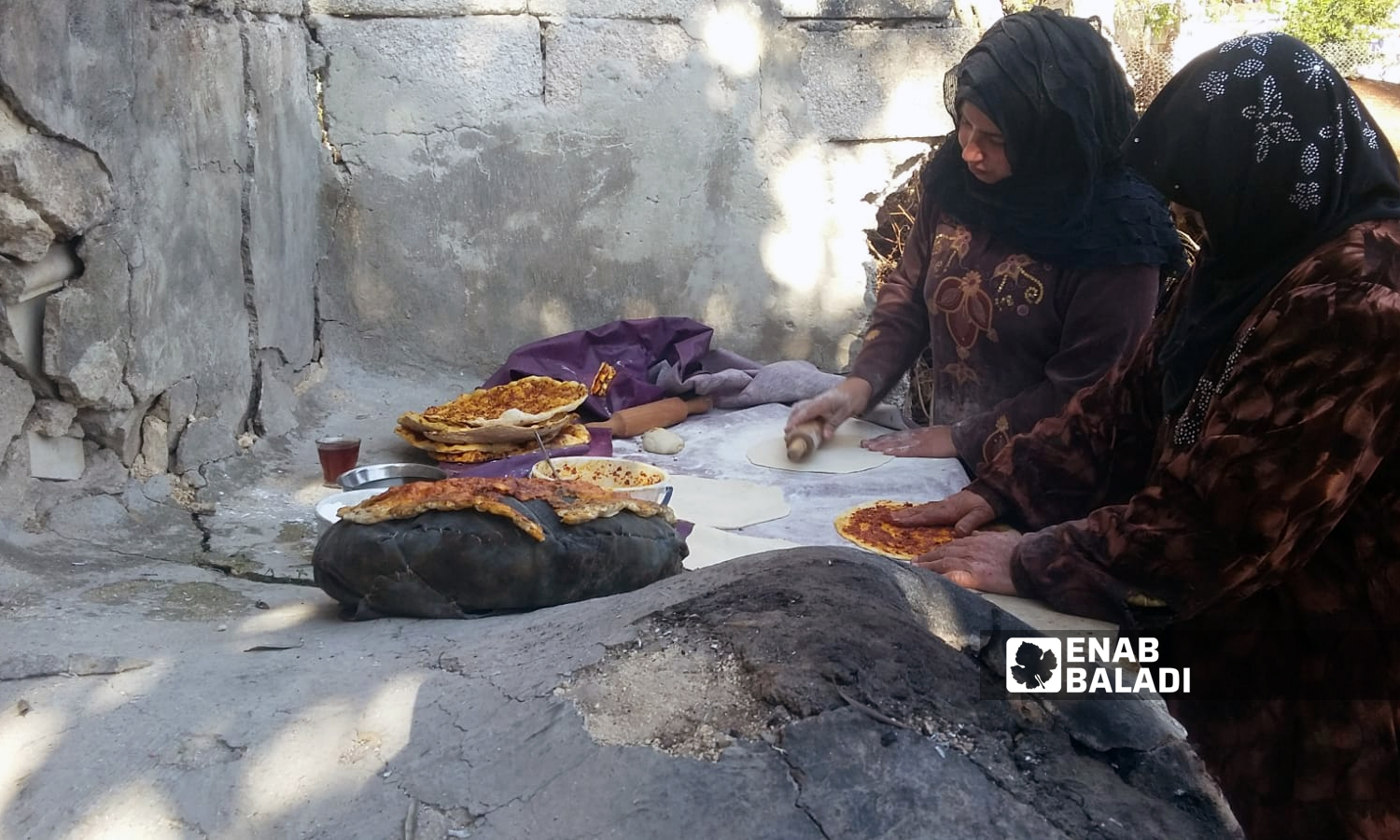 Idlib – Hadia al-Mansour
Forty-two-year-old Mohammed al-Mousa has to walk two kilometers every morning in Idlib city just to buy two bundles of pita bread for his family of six individuals. 
Al-Mousa, a daily paid construction worker, told Enab Baladi that he walks all this way every day even though the two bags of bread he brings to his family are not covering their needs.
He added that the bundle had been downsized in weight and number of loaves, so he started a bread rationing system for he could no longer afford to buy more.
The decision of the Syrian Salvation Government (SSG), the de facto authority operating in Idlib, to once again decrease the weight of the bread bundle and increase its price has made bread unaffordable to many big families who live under extreme poverty and suffer from lack of jobs. 
Both locals and displaced people living in Idlib struggle to provide enough bread to their families. 
"With every drop in the Turkish lira's value against the US dollar, prices rise anew in our region, starting with those of all fuel products and not ending with bread prices. Moreover, when the Turkish lira's value improves, prices remain high," al-Mousa complained to Enab Baladi.  
Al-Mousa added that people's food security and livelihood are threatened due to hiking prices and called on the SSG and civil society organizations to take pity on their conditions and feel their sufferings. 
In Idlib, the price of a bundle of pita bread had increased from two and a half to three and a half Turkish liras, while the number of its loaves decreased to five after it was 12.  
Homemade tandoori bread
The high bread prices and difficulty securing it have pushed displacement camps' inhabitants and villagers in Idlib governorate to search for alternatives, so they started to bake bread using tandoor ovens to cover their food needs. 
Forty-something-year-old Safiya Bido, a displaced woman from the Kafroma town to the camps of Qah town, northern Idlib, started kneading bread dough in her makeshift tent and baking it in the tandoor oven to secure her family of eight's need to bread. 
"I cannot afford to buy seven bags of bread every day. All members in my family are jobless, and even if they find a job, it is usually for low pay," Bido told Enab Baladi.
Bido added that the entire process of tandoor bread baking is cheaper than bread sold in bakeries and markets. 
Those who do not have a tandoor oven or do not know how to use it resort to tandoor bread bakers in return for a certain amount. 
Hanan al-Salloum, 40, makes a living by preparing tandoor bread and receives lots of demands for it these days, as she told Enab Baladi. 
Al-Salloum is the sole breadwinner to her family and chose to bake tandoor bread for people for little pay so she can make a decent living for her children and avoid asking people for help.  
Al-Salloum said that the demand had increased lately for tandoor bread following an increase in the bread bundle's price and a decrease in its weight, making many families in Idlib unable to cope with this change that deprived them of their daily and basic need for bread. 
"Customers bring me an amount of flour, which I knead and bake as tandoor bread. I charge four Turkish liras for every kilogram of flour," al-Salloum said.  
Meanwhile, many displaced women are trying to address the significant shortage of bread by cooking meals involving rice and bulgur, as such meals can be eaten without the need for bread.    
Sabah Hajj Hamido, a thirty-five-year-old displaced woman from the city of Maarat al-Numan to the camps of Sarmada city in Idlib governorate, said, "Dishes of Mujadara, rice, bulgur, and Maghmouma (bulgur and spinach) have become part of our basic meals."
Hamido highlighted the suffering of residents trying to secure a single bread bundle that is barely enough for one family member every day.    
Hamido called on civil society organizations to support the prices of bread, as it is a "key food staple" to those living under the poverty line, "instead of the unfair distribution of relief aids to a selected group of civilians."
Hamido also criticized the SSG by saying, "It only aims to increase burdens on civilians, who spend their day trying to secure a bread bundle in vain."
The bread crisis in Idlib is one of many crises facing locals and displaced people in the region. The governorate of Idlib is witnessing soaring fuel and foodstuffs' prices and declining wages amid deteriorated financial and psychological conditions due to displacement and extreme poverty. 
"Plans" to solve the crisis
Through its program "What is Your Problem?" broadcasted on 22 November, Enab Baladi surveyed some residents' views in Idlib on the issue of bread prices. 
The surveyed residents said that the SSG bears the responsibility to solve the bread problem, adding that it "never supported the prices of any basic food staples" despite its "huge budget." 
They called on the SSG to interfere and support at least the price of bread for being a "basic and daily staple in people's lives."
Enab Baladi contacted the Deputy Minister of Economy of the SSG, Ahmed Abdul Malik, who attributed the bread crisis to the continued devaluation of the Turkish lira against the US dollar, saying, "We have had to reduce the number of loaves per a bread bundle while maintaining a fixed price, commensurate with the budget allocated for bread production."
Abdul Malik added, "There are plans that would ensure some support to the population of the liberated areas to ease their burdens accumulated recently due to bread prices."
The Turkish lira's unprecedented depreciation over the last week of November reflected on the economy and the livelihood of people of northwestern Syria, as it is the currency used in financial transactions and commercial dealings since its replacement with the Syrian pound.
The epic downfall of the Turkish lira caused prices to soar and citizens' purchasing power to decline in the northwestern Syrian region.
if you think the article contain wrong information or you have additional details Send Correction