Russia implicitly supports Israeli airstrikes in Syria, why?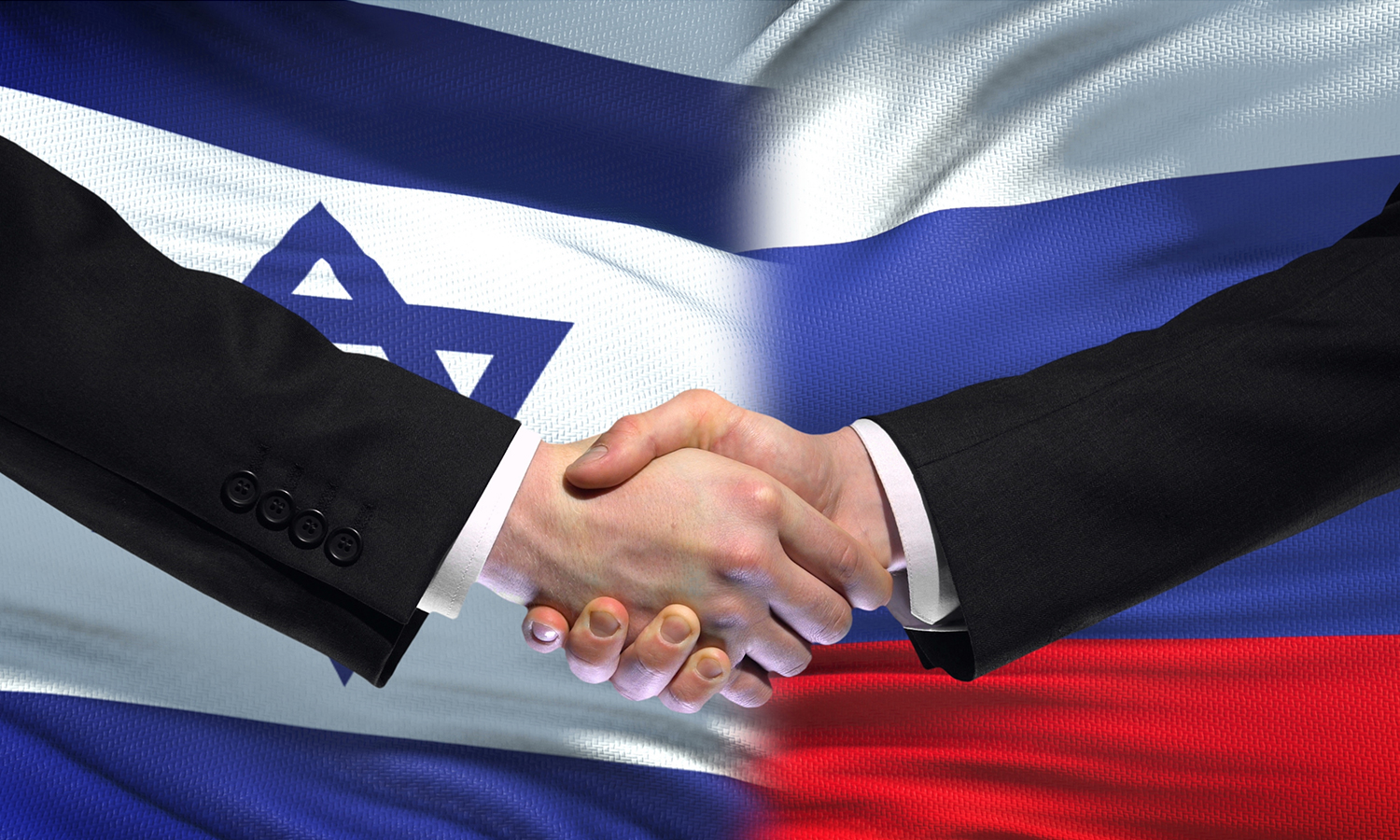 Enab Baladi – Jana al-Issa
The Israeli warplanes' targeting of different military sites, including Iranian ones in Syria, has increased following the meeting between Israel Prime Minister Naftali Bennett and Russian President Vladimir Putin on 22 October.    
Since the meeting, many media outlets, including Israeli ones, have spoken of a Russian-Israeli consensus on removing Iran from the Syrian scene and allowing Israel to continue its airstrikes on Syrian sites. 
Nonetheless, official statements from Russia indicated the lack of agreement between Russia and Israel on the Israeli airstrikes against Syria and even reflected Russia's disapproval of them.   
The Russian implicit agreement to the Israeli attacks on Iranian positions in Syria is linked to certain interests that Russia does not want to profess for several reasons, including being part of an alliance with Iran to support the Syrian regime.    
Russia gives green light for Israeli attacks against Iran in Syria
Israeli Prime Minister Naftali Bennett said on 24 October after meeting with Russian President Vladimir Putin that Russia had shown a clear interest in Israel's security needs regarding the situation in Syria.
Bennett pointed out that the meeting with Putin had seen new and stable agreements without going into their details, adding that he found Putin "attentive to Israel's security needs."
On 2 November, Israeli newspaper The Jerusalem Post reported that Russia and Israel share the common goal of ousting Iran from Syria following a meeting between Bennett and Putin on 22 October. 
The newspaper mentioned that "Israel has been working on the difficult task of destroying Tehran's dreams of regional hegemony with hundreds of airstrikes in Syria."
Israeli Construction and Housing Minister Ze'ev Elkin, who acted as the translator of the meeting, told the newspaper that the two leaders (Bennett and Putin) agreed that Israel's policy toward Syria, including airstrikes, would continue.
The newspaper also cited an Israeli Air Force (IAF) senior officer saying that the meeting between Bennett and Putin in Sochi is where the two leaders likely agreed to remove Iran from Syria.
Journalist and Russian affairs expert Raed Jabir told Enab Baladi that the current Israeli-Russian understandings are not new, as they started after the Russian intervention in Syria in 2015, considering that the Russian president has only renewed the agreement with the new Israeli government, which explains the increasing frequency of Israeli attacks on Syria since the two sides met last month.
Jabir added that the first Israeli-Russian understandings on Syria included several critical points centered on Syria not becoming a source of threat to Israel's security and allowing Israel to launch military strikes against Syrian sites that could pose threats or risks to Israel's security. The previous agreements also stipulated that any settlement to take place in Syria should prioritize Israel's security interests. 
According to Jabir, these understandings remained active for years, during which Moscow allowed all Israeli airstrikes against Iranian sites in Syria or other ones affiliated with the Syrian regime.   
He also commented on Russia's interests behind such understandings by saying that Russia wishes to weaken the Iranian influence and military presence in Syria as part of the Russian-Iranian rivalry for influence taking place currently on Syrian territory.
Writer and Iranian affairs researcher Diaa Kaddour asserted to Enab Baladi that the Israeli-Russian consensus on the Israeli air raids in Syria is old and has been renewed and reestablished for a "security imperative," basing his opinion on clear indications on the ground.
Kaddour explained that these understandings are necessary for the Israeli and Russian sides and are part of the security and military coordination between them to "avoid past mistakes," referring to the incident when the regime's anti-aircraft fire accidentally shot down a Russian military plane in 2018.
Kaddour, an engineer and defected officer from the Syrian regime forces, said that the number of effective Israeli strikes on Iranian positions in Syria is a good indicator that Russia gave Israel the green light to carry out its attacks. Moreover, Israel has targeted Iranian sites that are only a few kilometers away from Russian military bases and points, during which no Russian military position or soldier was affected, which shows the "high-level coordination" between the two sides.
Russia condemns Israeli attacks in Syria despite reaching consensus with Israel
Despite several political sources' assertion that Russia does not implicitly oppose the targeting of Iranian positions in Syria by Israel, Russian official statements are contradictory, denouncing Israeli airstrikes and expressing Russian disapproval of them.
On 15 November, the Russian Ambassador to Israel, Anatoly Viktorov, said that his country was unsatisfied with the increase in attacks attributed to Israel in Syria against Iran.
Viktorov said of the Israeli airstrikes in Syria, "This is not the right way, and we clearly do not like it. Syria should not become an arena for confrontations between other countries."
The Russian President's Special Envoy to Syria, Alexander Lavrentiev, commented on the Israeli attacks on Syria following a meeting with the Syrian regime's president, Bashar al-Assad, in Damascus on 17 November.
Lavrentiev said his country "categorically rejects these inhuman acts," calling for dialogue with Israel on all levels, for the "necessity to respect Syria's sovereignty and stop the bombings on its territory."
Lavrentiev added that any forceful response to the Israeli attacks "would be unconstructive, for no one needs a new war in Syria."
The Russian public statements might suggest that Russia totally opposes the Israeli targeting of Iranian military sites in Syria; however, unofficial Israeli statements and press leaks confirm the two sides' agreement on this issue, journalist and Russian affairs expert Raed Jabir said.
He added that Moscow does not declare these understandings because of its alliance with Iran, on the one hand, and because of its attempt to maintain a "sensitive and difficult balance" in its relations with the various parties in Syria, on the other hand.
According to Jabir, the statements of the Russian Presidential Envoy to Syria Alexander Lavrentiev released after his meeting with al-Assad in Damascus are indicative of Russia's total commitment to its understandings with Israel. 
He added that Lavrentiev's call on Tel Aviv for dialogue and Russia's disapproval of Israeli strikes clearly reflect Russia's unsaid commitment to the understandings. 
Jabir said that the consensus between Russia and Israel was also manifested by the increase in Israeli attacks on Syria following Bennett's visit to Moscow.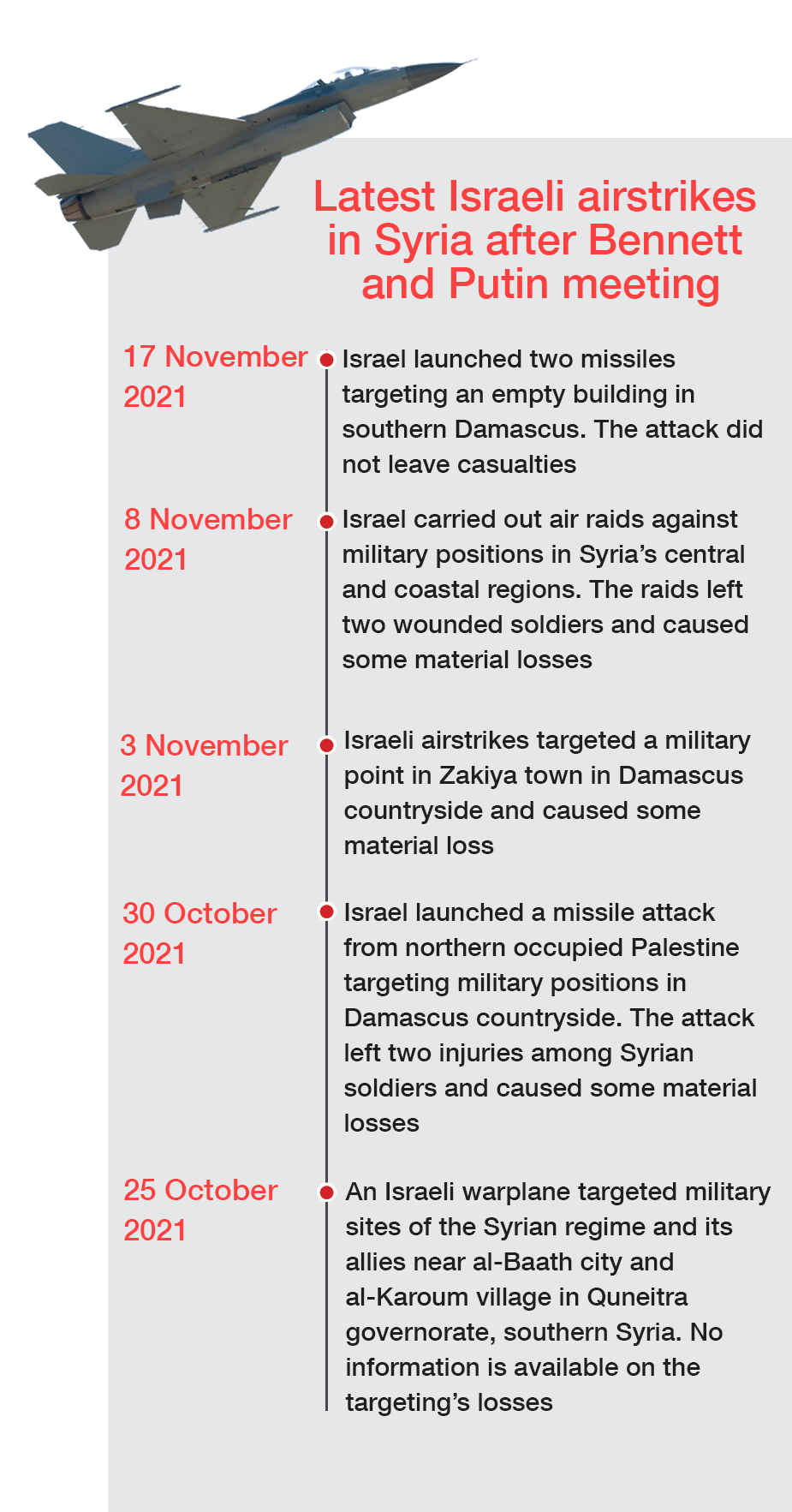 What does Russia aim for behind its partnership with Israel in Syria?
Writer and Iranian affairs researcher Diaa Kaddour said that Russia's interest in approving Israeli targeting of Iranian sites in Syria is associated with its desire to oust Iran and limit its influence in Syria.  
Kaddour added that Russia views the Iranian influence in Syria as a "threat to its future interests" since the Iranian presence in Syria is aimed primarily at turning Syria into a front against Israel, which Russia does not want.
Russia aims to stabilize the situation in Syria to start its investments there and compensate for what it lost during the Syrian conflict, Kaddour added.
On 17 November, the former Israeli ambassador to Moscow, Zvi Magin, talked in an interview with the Israeli i24News channel about an "effective coordination" between Russia and Israel on Syria.
"Russia is present in the region to promote its interests in Syria, as well as Israel, which has an interest in protecting its borders and confronting its enemies such as Iran, so Russia is forced to confront a reality that goes beyond securing the Syrian interior, but also securing the fronts before other parties, such as Israel, were therefore forced to reach understandings and coordination with Israel," Magin said.
The former ambassador added, "Israel does not bother the Russian presence in Syria and does not harm Russia's interests there, on the other hand, Russia does not bother Israel in the face of the Iranian threat from Syria."
Kaddour pointed out to Enab Baladi that unless Iran abandons its ambition to turn the southern front of Syria into a front against Israel, the latter will not cease its attacks.
According to Kaddour, if Iran keeps its presence limited to the political, economic, and cultural levels in Syria, it might become safe from Israeli attacks.
He added that Israel would cease to consider Iran a threat to its national security only if Iran ditches military action in Syria.
Kaddour said that most of the Israeli attacks were aimed at arms shipments and missile depots, noting that Israel is not interested in targeting Iranian militia elements as much as targeting sensitive weaponry, which could cause regional imbalance.
Israel does not usually confirm its attacks in Syria, but the Israeli army spoke in its annual report of 50 airstrikes implemented in 2020, without specifying the targeted sites.
With each targeting, the Syrian regime announces its interception of Israeli airstrikes with anti-aircraft missiles, while satellite imagery shows destruction in some of the regime's military sites and installations as a result of Israeli attacks.
if you think the article contain wrong information or you have additional details Send Correction