Syria's Idlib: Women recount their first days at displacement camps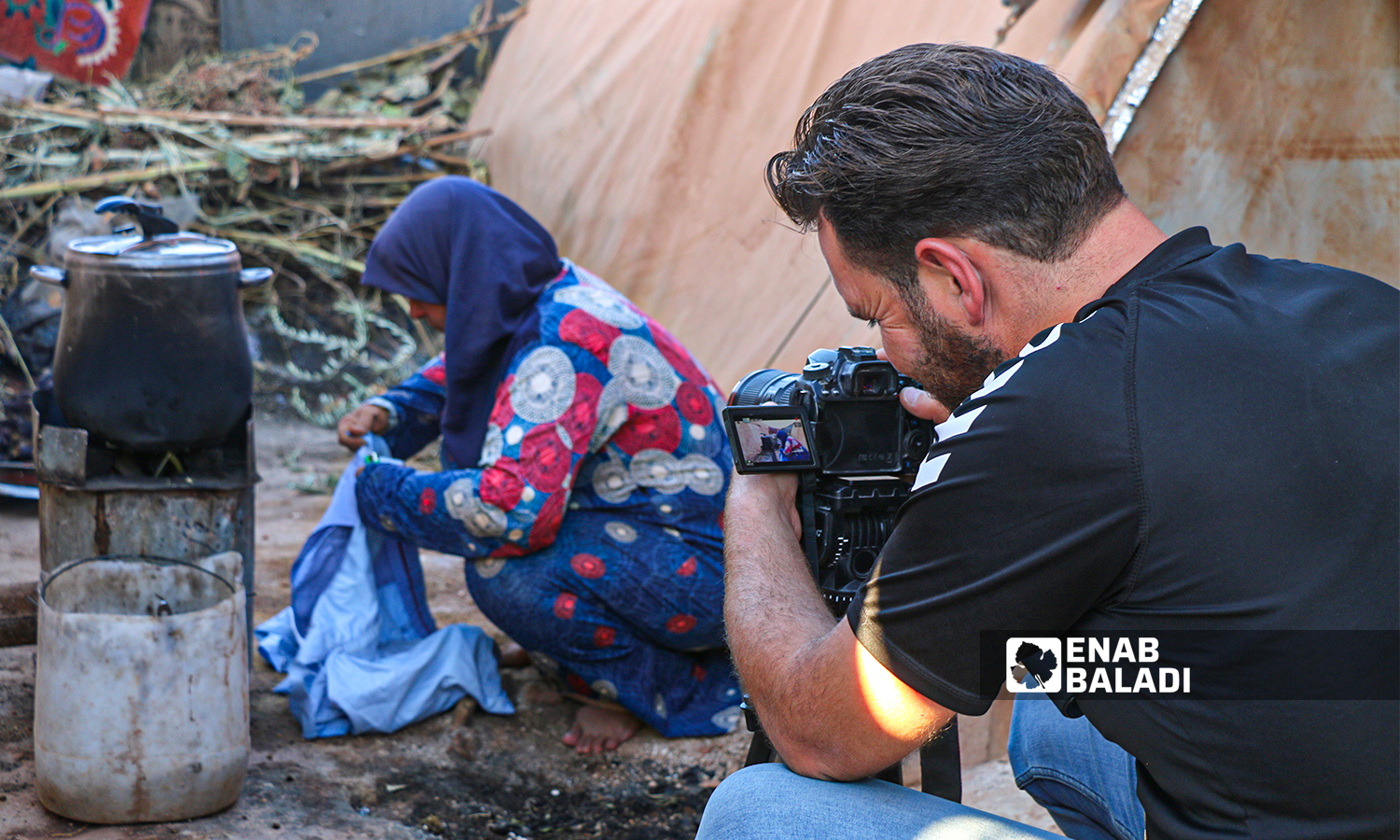 Idlib – Hadia Mansour
Hasnaa al-Sadir, aged 30, was forced to flee the constant bombardments in her village in Jabal Zawiya and live in a displacement camp. However, Hasnaa's first day at the displacement camp of Atmeh, located on the Syrian-Turkish borders, was seared into her memory as the worst day of her life, filled with uncertainty and worries about the future.
"How can I feel safe living in a tent that does not protect me from the blazing heat of summer or the harsh cold of winter?! Living in a tent cannot even protect me from the outside noise or offer me any kind of privacy," complained Hasnaa. 
Accompanied by her diabetic husband and her four little children, Hasnaa had to make this arduous journey of displacement to safety at Atmeh camp. Then, they found themselves living in tent-filled camps on the Syrian-Turkish border.
Hasnaa told Enab Baladi, "living in a tent is still better than living with fear under the Russian airstrikes and the regime's barrel bombs."
On a hot summer day, Hasnaa was watching displaced people, who were uncomfortable and lethargic due to living in tiny tents in such unbearable heat; even heatwaves were seen hovering on the outskirts of the camp on that day. Children were running around barefoot or in sandals among the tents, making very loud noises. The manifestations of poverty and destitution were not hidden from those who saw the scene. Hasnaa was deeply saddened by these squalid conditions she and other displaced people had to face. While trying to hide her tears, she was thinking about what her life would be like in the future. She couldn't stand the repression and injustice that had befallen all these people who had their ambition and decent lives destroyed by the war.
Adjustment problems
Syrian women still reminisce about their first day in displacement camps. Most say that it was very daunting; they faced several difficulties adjusting to camp life.
"My first day at the displacement camp was like unbearable hell," said Sarah al-Ali.
Sarah al-Ali, aged 32, added that she could not adjust to camp life even though it has been two years since she was displaced from her hometown of Hass, located in the southern countryside of Idlib. 
Sarah complained, "Why do I have to face all of these problems while living in a camp? I don't think I can deal with all of this: poverty, hunger, lack of essentials, insecurity, or lack of privacy." She said that her life is like "a military punishment."
The silence and darkness at night are frightening Sarah, as everyone is asleep. She looks all scared at her tent's door; she feels in danger while sleeping in a tent whose door is made of cloth. "How can I feel safe while there is only a cloth separating me from my neighbor?"
Actually, Sarah cannot feel protected from all the crimes of thefts, robberies, and even murders that take place in displacement camps. 
 Sarah told Enab Baladi, "We do not have access to water, electricity, or even fuel. We feel marginalised. We are counting our days and years, waiting for a solution to put an end to all this misery."  
She said, "Seemingly there is not a glimmer of hope in the foreseeable future and maybe we will stay here until the day we die."
"I know I lost my life in displacement camps. But what hurts most is that my children would not be able to have a decent life. I cannot imagine my children growing up in such a place, they have seen nothing but war, displacement, and oppression."
No privacy
Displacement camps provide no privacy, like stone-built homes, for women and girls; They do not have their own kitchens, showers, or toilets. They have to walk many miles from their tent to reach the common toilets. This makes them vulnerable to sexual harassment as there is no light at night.
Many women have stopped going out at night because they fear that they will get raped or assaulted. 
Therefore, some have to wait until sunrise to relieve themselves or change their pads, and others set up a toilet close or within their tents to avoid going at night to communal toilets. 
Heyam al-Raie, aged 25, said that her life has been turned upside down after being displaced from her home in the southern country of Idlib to displacement camps in northwestern Syria. 
She elaborated that she no longer enjoys privacy or even a normal life.  "We live only to survive as we wait for a miracle that will restore our hope to return to our normal lives in our towns and villages. But this time, we want dignity and freedom. We do not want the life of slavery and injustice that the Assad regime has imposed on us for decades."
According to the latest statistics published by the Syrian Response Coordination Group (SRCG) in northwestern Syria, the number of displaced Syrians has reached about 2.1 million, out of more than four million Syrians living in areas under the influence of the Syrian opposition.
Around 2,043,869 internally displaced people live in 1,293 camps, 282 of which were randomly established on agricultural land. Moreover, they do not get any international humanitarian assistance or support. 
if you think the article contain wrong information or you have additional details Send Correction