Potato production at risk of dropping in Daraa after lifting subsidies on seeds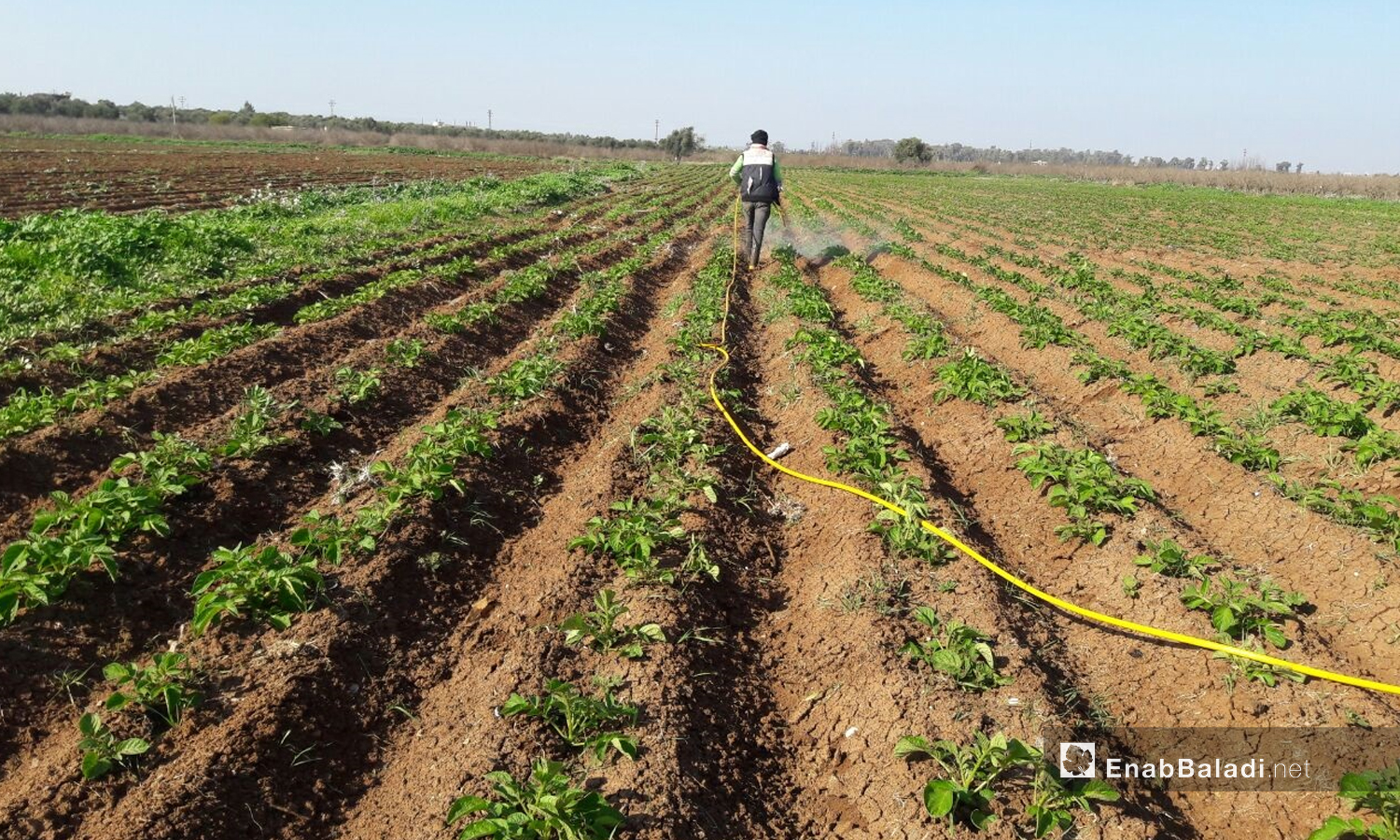 Enab Baladi – Daraa
"I was intending to register my name at the Peasant Association to get two tons of potato seeds for the coming season; however, the association informed me that it has no seeds to distribute, so I had to buy them from merchants at high prices."
With these words, Mohammed, a 41 years old farmer from Tafas city in southern Daraa, complained to Enab Baladi about the high prices of one ton of potato seeds in Daraa governorate after peasant cooperative associations informed farmers in Daraa city about their inability to distribute subsidized potato seeds for the upcoming season, and that farmers will have to buy seeds from the private sector. 
"We fell victims to merchants' greediness because of them," Mohammed said, pointing out that during the past year, peasant associations used to distribute seeds to farmers at subsidized prices, helping to lower costs for farmers and limiting merchants' monopoly of seeds.
However, after the suspension of seed distribution by associations, prices of seeds became dependent on the exchange rates of the Syrian pound against the US dollar.
Concerns about rising prices
Daraa farmers are concerned about the increase in seed prices with the suspension of subsidized seeds distribution. A kilo of potato seeds is expected to hike to 4000 Syrian pounds (SYP = about 1 USD) for this season, whereas last year, the associations sold it for 1200 (SYP = 30 US cents).
This season's potato crops' production cost will be high while selling prices will be low, according to local farmers. 
In Daraa, the spring cultivation of potatoes begins in February and lasts till June, pending the harvest.
After harvesting potato crops, farmers sell their produce to merchants who store crops in cold temperatures and then export them.
Last year, the price of one ton of subsidized potato seeds reached a million and 200 SYP. This year, farmers expect the price to exceed one million SYP, especially with the absence of competition from peasant associations.
Who is responsible for lifting subsidies?
A member of one of the peasant cooperative associations told Enab Baladi on the condition of anonymity for security reasons that the associations prepared lists for areas to be planted after farmers registered their required quantities of potato seeds. "However, the Agricultural Cooperative Bank told us at the end of September that it will not support the distribution of subsidized potato seeds among farmers and that merchants will import seeds and sell them to farmers in the local markets." 
On 23 September, the Syrian Cabinet issued a law suspending the exportation of potato crops for six months, starting from 1 October until 15 March 2022.
The export suspending decision comes after talks circulated in recent months about the possibility of potato crops being damaged in more than one Syrian governorate due to climatic factors and frost.
At the end of last March, Daraa governorate was hit by a "rare" frost wave, farmers told Enab Baladi, adding that the beginning of Spring is usually warm, but this frost was matched by no similar incident since 1997 and left considerable damage to their important staple potato crops. 
Around the same period in 2020, the Syrian Ministry of Economy and Trade issued a decision suspending the export of potato crops until the end of last March.
Back then, the head of the Agriculture Chambers Union, Mohammed Kishto, attributed the ministry's decision to the market's needs.
Nevertheless, the decision reflected negatively on farmers and merchants in several regions, including Daraa province.
Low production
The production of last year's potato crops was low due to the frost wave that hit Daraa last March, which reduced crop amounts to nearly half of previous years' production.
A dunum of land produced two tons of potato crops during the last season, while the production rate per dunum was between four and five tons in previous seasons.
The cultivation of potatoes requires five kilos of cow manure, 50 kilograms of nitrogen fertilizer, 100 kilograms of superphosphate fertilizer, and 125 kilograms of seeds for each dunum of land.
The Directorate of Agriculture in Daraa governorate estimated the spring production of last season at 60,000 tons of potatoes.
The lifting of subsidies on potato seeds will affect the production of one of the most vital crops to the governorates' residents due to seeds' high cost in the local markets, causing farmers to reduce their planted areas just like the previous years. 
if you think the article contain wrong information or you have additional details Send Correction