Patients pay double bills for laboratory tests in Qamishli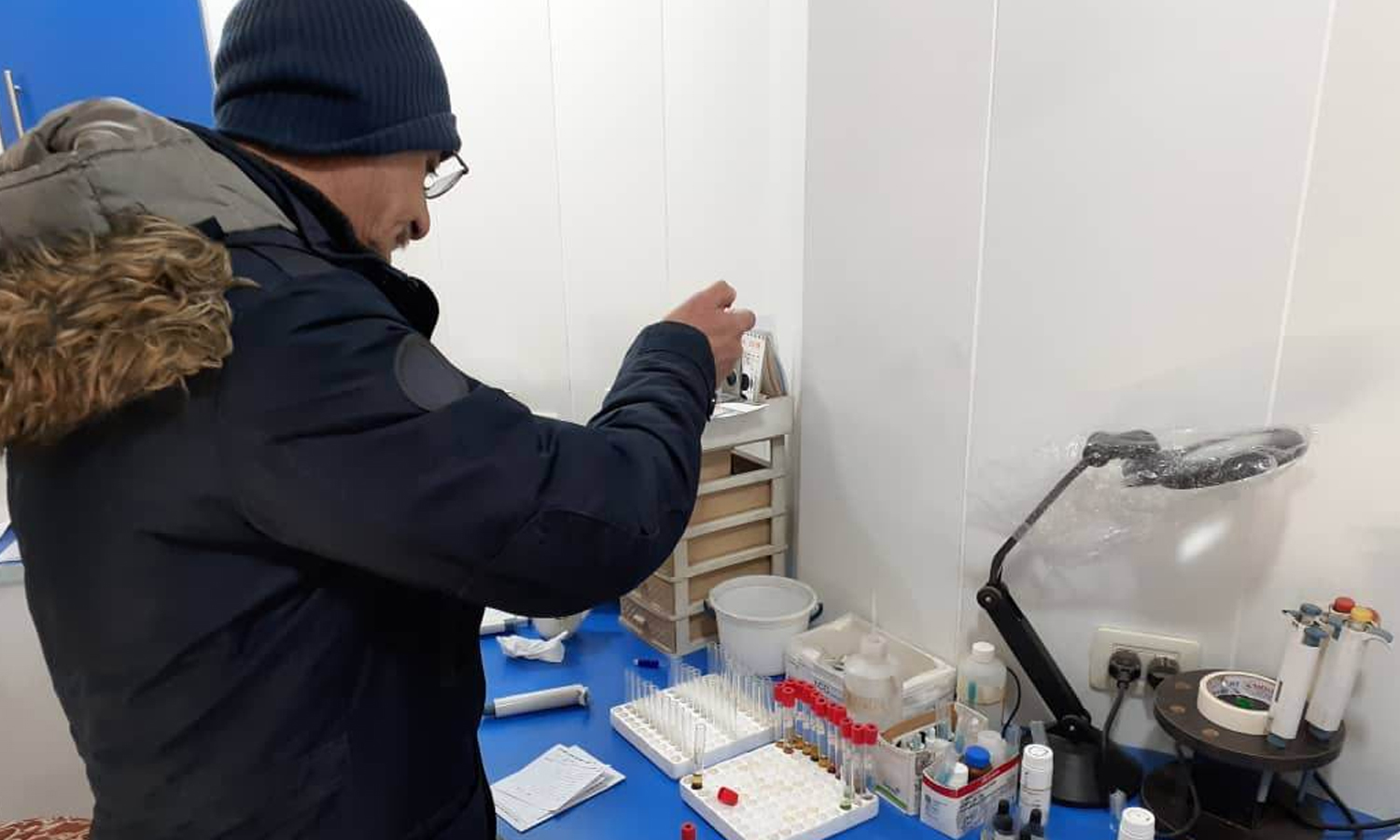 Qamishli – Majd al-Salem
Thirty-eight-year-old Rojin Mustafa had to wait for two hours in one of the Qamishli city's medical labs' waiting rooms, hoping to receive the test results, which she will share later with her doctor. Mustafa was accompanied by her ten-year-old son with signs of tiredness and boredom visible on both of them.    
Mustafa told Enab Baladi that she has been suffering from digestive system problems for about six months now and that the number of medical tests she undertook has financially drained her. 
"Each test costs about 50,000 Syrian pounds (SYP = 14 USD), and I paid 100,000 SYP (28 USD) for the last test. It was the lowest price I could find after checking several medical labs in the city. It was then that I discovered a clear disparity in tests' costs," Mustafa said.
She said that every time she visits the doctor, she travels about 50 kilometers from her town of Tal Barak and pays 5000 SYP (1.4 USD) for a two-way journey. 
Mustafa added that her town does not have similar high-tech medical laboratories and that when she stays late at the doctor's clinic or in the lab, she can no longer find cheap transportation and is forced to take a taxi, which costs her lots of money.    
Fifty-year-old Mohammed Mustafa and his wife have to leave the al-Twainah camp for displaced people in northern al-Hasakah very early in the morning, to head to Qamishli city and have a thyroid function test for his wife.
Mohammed and his family (wife and eight children) have been living in a makeshift tent since they fled the Ras al-Ain area. 
Mohammed told Enab Baladi that he travels all the way to Qamishli instead of going to al-Hasakah, which is only a few kilometers away from the camp because al-Hasakah does not have similar advanced medical laboratories like Qamishli.    
He added that he paid about 60,000 SYP (17 USD) for the thyroid function test, 10,000 SYP (2,8 USD) in the doctor's clinic, and 25,000 SYP (7 USD) for a box of medicine that could last for a month only. 
Mohammed's wife needs medicine for another three months, which would be costly to the family, given the dire economic situation and displacement circumstances they have lived in for almost two years.  
"No relief organizations are providing real medical services in the camp. All the camp's patients are paying for their medical tests performed outside the camp, and these tests are mostly expensive," Mohammed said.
High and varying prices
The medical laboratory technician Abdullah al-Omar, aged 41, from Qamishli, attributed prices' rise and disparity to the high cost of instruments used in laboratory analyses, including reagents, reactants, equipment, and other basic materials purchased exclusively in the US dollar.
This price hike coincides with continued depreciation in the Syrian pound's value, the high prices of necessary instruments, and their increasing repair costs. 
Moreover, the high rental costs are also responsible for increasing the prices of laboratory tests, with the lowest monthly rent amounting to nearly 200 USD, al-Omar said.
The laboratory technician pointed out the high costs of monthly ampere subscriptions, as one laboratory needs at least five amperes costing about 20,000 SYP (5.7 USD) a month. Ampere is the name used by locals to refer to electric generators.
The high wages of lab technicians and workers
The salaries of laboratory technicians and workers have also increased, al-Omar said.
A medical laboratory technician is paid nearly 400,000 SYP (113 USD) a month, and each laboratory needs at least three technicians to operate it. These costs make it hard to preserve price stability for a long period and contribute to increasing the costs of laboratory medical analysis, even though the health authority of the Autonomous Administration of North and East Syria (AANES) distributes a price list for laboratory medical tests every now and then, al-Omar said.
The city of Qamishli has dozens of private-owned laboratories, offering various types of medical analyses, such as blood, hormonal, chemical, microbial, and immunological tests. There are also the labs included in the Qamishli National Hospital, which many citizens refrain from visiting for their lack of accuracy or fear of harassment and arrests by the Syrian regime's security services.
if you think the article contain wrong information or you have additional details Send Correction