Interpol to Enab Baladi: No Red Notice request from NCB Damascus for Samir Geagea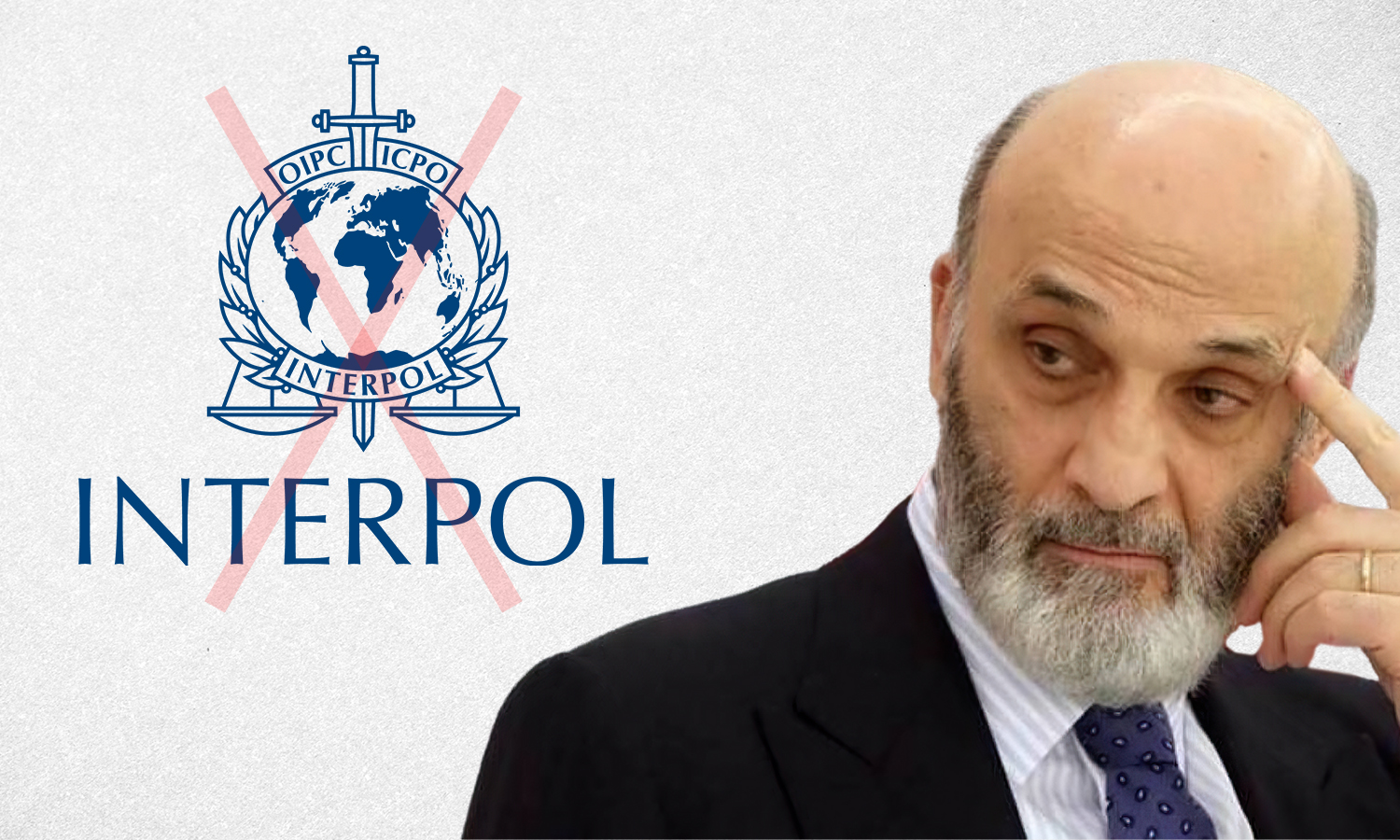 The International Criminal Police Organization (Interpol) denies that it has received a Red Notice request or any type of request from Damascus's National Central Bureaus (NCB) for the leader of the Lebanese Forces party, Samir Farid Geagea.
Syrian and Arab media reported that NCB Damascus sent an international warrant for the arrest of Samir Geagea to Interpol, on several charges brought against him by the Syrian regime.
رئيس حزب "القوات اللبنانية" (سمير فريد جعجع)، أصبح مطلوباََ بموجب مذكرة دولية حمراء صادرة عن مكتب الانتربول في سوريا بعدة تهم، وجهها له النظام السوري. pic.twitter.com/bnFX3wR4dP

— Step News Agency – وكالة ستيب الإخبارية (@Step_Agency) October 19, 2021
سلمت #السلطات_السورية، اليوم الثلاثاء، أول مذكّرة اعتقال رسميّة إلى "#منظمة_الشرطة_الجنائيّة_الدوليّة" #الإنتربول، بحق #رئيس_حزب_القوات_اللبنانية #سمير_جعجع، ليصبح بموجبها مطلوبا بموجب مذكرة دولية حمراء صادرة عن مكتب الانتربول في #سوريا بعدة تهم.https://t.co/8NwROF8cwc

— i24NEWS Arabic (@i24NEWS_AR) October 19, 2021
"There has been no Red Notice request, nor any type of request, from NCB Damascus for Samir Farid Geagea," Interpol told Enab Baladi via email on 20 October.
Interpol elaborated, "following the lifting of corrective measures applied to Syria, the General Secretariat continues to carefully monitor the NCB's activities including any requests for Red Notices. Corrective measures can be reinstated in accordance with INTERPOL's rules in the event of renewed concerns." 
According to Interpol, the Syrian NCB remains bound by Interpol's Constitution, which requires, under Articles 2 (1) and 3, to act in accordance with internationally recognized human rights laws. The Syrian NCB can not undertake any interventions or activities of a political, military, or religious, or racial nature.
Interpol said that it does not issue arrest warrants. Any member state can request the General Secretariat to issue a Red Notice, which is a request to law enforcement worldwide to locate and temporarily arrest a person, pending extradition, surrender, or similar legal action. 
On 5 October, Interpol announced it reintegrated Syria back into its information exchange network, lifting restrictions imposed on President Bashar al-Assad's regime in 2012.
Legal experts and opposition activists fear the lifting of the measures could expose people who fled the war to detention and extradition. The Syrian regime could use "its membership" to pursue opposition figures and refugees worldwide without any controls.
In a previous statement sent to Enab Baladi, Interpol stressed that it was incorrect to claim that Syria had been readmitted to Interpol, as it has been a member country since it first joined in 1953. Interpol added that the "corrective measures" it imposed on the regime limited its access to databases but did not cancel its membership.
"Similar to other NCBs, NCB Damascus can directly send and receive messages from other member countries." according to the statement. 
The statement added that member countries maintain complete control of the data they provide to Interpol and decide which NCBs get to see their information. This means that NCB Damascus can only access information in Interpol's databases that have not been restricted by other member countries.
Anti-regime stances
Last May, when the Syrian presidential elections took place, and many Syrians in Lebanon headed to the polling stations, Geagea demanded, via his Twitter account, to obtain lists of names of those who would elect the President of the Syrian regime, Bashar al-Assad, to deport them to Syria.
Geagea said, in another tweet, that "there is a clear and internationally agreed definition of a refugee; a person who has fled his country due to force majeure and security risks that prevent him from staying there. Therefore, we ask the President of the Lebanese Republic and Caretaker Prime Minister, to give the necessary instructions to the Ministries of Interior and Defense and the relevant departments, to obtain lists of the names of the refugee."
In response to questions by al-Modon TV channel on the next stage of the Syrian crisis and the possibility of normalizing relations with Syria's Bashar Assad, Geagea said there is no longer a regime in Syria.
He said, "We want normalizing and mending of the relations with all Syrians, not with only one group. And those who believe that the international community, the US, or any other power are willing to accept al-Assad's survival, are completely mistaken and do not know the real situations."
Not a single global party can accept normalizing relations with the Syrian regime. Geagea said, "the Syrian regime is completely over. What remains of it is an image only because there is no alternative party, but any political solution will lead to a radical change."
What was reported by news agencies and social media about issuing an arrest warrant against Geagea by Interpol's office in Syria coincides with the accusation made by the Secretary-General of the Lebanese Hezbollah, Hassan Nasrallah, against Geagea. Nasrallah said that Geagea is ​​"seeking division and working to ignite the fuel of a civil war."
In his speech on 18 October, Nasrallah issued threatening phrases, saying, "With whom do you want to wage a civil war? Do not miscalculate. You should know that the military structure of (Hezbollah), consists of 100,00 well-trained fighters. Do not miscalculate, be polite and take a lesson from your wars and ours."
if you think the article contain wrong information or you have additional details Send Correction