Aleppo, Syria: Fake travel agencies scam Syrian willing to travel abroad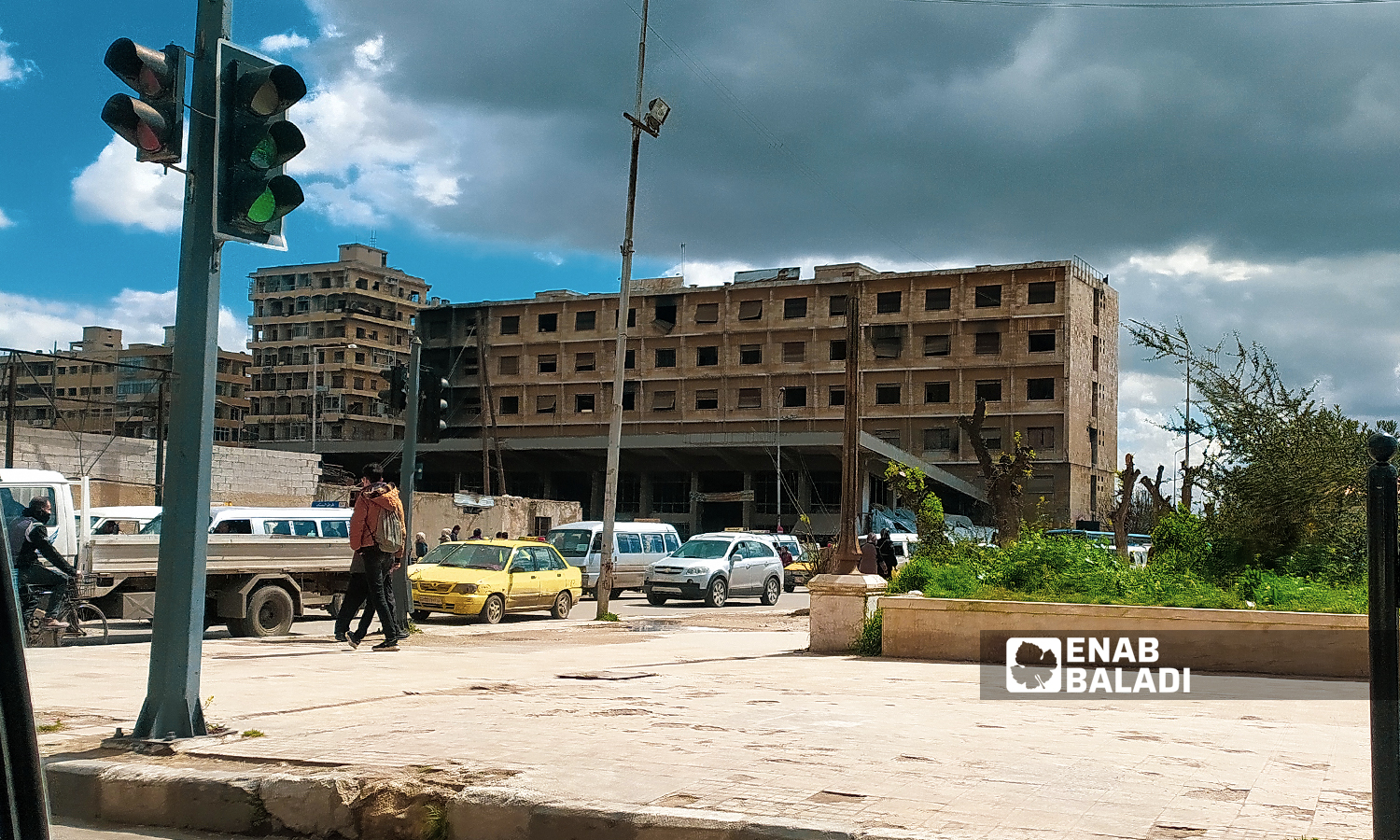 Aleppo – Saber al-Halabi
Abdullah, 49 years old, has packed the essential belongings he needs to survive on his illegal journey from Syria to Turkey. Abdullah turned to smugglers operating secretly in the city of Aleppo to get him out of Syria after concluding that life in Syria has become unbearable. 
Abdullah pointed out that he can no longer afford to meet the basic needs of his six children. He had to sell the furniture of his house to cover the smuggling costs. It is noteworthy that Abdullah's house in the Hayderiyh neighborhood was destroyed in a Syrian government attack. Therefore, he moved his furniture to his parents' house in the Sakhour neighborhood, where he temporarily resides. 
Now,  Abdullah is waiting to be transported to the city of Azaz, in the northern countryside of Aleppo, the first stop on his journey.
"With lack of job opportunities and the frequency of kidnappings of boys and girls, and the abuses and violations committed with impunity by the government-controlled militia known as the Shabiha , I realized that living in Aleppo has become impossible," Abdullah told Enab Baladi.
People who live in regime-held areas such as Aleppo suffer from deteriorating living standards amid insecurity. Therefore, many decide to go to opposition-held areas to cross into Turkey to find a better life. 
Karima, a 46-year-old resident of Aleppo, intends to travel to Turkey due to the worsening living conditions. She also does not feel safe because of the abuses repeatedly committed by members of the security branches and Shabiha. 
Karima decided to travel to Turkey because she has relatives there, who promised to help her. She has been unable to meet her basic needs for food, water, and shelter, especially since her husband died.    
Karima came to an agreement with a smuggler to get her from Afrin to Turkey within a week. The payment will be made in two phases; first before the smuggling venture and then again once they make it across the border. 
Even though she is aware of the risks she could face along her journey, she says, "If it is meant to be, we will arrive in Turkey. But if not, we are prepared to die on the smuggling route or when crossing the Syrian-Turkish border. The Turkish guard borders could shoot at us just they've shot other refugees." 
Syrian refugees swindled by "travel agencies" 
Refugees wishing to reach Turkey via rebel-held areas in northern Syria encounter several challenges. They might get tricked by human smugglers or stopped by the Turkish border guards. In some cases, they get fired at with live bullets.
There are travel agencies for transporting goods and personal effects in the neighborhoods of Aleppo, which serve as a front to promote travel to Turkey. Many people in Aleppo have been swindled by traffickers; they paid them exorbitant smuggling fees, yet, they got nowhere. 
Louay, aged 38, fell victim to a scam by these fake travel agencies. Louay agreed with a travel agency in the neighborhood of al-Maysir on a travel date, which was supposed to be on 12 September. He paid 800 USD to the agency to get him out of Syria to Turkey via smuggling routes. He was going to pay him 1,300 USD when getting to the Turkish state of Kilis. 
Louay went to the meeting point on the agreed date to travel by minibus and seek safety across the border. However, no one showed up even though Louay waited for more than two hours. Then, he realized that he was scammed by that fake travel agency along with "a large number of civilians who were waiting for their transport to Turkey." 
Louay went to the travel agency. But, the agency was shut down; obviously, the swindlers had escaped with his money. 
Yahya, 37 years old, is another victim of fraud. He paid 1,400 USD to a fake travel agency in the neighborhood of al-Salehien when the travel agents, who turned out to be swindlers, promised him that they would get him to Turkey. 
However, Yahya was shocked when he realized that he got defrauded along with numerous people who were standing in front of the closed agency. 
These people paid large sums of money to be smuggled to opposition-controlled areas or into Turkish territory. However, these smugglers' services did not materialize, Yahya told Enab Baladi.  
Smuggling activities in cooperation with Syrian regime officers
Dozens of travel agencies are deployed in the city of Aleppo. They secretly offer smuggling services for people willing to take risks searching for a better life in Turkey, opposition-held areas, or even areas under the Autonomous Administration of North and East Syria (AANES). 
Usually, people smugglers agree with the Syrian regime soldiers or officers running military checkpoints along the smuggling route. They offer them large sums of money to facilitate the smuggling of people. In other words, the Syrian regime officers should turn a blind eye to human trafficking; no one is supposed to be arrested at their checkpoints during the journey that takes place in a "microbus." 
Jassem, 48 years old, has a travel agency in the city of Aleppo. He told Enab Baladi that the most important measure smugglers should take before starting the smuggling journey is to secure the road leading to opposition-held areas. 
He added that their work is carried out secretly in the city of Aleppo, without anyone's knowledge and in different ways. 
If someone visits them to ask how to reach opposition-controlled areas or Turkey, they do not answer him quickly. Instead, they apologize to him, fearing that he is cooperating with a security branch that already arrested several travel agents. 
He pointed out that if the road near the Syrian-Turkish border is not secured, people could be arrested by the forces affiliated with the opposition factions in northwestern Syria or by the Turkish border guards.
This was about to happen during a smuggling journey conducted by Jassem's travel agency. Luckily, people were later able to cross into the Turkish city of Kilis in two batches. 
Travel agencies do not receive the full payment agreed upon for smuggling until the Syrian refugees arrive in Turkish territory, Muhammad, a 51-year-old manager of a travel agency in Aleppo, said. 
Muhammad told Enab Baladi that he sent a group of asylum seekers from Aleppo to the Syrian-Turkish border a while ago. This group was shot randomly with live bullets, and as a result, two people were injured. That's why ensuring safe access to the smuggling route is considered among the most critical factors in successfully achieving the smuggling journey.   
Even though refugees, including families and individuals, face many difficulties on the smuggling route, they believe entering Turkey illegally is less expensive than traveling legally. This is because they have to obtain a passport, book a flight, and make hotel reservations, some people met by Enab Baladi said.  
Immigration and Passports Departments in regime-controlled areas are seeing unprecedented queues to obtain a passport. However, the Syrian government cannot grant or renew passports according to the usual timeframes due to the lack of passport books and official seals, amid repeated promises from officials to solve this problem soon.
According to the official website of the Syrian Ministry of Foreign Affairs and Expatriates, the average price of fees for granting or renewing a passport or travel document immediately for Syrians within and outside Syria directly is 800 US dollars(about 540 thousand Syrian pounds) and 300 US dollars (about 185,000 Syrian pounds), respectively, within the regular system. 
Having a Syrian passport allows entry without a visa to only 29 countries. If Syrians want to travel outside those countries, they need to get a visa, which is difficult to obtain due to the requirements that are hard to meet in light of the deteriorating living conditions and the economic difficulties they face.
Identities of interviewees kept concealed for security reasons 
if you think the article contain wrong information or you have additional details Send Correction