Patients of Aleppo fear medical procedures performed by resident doctors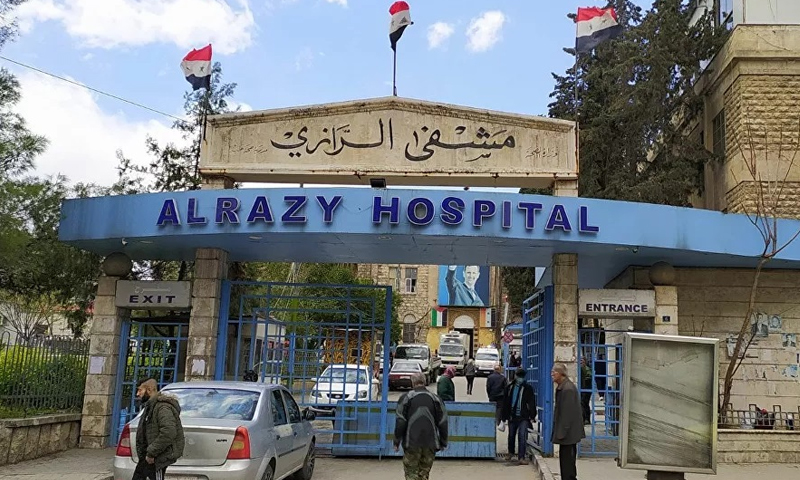 Aleppo – Saber al-Halabi
Amina, 45 years old, refused to have her gallbladder removed at Aleppo's University Hospital even though she did all medical checkups and analyzes "for fear that the surgical residents could make some medical mistakes when performing her surgery."
Withholding her full name for security reasons, Amina said that she heard about the death of a patient during surgical removal of a tumor that appeared near the liver in the hospital. The patient had severe bleeding during the operation, which led to his death.   
Amina fears having surgery in the hospitals of Aleppo, which suffer shortages of highly skilled doctors and nurses. Moreover, the majority of their health professionals are newly graduated doctors and nurses.
She continued that most doctors fled regime-held Aleppo owing to fear of murder, forced deportation, persecution and detention.
Doctors and nurses were concerned that they might get detained for helping wounded opposition fighters or activists during their presence in the city of Aleppo several years ago.
The spread of the coronavirus infection (COVID-19) has also contributed to the shortages of health workers, mainly highly skilled physicians. This is because the health sector in Syria is not prepared to deal with a significant disease outbreak such as coronavirus in terms of medical supplies and health workers. 
Deliberate neglect of patients
Amina, a housewife, told Enab Baladi that "most people are looking for a skilled medical specialist."
"Patients of Aleppo can hardly find a medical specialist at this time."
She added that there has been so much talk about failed medical procedures in Aleppo's University Hospital and the need to perform them again or transfer patients to other hospitals. 
Patients in the University Hospital are deliberately neglected. Those with no connections have to wait forever to take a turn to have permission for surgery.  
Resident doctors place medical specialists
Hospitals of Aleppo, mainly the hospitals of University,al-Razi and Ibn Rushd, do not mention the failed surgical operations primarily performed by newly graduated doctors. These doctors have no sufficient residency experience. They have just started practicing medicine. 
A nurse, who spoke on the condition of anonymity for security reasons, said most of the resident doctors in University Hospital express their fear of performing surgeries.
"Before the time of the surgery, many doctors felt hesitant to perform a surgical procedure while others did not show up at all. In some cases, the doctor who performed the surgery simply withdrew because he became lightheaded and exhausted. This made him leave the operation room and head to the break room," added the nurse.  
"Therefore, another resident doctor came to complete the surgery. Nonetheless, the doctor who started the operation absolutely made some mistakes when he felt dizzy or tired."
The nurse noted many doctors made clinical mistakes in Aleppo's hospitals, mainly because it was their first time performing an operation on a patient.
Any other options?!
Patients lack trust in resident doctors. Therefore, they turn to other alternatives, such as seeking treatment outside Syrian territory. 
Hassan, a resident of the city of Aleppo, is attempting to complete all his wife's papers to send her to Jordan or Turkey for medical treatment. His wife needs urgent foot surgery due to damage to the venous nerves and her inability to walk.
Hassan's wife underwent two surgeries at al-Razi Hospital. Her health was kind of "acceptable" at first, Hassan told Enab Baladi.
However, internal bleeding occurred because her damaged veins were not tied off well during the surgery. And when Hassan and his wife complained about the errors made during the surgery to the hospital service, the hospital argued that they do not have a vascular surgeon. They also said that his wife's wound sustained internal bleeding because it got too wet. 
Hassan said that Aleppo's hospitals give other excuses for the medical errors during surgeries—some patients suffer excessive bleeding. 
However, Hassan said that the main reason for these medical errors is that new graduates or resident doctors perform most operations.
 Fleeing unlawful or arbitrary arrests and detention
The migration of health personnel – especially medical specialists and nurses – caused resentment and anger among civilians who blamed the regime and the security branches for that. Health professionals have been constantly harassed, threatened, and abused by the Syrian regime soldiers and its affiliated security agents. Some doctors were kidnapped by security agents, who demanded large sums of money for their release.   
A doctor working in the city of Aleppo, whose name was withheld by Enab Baladi for security reasons, left Aleppo to work in Homs. However, he got harassed by members of the security branches for having the same name as a wanted individual. Therefore, he decided to go back to Aleppo, where he got arrested again. His family had to pay the security agents around 25 million SYP to get him out of prison. 
The doctor told Enab Baladi that he would rather leave Syria than stay and be arrested or blackmailed by the security branches.
Health workers in Syria suffer from a lack of medical supplies and low incomes in light of the worsening living conditions in the country. Moreover, they are systemically targeted by the Syrian regime in various Syrian regions.
if you think the article contain wrong information or you have additional details Send Correction