India's growing interest in Syria governed by security and economic interests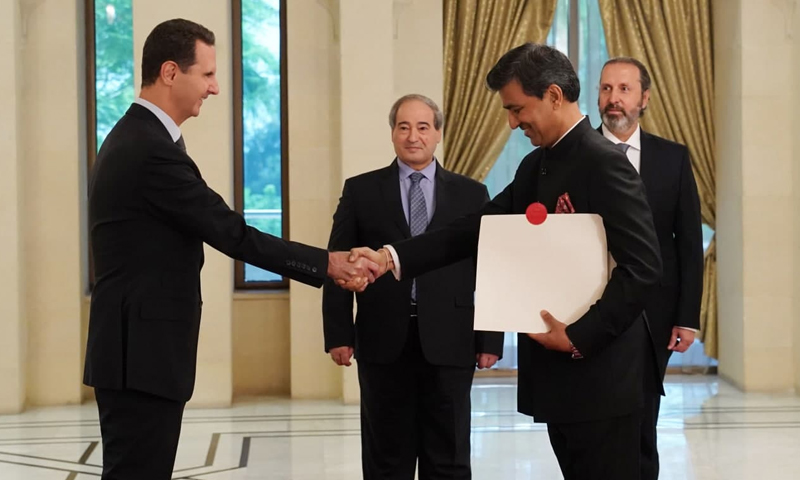 Enab Baladi – Amal Rantisi
India's new Ambassador to Syria, Mahender Singh Kanyal, started his official duties after the President of the Syrian regime, Bashar al-Assad, accepted his credentials in the People's Assembly of Syria on 26 August, enthusiastically announcing that his country will provide support to the regime at all levels.
During a meeting with the Syrian Prime Minister Hussein Arnous on 8 September, Kanyal stated that "India is committed to providing technical and humanitarian support, and contributing to capacity-building and human resources development according to the requirements and needs of Syria."
On 4 September, the Indian Ambassador in Syria visited Latakia governorate. During the visit, he emphasized the importance of promoting cooperation between the two countries in four sectors: agriculture, energy, information technology, and exchange of experiences, the local pro-government newspaper al-Watan reported. 
Kanyal pointed out the possibility of a twinning agreement between Latakia and one of India's cities to further enhance bilateral relations between Syria and India.
India has not severed its diplomatic relations with the Syrian regime since the beginning of the revolution in Syria in 2011. On the contrary, both sides have maintained diplomatic representation and undertook economic projects, which have not been completed because of sanctions imposed on Syria.
Moreover, the recent statements of the Indian Ambassador revealed an increased interest in future projects, with Kanyal saying that his country aims to "deepen relations with Syria."
Syria and India: Friendly relations, historical ties, and shared interests
On relations with Syria, the Indian Ministry of External Affairs mentions on its website, "India and Syria enjoy friendly political relations based on historical and civilizational ties, the experience of imperialism and of being colonized, a secular, nationalist and developmental orientation and similar perceptions on many international and regional issues and membership of the Non-Aligned Movement (NAM)."
In early 2016, former Syrian Minister of Foreign Affairs, Walid al-Moallem, paid a four-day visit to India, during which he held discussions with his Indian counterpart, Sushma Swaraj, and other officials on the situation in the region and bilateral relations.
Before visiting India, al-Moallem visited Moscow and Beijing to mobilize support for Syria's position on ways to "achieve peace and fight the terrorism of armed terrorist groups in Syria, chiefly the Islamic State (IS)," according to the official narrative of the Syrian regime.
Through these visits, Damascus sought to rally new alliances in east Asia (India and China) after its relations with the West deteriorated following the 2011 Syrian Revolution.
Political researcher at Omran Center for Strategic Studies, Maan Talaa, told Enab Baladi that India's position towards the Syrian regime falls within its general external policy. 
India's foreign policy supports regional stability at the expense of revolutionary changes. This approach was evident in its position on the Arab Spring, which India successfully resisted in return for protecting its interests and stability in the Middle East region, Talaa said.
He added that India adopts a policy of strict neutrality during external crises, particularly those involving international actors like in the Syrian case. The Syrian crisis has been managed by outside parties, chiefly the United States and Russia, that is why India remained committed to its non-interventionist policy and did not side with any party of the Syrian conflict. 
Moreover, India's support for the regime, or lack thereof, does not affect the politics of the Syrian conflict, Talaa said, adding that India is not an influential actor in the Syrian issue on the political, security, or military levels.
According to Talaa, India's alliance with the regime is, in reality, an alliance of convenience to India to be one of the economic forces in the Middle East. The regime's officials' visits to India and other countries in eastern Asia after 2011 and Syria's disrupted relations with the West contributed to promoting economic relations between India and Syria.  
Indian researcher Kabir Taneja's report "What is Behind Ties Between Assad and India?" published in 2016, discussed India's non-alignment policy adopted in 1961 within the Syrian conflict context following Walid al-Moallem's visit to India.  
According to Taneja, "New Delhi maintains friendly ties with Damascus. While some Indian officials have hinted that regime change would be destabilizing, in general (and consistent with its philosophy of non-alignment), India has refrained from taking strong, public, or official positions on the Syrian conflict."
He added, "India's current stance on the Syrian crisis comes off as a little contradictory. While stating that talks should be the primary way to bring the conflict to an end and denouncing the use of the military option, India has also shown support of the Assad government's view that equates rebel groups to terrorists, support for Russian airstrikes, and at the same time support for the UN-led peace talks."
The Non-Aligned Movement (NAM) includes 120 developing world states and was formed during the Cold War in 1961. It is based on the idea of non-alignment to any of the two camps, the Western camp led by the United States or the Eastern camp led by the former Soviet Union.
The NAM aims at creating a neutral political current that is not aligned with the international policy of the world's major powers.
India's fear of terrorism justifies its support to the Syrian regime 
In 2018, Indian External Affairs Minister Subrahmanyam Jaishankar announced his country's full support for "Syria in its war on terrorism, and its willingness to contribute to its reconstruction." 
India feared that supporting revolutionary actions in the Middle East region would reflect negatively on it, particularly in terms of moving conflict and instability to its lands. It viewed the growing force of violent non-state groups in the Middle East and the possibility of these groups penetrating India with great concern. 
India was cautious about joining efforts with the international community in fighting non-state "terrorist" groups in the Middle East region, with continued terrorist threats coming from neighboring countries such as Pakistan.
The historical friendly relations between India and the regime's government and their impact on India's position towards the conflict in Syria does not cancel the fact that India's stance on the Syrian crisis is primarily linked to its economic and political interests, Talaa said.
Talaa pointed out that India supports peace and stability in conflict zones in the Middle East region because instability threatens its oil and gas imports. In addition, India fears that any victory for Islamist groups in the Middle East would resonate in neighboring regions like Afghanistan, Kashmir, and Pakistan.
In addition, geo-security reasons push India towards supporting peace in the Middle East region, thus competing with China and Pakistan, Talaa said.
These reasons combined explain India's position supporting stability in the Middle East, and behind this position lies strategic interests for India, Talaa said. 
Disrupted economic interests
According to Talaa, India's foreign policy is based on economic interests. India encourages stability in countries providing oil and gas imports.  
India is largely dependent on fossil fuel imports. India showed no support to the Syrian opposition throughout the Syrian conflict, fearing for the regions' stability and its economic interests.
Moreover, India aspires to increase the selling of its goods in the Middle East market.
India has two important investments in Syria's oil sector, the first being an agreement signed in January 2004 between the Indian Oil and Natural Gas Corporation Limited company (ONGC) and the Improved Petroleum Recovery (IPR), a United States-based international company for oil and natural gas exploration at Field 24 near Deir Ezzor.
The second investment was between the Indian company of ONGC and the China National Petroleum Corporation (CNPC) to acquire 37 percent of the Canadian Petro Canada's shares in the Syrian al-Furat Petroleum Company in 2005.
These investments were halted due to sanctions imposed by the United States and the European Union pending their lifting, according to the Indian Embassy's website in Syria.
In 2019, India sent investment explorers to Damascus to participate in the reconstruction process and reactivate oil projects; however, the US oil interests hit India's investment prospects in Syria.
In an interview with the French magazine Paris Match in 2019, the head of the Syrian regime, Bashar al-Assad, pointed out a "coordination" with foreign companies to invest in Syria, namely Indian, Chinese, Iranian, and Russian companies.
In response to a question on India's economic role in Syria, Karam Shaar, a Syrian Ph.D. holder in Economics and researcher at the Middle East Institute in Washington, told Enab Baladi that India's economic role in Syria has been limited throughout history. This is because India started opening up economically only 15 years ago, and before that, there was a great emphasis on socialist and communist economic policies.
India had modest economic activity in Syria, with limited trade and almost no investments. Its real interest was focused on oil and electricity investments.
Bharat Heavy Electricals Limited (BHEL), an Indian State-owned company, was awarded a 485 million US dollars contract in 2008 to supply 400 megawatts (MW) to the Tishreen power plant near Damascus.
The power supply project was partially funded by the Export-Import Bank of India, which provided a soft loan of 240 million US dollars and released the first payment of 100 million US dollars in 2010. Syria or an international financial institution was expected to cover the remaining 245 million US dollars.
However, BHEL suspended its activities at the Tishreen power plant in late 2011 for security reasons, despite acquiring 75 million US dollars worth of equipment.
In January 2016, it was announced that the Tishreen power plant would resume work during an official Syrian visit to India. Three years later, it was announced that the BHEL company would return to Syria during an official Indian visit to Damascus. Nevertheless, no news was reported on the company's resumed activities in the plant to this day.   
Source: Syria's Electricity Sector After a Decade of War: A Comprehensive Assessment | Sinan Hatahet and Karam Shaar
As for Talaa, he said the economic dimensions associated with the overall Indian position towards the Arab Gulf States and West of Asia cannot be overlooked, as it is clear that there are significant shared interests in trade, investments, money transfers, and energy sector, which are part of India's economic strategy aiming to be one of the world's largest economies.
In 2019, India ranked as the fifth largest economy with a gross domestic product (GDP) of 2.94 trillion US dollars, indicating that India is going through an economic awakening, prompting it to seek interests in other countries, as Talaa pointed out.
if you think the article contain wrong information or you have additional details Send Correction