First book fair launched in north-western rebel-held enclave of Idlib, with 6,000 books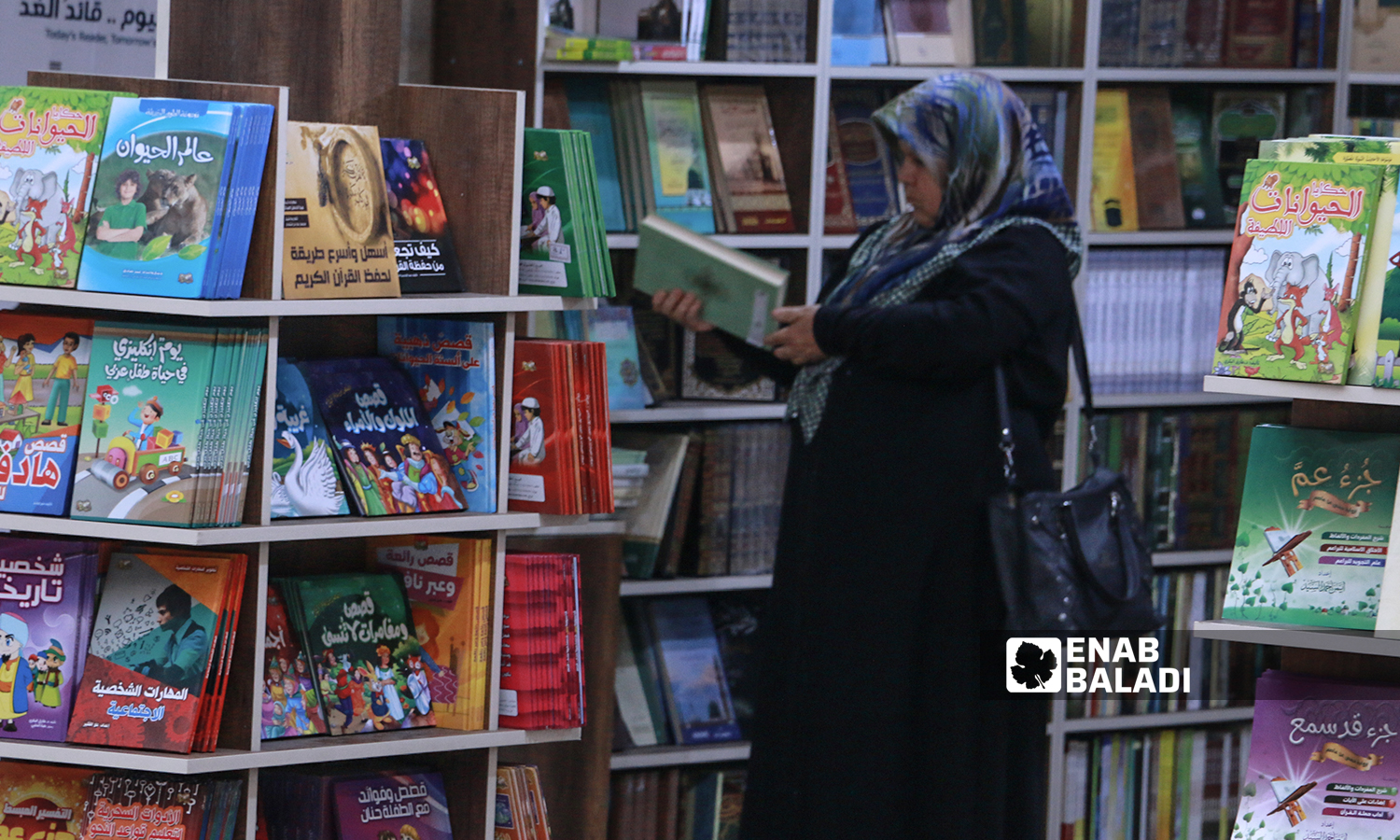 The first book fair kicked off in Syria's last major anti-government bastion, Idlib, in September 2021. It came a week after a similar book fair was held in the city of Azaz, in the northern countryside of Aleppo. 
The fair will run from 4 to 10 September in Idlib's cultural center. The opening hours will be from 10:00 a.m to 1:00 p.m and from 3:00 p.m to 8:00 p.m. 
The fair will feature dozens of local bookstores, book-related merchants and publishing houses, as well as performances, readings, and author appearances.
It is expected that many aspiring writers and academics will attend the book fair, including Iman Muhammad, Omar Hudhayfah and Anas Anas al-Tadmouri, to show off their wares. Their fans from different areas in northern Syria can meet them at book signings. 
In addition, extensive side events are held at the fair. There are lectures, debates, and public discussions. Dr.Muhammad al-Jandali will give a lecture entitled" We do not want things to stay the same forever." Another lecture, "Long story short," will be delivered by Emad al-Din Rasheed.
Diversity
 Abdul Hadi al-Shami was looking for a series of missing books. Luckily, he was able to find them at the book fair. He was happy to buy many books at special discounted prices. He also stressed that many visitors are often able to purchase books at special discounts. 
In the book exhibition, al-Shami told Enab Baladi that this book fair attracted the youth in the region. Many of them started to look for their favourite books at the fair. 
Ghazala al-Saeed, a resident from the southern countryside of Idlib, said that the books are sold at affordable prices. 
"I wanted to buy a book from Lebanon, its price was a kind of high; 50 USD. Luckily for me, I found it at this book fair for only 25 USD. In addition, you can find used books at the book fair at low prices, around 15 USD."
Al-Saeed told Enab Baladi that she came to the exhibition to select a bundle of books, such as books written by Adham al-Sharqawi.
She used to download PDF books, print them out to read them later. However, she is now able to buy printed books immediately from the book fair.
Al-Saeed was surprised by the number of participating bookstores in the bookfair. Previously, she knew only about the two bookstores spread in Idlib governorate. During the exhibition, she found out that there are other bookstores spread in the opposition-controlled areas of northern Syria. 
In the exhibition, there are about six thousand book titles, with the participation of local publishing houses that brought printed books in their original copies from the cities of Istanbul, Cairo and Beirut, Diaa Medawar from the Al-Ansar Bookstore, told Enab Baladi.
The Al-Ansar bookstore has a branch in the city of al-Bab, east of Aleppo governorate, and in the coming period, it will open another branch in the city of Idlib.
Many people in the opposition-controlled areas have stopped reading during the past ten years, but there is a great demand for specific books. Sometimes a person searches for a book but does not know where to find it, so the exhibition introduces people to existing bookstores and books, according to Diaa Medawar.
Medawar expected a "very good" turnout compared to the exhibition he participated in two weeks ago in the city of Azaz because the population density in Idlib is greater.
Medawar confirmed a great demand by readers for certain printed books (six thousand books of different titles). He ordered books from Beirut in a single shipping container that holds around 400 packets of printed books. 
 Medawar said that the shipping costs and delivery times are the greatest obstacles encountered by publishing houses. 
if you think the article contain wrong information or you have additional details Send Correction