Absence of laws ignites inter-clan disputes over state lands in Raqqa countryside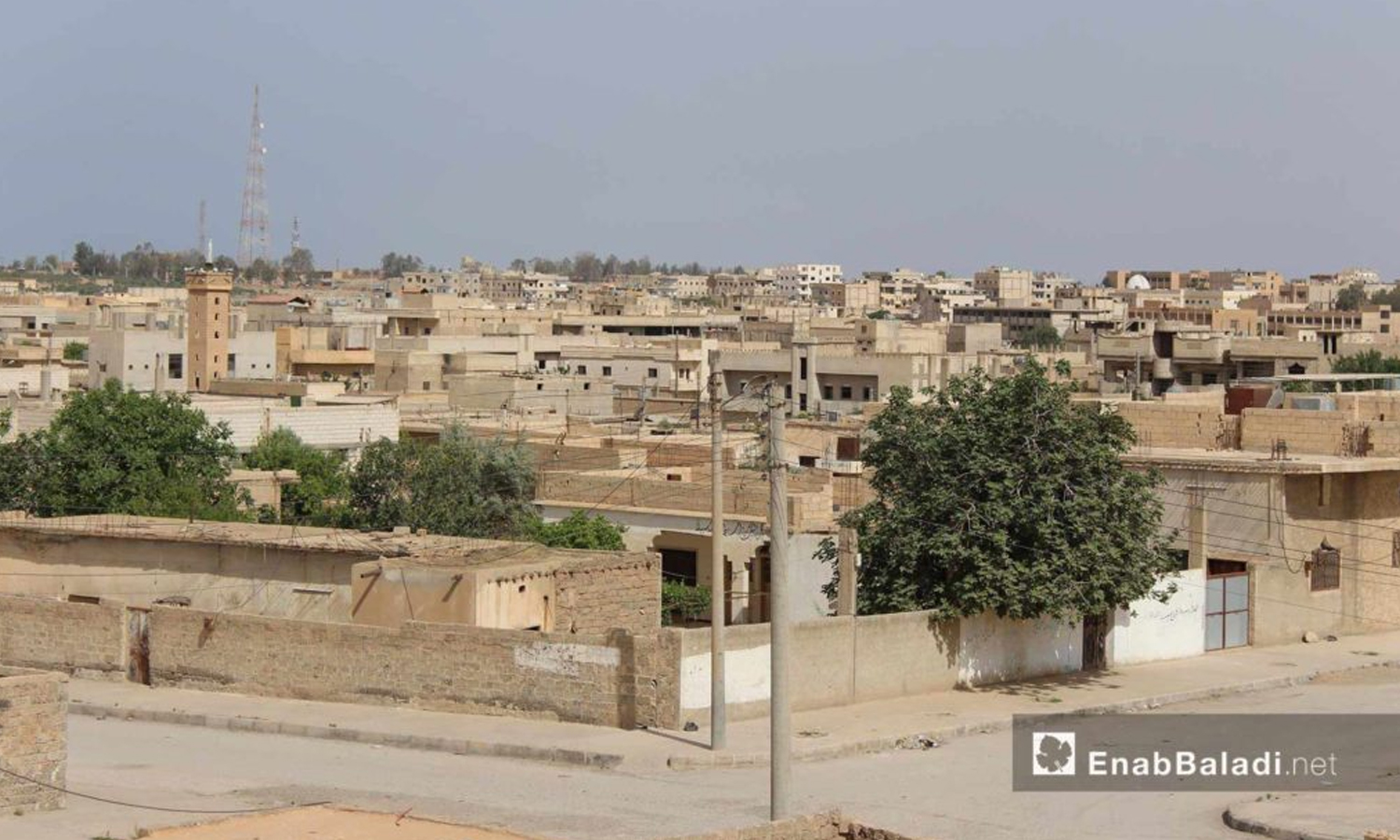 Raqqa – Hussam al-Omar
"The Autonomous Administration could not establish a fair law." With these words, Jalal al-Khaled, a 40-year-old resident of Hamrat villages in the eastern countryside of Raqqa, described the current situation of public properties in the areas governed by the Autonomous Administration of North and East Syria (AANES), including the city of Raqqa in northern Syria. 
Al-Khaled said that disagreements arose among families and clans about investing in or cultivating the state lands. He added that these disagreements primarily resulted from poor planning by lawyers and legal professionals, who are supposedly working on drafting laws in the AANES-controlled areas. 
"This land is mine because my grandfather cultivated it"
Al-Khaled, a former employee of the Syrian regime's Real Estate Records Department before 2011, told Enab Baladi that Raqqa's Directorate of Agriculture used to lease pieces of land to locals as an investment under formal contracts.
 Even though several years have passed since the AANES actually took control of Raqqa, areas in its countryside are still experiencing tensions, sometimes developing into direct clashes between clans over the investment of public lands.
Al-Khaled says that people here believe that if the grandfather cultivated a piece of agricultural land, this would give the son or grandson the right to invest in it today, even after 100 years. 
Al-Khaled believes that leaving things the way they are without clear laws specifying the eligibility to own or invest land could cause permanent tension between those clans.
The solution is to empower the judiciary
In an interview with Enab Baladi, lawyer Muhammad Ayoub noted that he believes that the protection of public property will come from empowering an independent judiciary. It should independently issue decisions and rulings that remove all violations of the conditions that resulted from Raqqa's administrative chaos during the past years.
Ayoub pointed out that there is a lack of public awareness. Some people consider taking pieces of public property as "spoils." These people have a low sense of responsibility. Besides, there is a general feeling of social injustice among the population after years of war in Syria. 
On 12 April, the Raqqa Civil Council's Agricultural and Irrigation Committee issued a decision to confiscate all parties' ownership of disputed lands and public properties and return them to public ownership. 
Head of the Public Property Office in the Agriculture and Irrigation Committee, Bassam al-Hamad, said in a statement to the local North-Press Agency that the decision was issued after several disputes over public property among the residents, which necessitated the removal of the hands of all parties and their return to public ownership.
At the beginning of this year, Raqqa's Legislative Council issued a decision banning the acquisition, purchase or sale of public property after 4 March 2013.
"No harm, no foul"
Abdul Samie al-Olayan,40, believes that there is no harm in investing in public property lands that can be cultivated. It is preferable not to leave them barren, on the principle of "no harm no foul."
Al-Olayan did not deny that some "mean-spirited and greedy" people attempt to possess many public properties even though they cannot invest them all. 
Al-Olayan demanded that "concerned authorities" allow investment in public properties according to well-studied and clear plans.
The Public Property Office of the Raqqa Civil Council's Agriculture Committee is working to "achieve the public interest," about making the optimal use of public properties in the city of Raqqa and its countryside from agricultural lands or the Badia lands designated for grazing and preventing  them from being "illegally acquired."
The office also leases public agricultural lands to farmers to grow crops and benefit from them, reported the Hawar news agency (ANHA) on 28 December 2020.
The agency stated that the office organizes field tours in coordination with the people's councils and municipalities in the countryside to preserve public properties, protect them from encroachments, issue all relevant circulars, and take legal measures against violators in accordance with the laws in force.
ANHA said that in 2019, the office leased about 25 thousand dunams of land and signed 417 contracts with the beneficiaries, with a total value of 18 million and 600 thousand Syrian pounds.
Despite this, the AANES-affiliated Legislative Council "categorically prohibited" building on state property lands —this includes constructing, planting, or fencing a public property. It also prohibited owning, selling or buying public property (lease contracts, squatting) after the date of 4 March 2013, "to preserve public property."
It also prohibited all real estate agencies from selling, buying, or brokering publicly owned land, whether arable or non-arable. It stated that offenders would be held liable.  Any "irregular" contract about public properties is considered null and void. Such a contract never comes into effect, and all its implications and impacts are considered invalidated.  
Legal disposal of vacant property 
State property or public property in Syria is property registered in the name of the Syrian Arab Republic.
Whoever occupies the vacant, permissible lands or the unreclaimed lands may obtain a license from the state over a priority right within the conditions specified in the state property regulations, according to Article 86 of the Syrian Civil Code.
The article defined vacant, permissible real estate, or unreclaimed lands, as "the princely lands that belong to the state, but they are neither specified nor determined."
The license is given by the Ministry of Agriculture and Agrarian Reform. Seizure of unreclaimed lands without a license is a crime punishable by law in the state property legislation.
Suppose the state refrains from registering the right of disposal in the name of the appropriator despite fulfilling the legal conditions for appropriation. In that case, he may compel the state to register it by obtaining a court ruling.
The seizure does not authorize the acquisition of any right over real estate registered in the real estate registry, real estate under the management of state property, forests, or abandoned or attached or protected real estate.
if you think the article contain wrong information or you have additional details Send Correction