UNDP's cooperation with National Union of Syrian Students: partnership in crime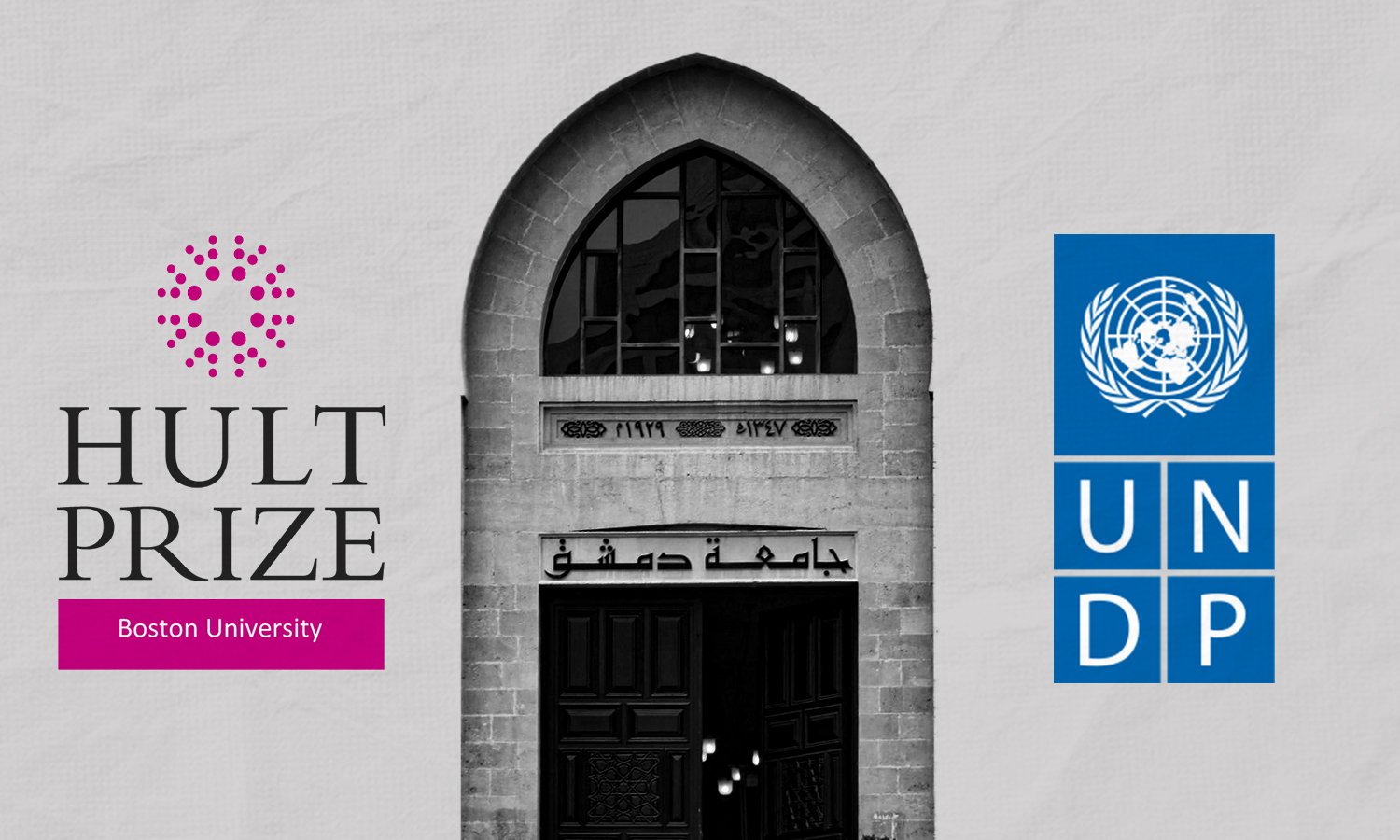 Enab Baladi – Diana Rahima
Ayham Ghazzoul, a dentist and a master's student at Damascus University, was arrested by the National Union of Syrian Students (NUSS) in 2012. He was severely beaten, forcing blood out of his ears and causing him brain hemorrhage inside one of the Medicine Faculty's rooms chosen by the union to detain university students and torture them. 
Ayham died four days after his detention due to injuries sustained by severe beating on the head by members of NUSS, an informed witness to Ayham's torture told Enab Baladi. 
The Syrian regime employed NUSS to infuse Ba'ath Party's ideologies in Syrian youth and transformed NUSS offices into detention centers against students who dare to challenge the party's rules or join popular movements against the regime and its party.  
The Arab Socialist Ba'ath Party was founded in 1947 in Syria and became a vital tool to install loyalty when Hafez al-Assad came to power in 1970. Party seniors continued to glorify the rule of the al-Assad family after Hafez's death and supported his son Bashar al-Assad.  
The United Nations Development Programme in Syria (UNDP Syria) has announced its collaboration with NUSS to organize the international Hult Prize competition that has been named the "Nobel Prize for Students." This collaboration has triggered painful memories for many students and parents of those tortured or killed in NUSS offices in Syrian universities, which were supposed to be a safe educational environment distant from politics and the Syrian security apparatus. 
On 12 July, UNDP Syria's official Facebook account announced a competition including all Syrian universities to elect campus directors to lead change at their universities and organize localized editions of the Hult Prize on campus.
A partner in crime
Mariam Hallak, Ayham Ghazzoul's mother, told Enab Baladi that UNDP is a partner in her son's murder because of its current collaboration with NUSS despite all crimes and violations the students union is accused of.
She added that NUSS is responsible for detaining and killing a large number of Damascus University students and described the head of NUSS in Damascus, Iyad Talab, as the "criminal" responsible for killing her son by beating his head repeatedly with a stick, causing him to lose consciousness and develop brain hemorrhage which led to his death. 
By collaborating with NUSS, the UNDP is honoring and blessing Talab and his team at NUSS for their crimes, the bereaved mother said. 
Human rights advocate Majid al-Bunni replied to a post condemning the UNDP's cooperation with NUSS on the Hult Prize competition by expressing his disgust at it, adding that members of NUSS tortured him in his university. He wrote that six members of UNSS hit him hysterically with sticks while shouting "Hafez is you God!" while he was at the university campus to buy lectures' materials.
UNDP Syria addressed Syrian university students interested in volunteering to participate in the Hult Prize competition to become campus directors and attached the competition's registration link expiring on 15 July.
NUSS defines itself on its official website as a popular organization founded in April 1963, comprising students from Syrian public and private universities and higher institutes, with branches inside and outside Syria.
Hult Prize competition
The Hult Prize is an annual, year-long competition that crowd-sources ideas from university level students after challenging them to solve a pressing social issue around topics such as food security, water access, energy, and education.

The Prize is a partnership between Hult International Business School and the United Nations Foundation.

Former US president Bill Clinton selects the challenge topic and announces the winner each September. Clinton mentioned the Prize in a 2012 Time magazine article entitled "5 Ideas That Are Changing The World For The Better."
Legal basis for UN bodies' engagement with the Syrian government
Syrian journalist and human rights defender Mansour al-Omari told Enab Baladi that UNDP Syria, like any UN agency, can legally make dealings with the regime and its government institutions.
Al-Omari added that the United Nations Action Charter allows UN bodies to cooperate and engage with international governments under specific parameters to prevent empowerment or work with criminals. However, in this case, UNDP Syria's cooperation with NUSS stands as an ethical scandal and a violation of the UN Charter, given that NUSS has been implicated in torturing, assaulting, and killing Syrian students, including Ayham Ghazzoul, who was killed by the head of NUSS in Damascus, Iyad Talab. 
According to al-Omari, the scandalous cooperation between UNDP Syria and NUSS can be fought against in two ways, the first of which is by documenting NUSS's crimes in organized files reporting the atrocities committed by its officials, including Talab and sending them to the UN while exposing the case in the media.
The second way is by directly contacting the donors of the Hult Prize to inform them of NUSS's crimes and bring their attention to their responsibility in dealing with a government institution involved in crimes against humanity against Syrian students, al-Omari said. 
Human rights organizations' condemnation 
The Day After organization has condemned UNDP Syria's partnership with NUSS that is responsible for facilitating and committing crimes against humanity against Syrian students and called on UN bodies to stop all cooperation and engagements with NUSS.
The Syrian Network for Human Rights (SNHR) also condemned the cooperation due to NUSS's involvement in grave violations against thousands of Syrian students, including torture, illegal detentions, and enforced disappearance. NUSS is also accused of recruiting students as secret intelligence agents to report on their colleagues who are activists or part of any popular movement against the regime to the regime's security apparatus.
Fadel Abdul Ghany, the director of SNHR, told Enab Baladi that UNDP is a UN development program in Syria, forced to deal with the regime as a humanitarian organization.
He added that the regime has only authorized the work of UN agencies in its areas after guaranteeing it was in coordination with Syrian government-affiliated organizations such as the Syria Trust for Development and other organizations.  
According to Abdul Ghany, UN bodies must find alternatives to dealing with dictatorial regimes such as the Syrian one because the bulk of granted humanitarian aid is being taken by the regime and its loyalists, not by the most affected groups, since 2011 to this date.
Director of the Syrians for Truth and Justice (STJ) organization, Bassam al-Ahmed, said that humanitarian aid programs in regime's areas must not be criminalized, particularly when they involve aid to Syrian students. These areas are Syrian territories, and students targeted by the Hult Prize competition are Syrian students. The only thing required by such an award program is to ensure equal opportunities and fairness. 
Were universities in Syrian "liberated areas" involved in the competition?
President of Aleppo University, Dr. Abdul Aziz al-Daghim, told Enab Baladi that 23 teams presented their projects to a committee composed of three members of the university's teaching staff and two members of the Molham Volunteering Team.
The projects were submitted and presented to the committee at the university's grand auditorium. Each team included two to four students, and the top three teams were nominated to participate in the regional competition in the Turkish capital, Ankara; however, the teams could not travel because of coronavirus (COVID-19) preventive measures imposed by the Turkish government.
Al-Daghim pointed out that the coordination between Aleppo University and Hult Prize Foundation resulted from communications between the two sides, which culminated by the foundation agreeing to Aleppo University's participation in the competition in Ankara as a regional headquarters which delegations from other countries could join.
President of Rojava University in Qamishli city in northeastern Syria told Enab Baladi that there had been no coordination between UNDP Syria and the university regarding participation in the Hult Prize competition.
While Minister of Higher Education of the Syrian Salvation Government (SSG), Bassam al-Sahyouni, confirmed to Enab Baladi that SSG's universities are not participating in the competition and that no coordination has been made in this regard. 
The latest cooperation between UNDP Syria and the regime's government-affiliated NUSS is not a precedent. UN agencies have been under heavy criticism for increased dealings with the regime and its officials over the past few months outside the framework of humanitarian assistance and relief work. Meanwhile, the agencies continue to document violations and crimes committed by the regime against civilians in Syria.
Enab Baladi has reported previous dealings between the regime and UN bodies, most notably the use of the World Health Organization (WHO) of the US-sanctioned Syrian Cham Wings Airline to transport medical aid from the United Arab Emirates (UAE) to Libya and the election of the Syrian regime as a State Member for a three-year term to WHO's Executive Board.
if you think the article contain wrong information or you have additional details Send Correction