To protect stores from burglaries, civilian security guards are hired in Homs countryside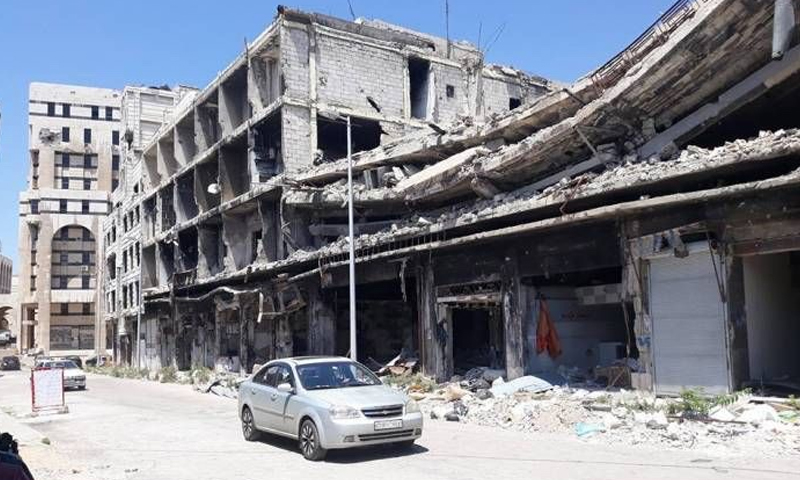 Homs – Orwa al-Mundhir
Around six store owners gathered on a sidewalk in al-Rastan's popular market, north of Homs, to watch a video that showed traces of an attempted store burglary. 
"Seemingly, there must have been someone who was trying to rip my store's front door off its hinges by a rope attached to a car," said store owner Abdul Rahman. As observed by Enab Baladi, the door resisted that, or maybe the car used was not strong enough to take the door off its hinges."
After a long discussion, the six-store owners agreed to hire a group of young men to guard their stores all night long, especially since winter is approaching; the nights are longer, and the number of passers-by is less.  
Enab Baladi observed a noticeable increase in the number of burglaries in Homs governorate in the past three months.
Last July, at least six burglaries took place. The value of the stolen objects is estimated between two and eight million Syrian pounds (1USD=3,400 SYP), based on the quality of the stolen goods. 
Despite repeated burglaries, the police department in the area did not take any action, which prompted the store owners to consider paying a group of young people to guard their shops.
Burglaries occur near security units
Even though many security units are concentrated close to the popular markets in the northern countryside of Homs, and their mobile patrols are in a state of constant alert, burglaries take place near them. 
It is noteworthy that police patrols are widely spread during the day at the entrance and exit points of cities and towns in the region to collect "royalties" from the owners of vehicles, which are loaded with different types of goods. However, police officers and patrols disappear entirely when the sun goes down and commercial traffic ceases.  
Jamal, a 38-year-old resident of Taldo city in the Hula Valley, told Enab Baladi that stores are robbed every day right in front of the security forces and police. Yet, they do not take any effective actions; they just write a report and take bribes. They do not either work any night patrols. 
He added that a spice shop was robbed five days ago, although it was only 150 meters away from the Military Police Unit. The value of the stolen spices was estimated at 8 million SYP. 
Goods worth two million SYP were also stolen from another store, 400 meters from the same police unit. Even though the Police Unit remains constantly alert, it claims not knowing who robs the stores. According to Jamal, it can only distinguish those who did not perform military service without checking their identities.
Kamal, a 46-year-old food store owner in al-Rastan's popular market, told Enab Baladi that the frequent robberies of stores in recent times have forced the merchants to hire guards to protect their business from theft.
"Each store has merchandise worth no less than 15 million SYP. For example, a parcel of mate and 10-packs of cigarettes are worth two million SYP. So, any loss arising from theft will be many times more expensive in three years due to the changing exchange rate," Kamal added."
Shop guards
Some store owners began to hire security guards in efforts to protect their stores from burglaries at night due to the laxity shown by the police department and security services. 
Enab Baladi said that two groups of security guards started their work in the city of al-Rastan, and the store owners will share the security costs equally. 
Two groups of four young men—each group has two security personnel—take turns guarding ten stores in return for ten thousand SYP per night. So, if they suspect any burglary attempt, one of the guards should contact one of the shop owners immediately. 
Ibrahim, a 22-year-old security guard, told Enab Baladi that he guards the stores from 11 pm to 2 am in exchange for 2,500 SYP.
Ibrahim thinks that the store owners are paying him a sort of acceptable money for sitting with one of his friends on guard duty at the gate of a store. 
He believes that their presence in the streets protects the stores from burglaries because burglars know they will be reported as soon as they are seen. 
People in Syrian regime-controlled areas said that commercial burglaries are on the rise because of the deterioration of the economic conditions amid the Syrian government's inability to improve them.  
Stories have been circulated on social media platforms on theft and robbery incidents of goldsmiths, jewelry, vehicles, or cell phones.
if you think the article contain wrong information or you have additional details Send Correction