Syrian women abandon beauty products and routines under economic hardships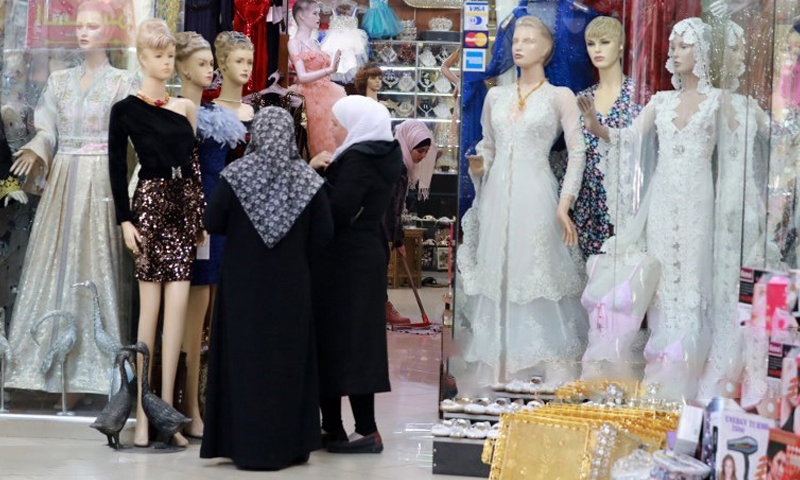 Enab Baladi – Jana al-Issa
"I have given up on buying many beauty products after their costs exceeded my financial ability. Taking care of myself has become a secondary matter against my family's needs; therefore, I decided to give myself up to work to fend for my family at the expense of my sense of femininity."      
This is how twenty-seven-year-old Aya, who asked Enab Baladi not to mention her last name for personal reasons, explained the choice she made having to put her family's needs ahead of hers by giving up on buying personal care products due to financial hardship.
While most women worldwide consider shopping, purchasing fragrances and skin-care lotions, and visiting beauty salons as essential personal needs to take care of themselves and promote their sense of femininity and self-confidence, Syrian women consider these needs a luxury under current circumstances. 
Today, many women living in Syrian regime-controlled areas find themselves forced to abandon the "luxury" of self-care, which other women outside Syria see as a priority, to focus on securing basic everyday needs under acute economic and living crises. 
Inadequate wages
Aya has been teaching mathematics in one of the Syrian capital Damascus' schools for four years and says that her life has fallen into a daily routine between work and home.   
She added that her monthly salary barely covers her family's needs, making other personal requirements' costs such as skin and hair care products unaffordable.
Lojain al-Bahri, a government employee in Homs city, told Enab Baladi that the depreciation of the Syrian pound and inadequate salaries compared to the high cost of living had forced her and many other women in Syria to stop buying toiletries and other items that used to be a priority for them.
Al-Bahri lamented the fact that difficult living conditions have taken her away from following fashion and the latest trends in hair, clothing, and beauty products.  
To al-Bahri, buying women's personal care products is still a priority, but being unable to afford them has caused her to skip attending many private occasions of families and friends.
Local pro-government newspaper al-Watan published a report last June saying that costs of haircuts and hair styling vary between beauty salons and that prices are decided with disregard for those issued by barber associations, according to the area where the beauty shop is located, the name of the hairstylist, his/her experience and fame, and the number of followers on social media platforms.     
The report mentioned that a haircutting and hair drying session in some beauty salons in Latakia governorate could cost between 4000 and 7000 Syrian pounds (1.203 and 2.105 USD), while the bridal care package costs between 100,000 and 1 million Syrian pounds (30 and 300 USD).    
According to United Nations (UN) estimates, Syria had a population of 17 million and 501 persons in 2020, of which 8 million and 760,065 are males at a rate of 50.06 percent, while 8 million and 740,592 are females at a rate of 49.94 percent.
Last July, the head of the Syrian regime, Bashar al-Assad, decreed a 50 percent salary hike for state employees and a 40 percent increase in retirement pensions. Al-Assad's decision came a day after its government doubled the prices of staples, including rice, sugar, and bread, besides diesel fuel.
Homemade beauty solutions
Aya's circumstances are similar to many Syrian women whose responsibilities towards their families outweigh their ability to care for themselves. 
In search of solutions, al-Bahri started to grow the Aloe Vera plant to make use of its soothing, moisturizing, and cooling properties as a substitute for other products that cost huge amounts compared to her salary. 
According to al-Bahri, many Syrian women still regard self-care as a priority and continue to visit beauty salons despite their high prices. These women are mostly wives of officials who live in a world different from that of regular Syrian citizens or those who have their husbands or family members abroad and receive remittances from them.
For her part, Aya told Enab Baladi that she became accustomed to simple homemade face masks to look after her skin as much as possible, encouraged by her friends who have been doing the same beauty routine just like her. 
Aya added that lately she had been searching for a private institute or extra evening classes to make more money to afford to buy her personal requirements or even visit a gynecologist to see if she has any problems causing her skin to look tired. 
A report by the United Nations Population Fund (UNFPA), formerly known as the United Nations Fund for Population Activities, estimated that 13.4 million people remain in need inside Syria. Among them are 3.6 million women and adolescent girls, half a million of whom are pregnant and need access to quality sexual and reproductive health. 
A compounded impact on women
The political and feminist activist and member of the consulting team of the Syrian Women's Political Movement, Sabiha Khalil, told Enab Baladi that the deteriorating economic situation in Syria has a compounded impact on women.
Khalil attributed the redoubled effect on women to reasons related to difficulty in accessing and controlling sources of income and their direct exposure to the consequences of economic breakdowns that exacerbate all forms of violence against women.
She went further to say that women are more affected by economic downturns than men, basing her opinion on UN statistics that women make up a large proportion of the majority of the world's poor.
Khalil also said that many Syrian women were inspiring despite all hardships as they broke stereotypes and entered various new labor markets, which were previously unavailable and were created thanks to these women's aspirations seeking a decent life for themselves.
A report by the International Committee of the Red Cross (ICRC) said, "the consequences of fighting on Syrian women have been particularly brutal."
The report mentioned that "many Syrian women tend to be the ones who sustain the resilience of families and communities, trying to keep their families healthy, fed and together. In many cases, they have become the sole breadwinners overnight, after losing husbands and fathers to the conflict."
if you think the article contain wrong information or you have additional details Send Correction