Iranian presence in Deir Ezzor reinforced by appropriation of civilian property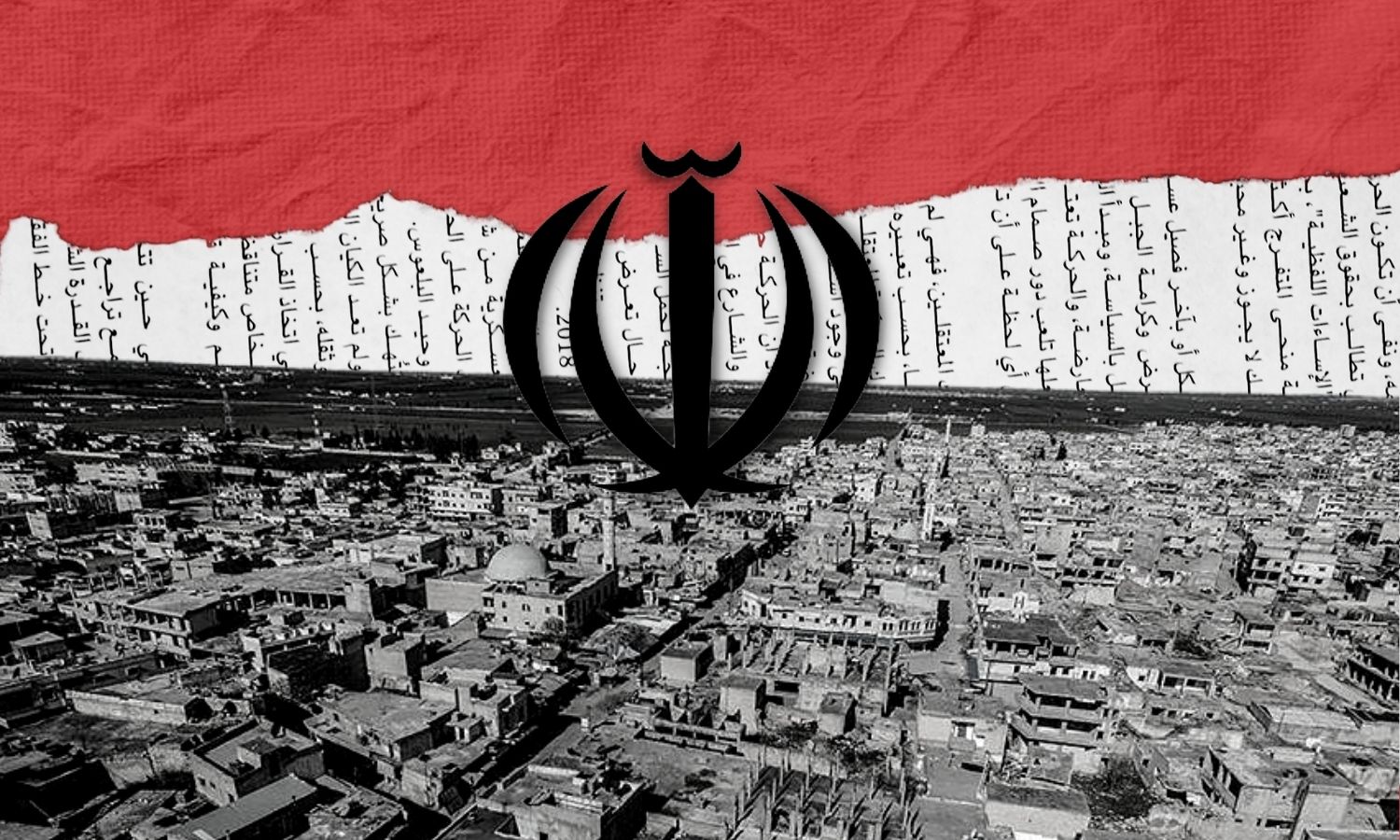 Enab Baladi – Ninar Khalifa
"Our house in Deir Ezzor city was taken over years ago by people from the countryside with the support of Iranian militias. We resorted to mediations to evict the occupiers out, but they ignored our calls and insisted on staying as if it was their own house."  
With these words, Shaher (a pseudonym) recounted to Enab Baladi what had happened to his family's house located in a neighborhood close to the Syrian regime's military security branch in Deir Ezzor, following the city's re-take by the regime and its affiliated militias.   
Shaher said that people who illegally appropriated empty houses in the city of Deir Ezzor expressed their refusal to leave unless after the return of original property owners, knowing that such a condition cannot be realized.
He told Enab Baladi, "My father passed away, and my mother is an old woman who cannot return to live by herself. As for me and my brothers, we live abroad, and we are wanted by the regime's security services, making it difficult if not impossible for us to return home or hire a lawyer to claim back our rights."  
Shaher pointed out that some people took advantage of the city's dire situations and the absence of many residents to buy real estate at low prices. Shaher's family was exploited and blackmailed by parties close to Iran, who offered to buy the family's house at a very cheap price.   
Iran appropriates displaced people's empty houses 
In June 2012, the regime's security apparatus and foreign militia members started appropriating civilian houses in Deir Ezzor, following the displacement of hundreds of thousands of the city's residents due to the regime forces' extensive military campaign on the governorate.      
The regime forces went after those suspected of dealing with the opposition or having taken any anti-government political activity. In September 2012, the regime stormed the al-Joura and al-Qusoor neighborhoods in Deir Ezzor city, killing and wounding hundreds of civilians to raise fear and terror among locals, which eventually led to the displacement of hundreds of families from the region.    
In mid-2014, the Islamic State (IS) managed to control large parts of Deir Ezzor, imposed a siege on neighborhoods controlled by regime forces, and prevented their residents' access to food supplies and medicine.  
Between mid-2012 and 2017, the city of Deir Ezzor came under three military forces (the opposition factions, IS, and the Syrian regime forces) that carried out many violations and caused thousands of civilian houses to be forsaken. Some of these houses were seized by security elements and foreign militia members on the pretext that their owners were in the opposition ranks.    
After the regime and its allies recaptured large parts of Deir Ezzor in 2017, thousands of abandoned houses by war and security prosecutions were taken over illegally, as property appropriation practices spread to the cities of al-Mayadin and al-Bukamal and their countryside.
Regions from Deir Ezzor's eastern countryside witnessed successive waves of displacement towards the western countryside after IS' sleeper cells increased their operations in eastern Deir Ezzor. 
The regime, Iranian militias, and the United States-backed Syrian Democratic Forces (SDF) share military control on eastern Deir Ezzor, with the Euphrates River being the dividing line between the control areas.    
The most prominent Iran-affiliated militias in Deir Ezzor governorate are the Islamic Revolutionary Guard Corps (IRGC), Iraqi Shiite militias (Hezbollah Brigades, the Badr Brigade, and the al-Nujaba Movement), the Lebanese Hezbollah militia, the Iran-backed Afghan Fatemiyoun Brigade, the Pakistani Zaynabyoun Brigade, and the regime's National Defence Forces (NDF) including (the Baqir Brigade, the Mahdi Army, and the Imam Mahdi Brigade). 
Compulsory sale or confiscation of property
Enab Baladi's correspondent in Raqqa reported that residents from the countryside of Deir Ezzor and Raqqa were coerced into selling their houses and lands to Iranian militia members or parties linked to them. 
He added that many factors had pushed residents towards selling, including the dire living conditions that forced property owners to sell some of their properties to afford expensive living costs and the residents' wish to travel abroad or towards SDF-controlled areas in Deir Ezzor or Raqqa.   
As for locals who fled the region before selling, they had their properties seized by Iranian militias.  
According to Enab Baladi's correspondent, the property takeover issue is not limited to Iran's political aspirations, as it promotes the Iranian Shiite influence and demographic change in Deir Ezzor and Raqqa.    
He added that the purchase of real estates by Iran-affiliated militias is concentrated in Maadan city in the southeastern Raqqa countryside and al-Bukamal in Deir Ezzor's eastern countryside.  
Iranian militias not only appropriated locals' properties and adopted demographic changes policies, but they also sought to influence the region's cultural identity by promoting the Iranian Cultural Center's activities. The militias also worked on recruiting the region's youth in its ranks, taking advantage of the deteriorating living conditions and lack of job opportunities.   
The conversion of civilian houses into military headquarters
The director of the Justice for Life (JFL) organization, Jalal al-Hamad, told Enab Baladi that property seizures by Iran-linked militias in Deir Ezzor are not new, noting that these violations have taken place in several areas there.  
In al-Mayadin city, Iran-affiliated militias have been taking over civilian houses for over three years, and some residential areas were declared military zones due to militias' positioning in them, al-Hamad said. 
The al-Timo neighborhood to the southwest of al-Mayadin has become a center for militias' families residence, as the majority of original property owners could not return home since the regime regained control of the region. Iranian militias are very influential in this neighborhood which was turned into a closed military zone.    
Iranian militias are also centered in al-Bukamal city, which has witnessed massive displacement, and only a few of its residents returned home, while numerous houses were seized. 
According to al-Hamad, Iran's biggest achievement in Deir Ezzor is controlling al-Bukamal and the border crossing with Iraq. Al-Bukamal is of great strategic importance to Iran, for it is a transit point from Iraq to Syria and then to Lebanon. 

Al-Bukamal is also an extension to the Iraqi al-Anbar Desert and the Syrian Desert that includes the Badia of As-Suwayda, Daraa, Palmyra, and Deir Ezzor, which places further economic importance on the city of al-Bukamal.   
Iran has set headquarters for its affiliated militias in al-Tabni town in the western countryside of Deir Ezzor and appropriated some of the regime's opponents or absentees' houses.    
Some people managed to recover their seized properties after they returned to their regions and proved their ownership, al-Hamad said.  
The Eye of the Euphrates local news network documented the Iranian-backed militias' headquarters, which were houses and lands owned by locals from the cities of Deir Ezzor, al-Bukamal, and al-Mayadin. 
The network mentioned that after the regime regained control over Deir Ezzor governorate with the support of Iranian militias, the militias started seizing civilian houses based on location and type of building and took them as headquarters. The militias were keen on preventing the return of original owners and established their authority over entire neighborhoods in some areas.  
Transfer of ownership to foreigners with Syrian citizenship
Syrian lawyer based in France Zeid al-Azm said that Iranian-backed militias had appropriated 73 civilian houses in one month in its controlled areas in al-Bukamal and al-Mayadin.
They confiscated these houses whose owners are either in Europe or the Arab Gulf States and handed them over to their elements. 
Al-Azm cited local sources saying that the IRGC has turned some of the seized houses into military headquarters, while its leaders and elements' families occupied other ones seeking shelter from US and Israeli airstrikes. 
The sources said that the Fatemiyoun Brigade elements requested families occupying confiscated houses to present a lease contract including the original owner's signature or an agency contract allowing the disposition of these properties within 15 days. However, the families did not manage to make the necessary contracts due to rights holders' absence.    
According to the sources, the militias offered the appropriated houses to some of their supporters or local elements in the Badia region, then to foreign elements who had been granted Syrian nationality under the regime's orders. 
Documentation of unlawful real estate seizure
Al-Azm pointed out to Enab Baladi that a group of Syrians in the eastern region are working with some associations in Europe on documenting the unlawful appropriation of civilian properties by Iranian militias and those linked to them.
He added that property confiscation and contract falsification violations are still taking place in the eastern region, noting that massive data and information are collected on this issue.  
When asked about the methods used by Iranian militias upon confiscating properties, al-Azm said that they adopt the carrot and stick approach to achieve their purposes. 
"At first, they offer to buy these properties and then start pressuring, intimidating, and tightening on owners to force them into selling. Sometimes, they forge purchase contracts to transfer ownership to foreigners (Iranians, Afghan, and Pakistanis) who obtained Syrian citizenship," al-Azm said.   
Iran-affiliated militias managed to recruit a large number of locals as informants exploiting their poverty and difficult living conditions to obtain detailed information about the original owners of seized properties.
According to al-Azm, the majority of houses appropriated after forging their sale contracts were empty houses whose owners are mostly abroad.   
Property rights preservation mechanism
Al-Azm said that owners whose properties were illegally confiscated should keep all official documents, papers, and bills as proof of their ownership. Any document, no matter how trivial, could prove beneficial when claiming ownership, as it may expose the fraud in sale contracts.  
He added that cadastral automation helps safeguard the right to property, a sacred right maintained by all constitutions in the world.
Al-Azm also stressed the importance of having a fair legal system during the transitional justice phase in Syria to protect Syrian people's rights upon the end of the conflict. 
A study published by the Jusoor for Studies Center last January mentioned that Iran has 131 military outposts, including bases and positioning points distributed over ten governorates. There are 38 outposts in Daraa, 27 in Damascus and its countryside, 15 in Aleppo, 13 in Deir Ezzor, 12 in Homs, six in Hama, six in Latakia, five in As-Suwayda, five in Quneitra, and four in Idlib.
if you think the article contain wrong information or you have additional details Send Correction