Grain markets in Syria's Homs paralyzed by security checkpoints and customs patrols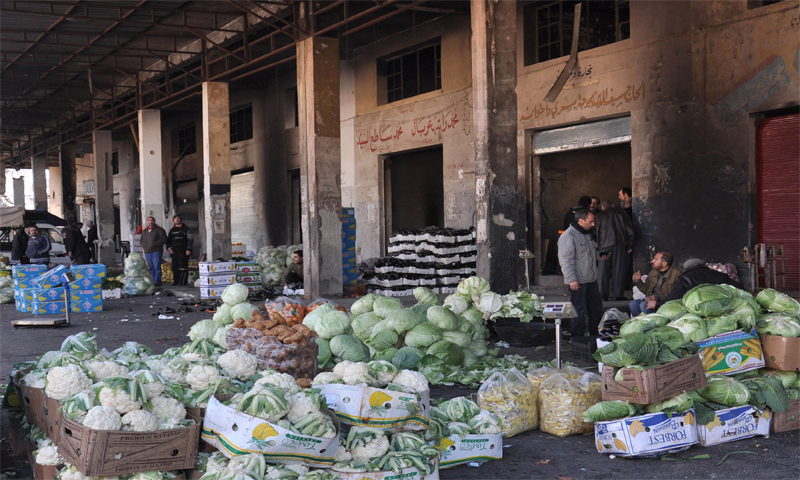 Homs – Orwa al-Mundhir
The Syrian regime is imposing severe restrictions on grain markets in  Homs through intensifying customs patrols on main roads and junctions. In addition to that, the regime spread security checkpoints  throughout the governorate—mostly operated by the 4th Armoured Division— which are charging considerable royalties and setting tariffs on almost everything merchants are transporting.
The main agricultural products in the governorate of Homs are aromatic crops including anise, nigella sativa, cumin. Strategic crops such as wheat come second in importance.
It is noteworthy that the sale and purchase of strategic crops are confined to the Syrian government. 
The Syrian government set the purchase price of a kilo of wheat at 900 Syrian Pound (SYP- 1 USD= 3,285 SYP) and a kilo of barley fodder at 1,200 SYP. 
Farmers were unpleasant with low prices set by the government because they do not match the efforts and costs they paid to grow their crops. Therefore, a black market parallel to the government market in which prices almost doubled, emerged. 
The Syrian government tightens its control on the roads to prevent the transfer of large amounts of grain crops to merchants and force farmers to deliver their crops to its institutions. 
The government imposes fines three times the amount of the quantity confiscated, with an economic court deciding which violators are subject to the penalty.
Dangerous market
A kilo of wheat on the black market rose to 1,500 SYP after most farmers delivered their produce to grain silos at the northern entry points of the city of Homs. However, during the season, its price ranged between 900 and 1,000 SYP. 
Despite the high price of wheat, most farmers accept handing it over to the Syrian government because they fear being held accountable. However, some farmers prefer to take risks and sell wheat on the black market as an attempt to mitigate losses.  
Youssef, a farmer from the village of al-Farhaniyah in the northern countryside of Homs, told Enab Baladi that most farmers delivered their crops through peasant associations to grain silos, especially farmers who received seeds from those associations.
Farmers choose to sell their crops to the government instead of merchants because selling their crops to merchants might expose them to liability; checkpoints spread throughout regime-held areas could catch merchants while transferring large amounts of wheat crops. Thus, these merchants could be coerced to reveal the names of farmers who have sold them their crops. Both merchants and farmers will be sent to economic courts for trials. Moreover, they can be charged up to three times the value of the wheat sold. 
 Youssef added that the wheat crop is scarce this year, compared to previous years.
A single dunam of land planted with wheat produces 250 kilos at best, while it used to produce 400 kilos in previous years.
The wheat production was low this year due to the lack of spring rains, prompting some farmers to sell their crops on the black markets in an attempt to mitigate financial losses. 
A group of merchants supported by Lebanese Hezbollah and affiliates of security branches work simultaneously in the wheat trade. They either smuggle it to Lebanon or store it in order to sell it later to fodder factories, said Youssef. 
A wheat trading broker, who requested anonymity for security considerations, told Enab Baladi that wheat merchants are willing to purchase it at 1,500 SYP per kilo. He said that many farmers still have some amounts of wheat for sale, but they are afraid of customs and security branches.  
Royalties lower prices
Grain markets in the northern countryside of Homs are experiencing a noticeable stagnation. Transporting grain products from one place to another is very difficult due to the spread of regime-operated checkpoints. Furthermore, checkpoint personnel insists on inspecting the whole loads of vehicles passing through checkpoints very precisely for wheat or to collect royalties.  
Abu Muhammad, an anise seed dealer in Homs governorate told Enab Baladi that the markets are paralyzed by security checkpoints and customs patrols. In addition, vehicle drivers have to pay sums of money each time they pass a checkpoint.
Vehicle drivers or passengers are obliged to pay a fee, usually 10,000 to 50,000 SYP at each security checkpoint, while customs patrols insist on rigorously searching the whole loads of trucks passing through their checkpoints. Moreover, they do not allow any vehicle to pass before extorting money from them.  
Merchants are trying to split the losses—resulting from money extorted by security forces and customs patrols at checkpoints— with farmers through purchasing their produce at a cheaper price. Consequently, this has created a state of discontent among farmers. 
Jamil, a farmer from the city of Rastan, told Enab Baladi that merchants are "conspiring" to reduce the prices of crops so that both farmers and merchants have to afford fees taken at checkpoints.
Jamil added that this year's harvest is generally bad and lowering prices in this way will make farmers unable to plant next year.
Anise is sold for 7,000 SYP per kilo while cumin is sold for 11,000 SYP per kilo. Nigella is sold for 6,500 SYP per kilo. 
The Syrian government set the price of one kilo of barley at 1,200 SYP and one kilo of wheat at 9,000 SYP. On the black market, barley is sold o for 1,600 SYP and wheat for 1,600 SYP.  
---
The real names of some of the interviewees have been withheld to protect their identities.
if you think the article contain wrong information or you have additional details Send Correction