Five towns in Daraa face looming water crisis due to repeated spring drought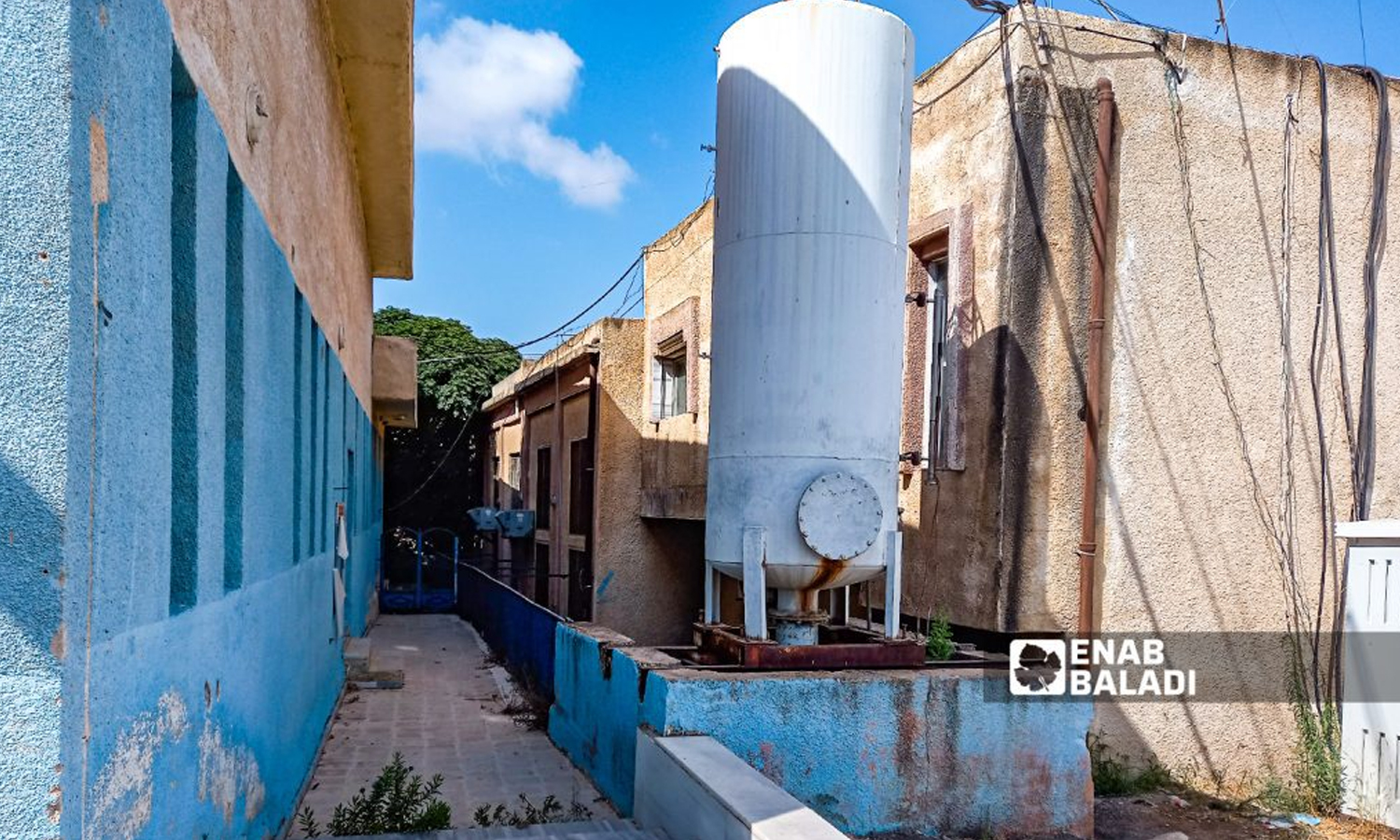 Enab Baladi – Daraa
Surface-water flows have been reduced in the western countryside of Daraa due to the random drilling of wells and the mismanagement of irrigation water. 
 This decline in surface-water availability adversely affects the ability of residents of Tell Shehab, Zayzun, El-Agamy, Amouriya and al-Ja'ara to get drinking water easily. Therefore, they started to search for alternatives such as fetching water from wells or water tank trucks. 
Abdul Rahman, a 50-year-old cattle farmer of Tell Shehab, buys a 200-litre water drum at about 1,500 Syrian Pounds (SYP-1 USD=3,370 SYP). This drum is filled with water coming from wells or springs. 
Abdul Rahman said that he needs to buy at the minimum one drum a day. 
He told Enab Baladi that the Syrian government's Water Unit used to supply Tell Shehab town with water three hours each two days. And at that time, he was able to fill his house's tank with needed water. However, the Water Unit cut off the water supply at the town of Tell Shehab permanently this summer. And even when supplied, its flow was low. 
Abdul Rahman does not believe that water stored within tanks is safe to drink. He fears that his family might suffer from diseases linked to contaminated water. He thinks that tank water is not disinfected with chlorine. 
On the other hand, the Syrian government's water pumps are equipped with chlorinators provided by the Syrian Red Crescent.
  However, since people cannot obtain sufficient drinking water from the government's water pumps, they resort to water trucks. These trucks are filled with either spring water or private well water, which is not disinfected.   
Many people across Daraa buy water from water trucks, either as 1000 litre tanks or as 200-litre drums.
Youssef, a resident of Zayzun, complained about the constant interruption of pumping water, which is run by the Water Unit.
Youssef, 30, told Enab Baladi that even though the water pumps used to run 24 hours a day, there was not sufficient water available to meet the needs of the above-mentioned towns' residents. And now, with water pumps running only for limited hours, it becomes impossible to meet the residents' water needs.
Youssef said that residents of Tell Shehab, Zayzun, El-Agamy, Amouriya and al-Ja'ara face surface water scarcity for many reasons. First, some farmers encroach upon the water supply lines connected to their homes only to irrigate their crops. Moreover, the water distribution network in the area needs to be maintained and rehabilitated to ensure fair distribution of water among residents, including those living in remote areas. 
Mahmoud Abdul Rahman, a resident of Tell Shehab, attributed the decline in the waters of Ain al-Sakhina Springs to the random digging of wells and the liberal use of water for irrigation.
Abdul Rahman told Enab Baladi that "tank water or well water, which contains many deposits of limestone and sulfur, can be regarded as the sole alternatives in the meantime." And best of all is spring water because it is fresh and safe to drink, and naturally clean.
Two primary sources of drinking water
The springs of Oyoun al-Abd and Ain al-Sakhina are two primary drinking water sources for the towns of rural Daraa.
Oyoun al-Abd Springs are located in the town of El-Agamy, 22 kilometres west of Daraa governorate. Before 2011, they supplied the city of Jassim, Inkhil, al-Hara and Barqa in the northern countryside of Daraa with water through the water distribution pipelines project.
However, after many water pipeline infringements, this project was stopped in mid-2011.
In 2019, the Daraa Water Directorate implemented a water supply pipeline project to irrigate Zayzun, Amouriya and al-Ja'ara after the freshwater Zayzun lake dried up and the water was wholly cut off from the towns. 
At the beginning of last July, the water level of Oyoun al-Abd springs began to decline, and its capacity to supply the previously mentioned towns' water pumps with drinking water was reduced.
On the border with Jordan, the town of Tell Shehab experienced a shortage of drinking water after the drop in the level of the Ain al-Sakhina in the town of al-Fawwar in the western countryside of Daraa.
Wells are a significant cause of drought
Random wells negatively affect the water levels of springs. Springs are rapidly drying up due to the proliferation of random wells, a former employee of the Water Resources Directorate told Enab Baladi. 
Withholding his name for security reasons, the employee said that drilling random deep wells near springs causes the spring water level to drop. Drilling random wells destroys the aquifers, which feed the springs. Thus, drilling deeper wells randomly threatens to have a looming water crisis as springs will dry up.   
He added that the drying of the springs put the lakes of Zayzun and al-Muzayrib entirely out of service. This could also happen to Oyoun al-Abd and Ain al-Sakhina Springs.
Director of Water Resources in Daraa governorate, Munir al-Odeh, told the state-run Syrian Arab News Agency (SANA)), in July 2020, the reason behind the drying up of Lake Muzayrib is the presence of more than 100 wells drilled in the lake's water sanctuary (wells drilled randomly near springs feeding lake Muzayrib).
Al-Odeh estimated the number of illegal wells in Daraa governorate at about four thousand, which contributed to drying 13 springs in the governorate.
Most Daraa residents depend on using solar panels to run the water pumps of their wells instead of diesel. This means more water drawn from wells. 
It is noteworthy that a litre of diesel costs 2,500 SYP. This prompted several farmers to install solar panels in order to operate the water pumps of wells during the day, while at night, they rely on diesel. 
if you think the article contain wrong information or you have additional details Send Correction