Displaced people cannot afford rent in Syria's Daraa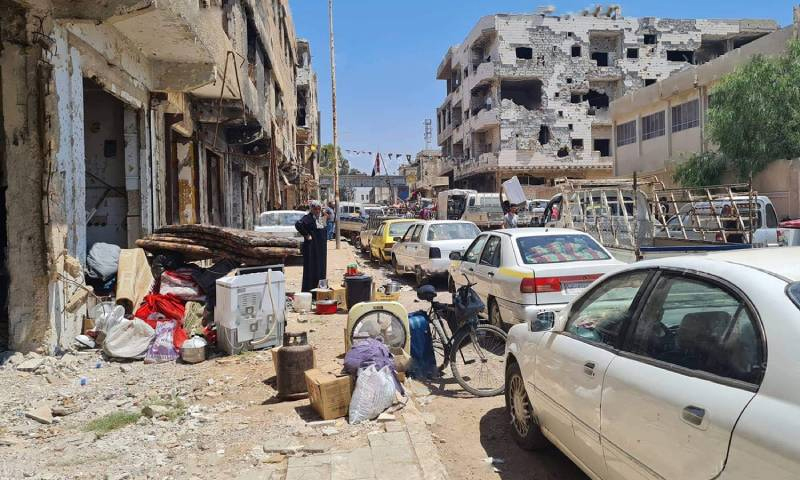 Daraa – Halim Muhammad
"Umm Omar did not hesitate to sell her last piece of gold jewelry to rent a house in the center of Daraa governorate after she was forced to flee her own house, located in Daraa al-Balad, due to a crippling siege and frequent regime attacks.
Many homeowners took advantage of the forcibly displaced people's urgent need for housing via increasing rents ten times."
Umm Omar, a 50-year-old housewife, had to sell her golden ring to pay her rent for August. Yet, she is worried that she will not be able to pay her rent for the upcoming month amid the absence of clear signs of a breakthrough in the security situation in the southern governorate of Daraa.
The neighbourhoods of Daraa al-Balad and Tariq al-Sad, and Daraa's Palestinian refugee camp, have been effectively placed under siege and constant aerial attacks carried out by the Syrian regime since the beginning of June. Furthermore, the regime continues to issue threats of launching a military offensive against Daraa. 
Consequently, several families, especially women and children, were forced to leave their homes in the neighbourhoods mentioned above and head to the center of Daraa city to avoid the greater danger of death from the Syrian regime's bombs. 
Unfortunately, some landlords, without hesitation,  raised the rents of apartments and houses, taking advantage of people's need for safe housing.  
Rents are beyond IDPs'financial ability
 The average monthly rental costs of residential apartments in Daraa rose last July from 50,000 Syrian Pounds (SYP- around 15 USD) to 400,000 SYP (121 USD).
This remarkable increase in rent values is beyond the financial ability of the internally displaced persons (IDPs). Nonetheless, many chose to afford high rental expenses over sheltering in temporary accommodation in school facilities. 
Displaced families prefer to rent an apartment rather than live in shelters that "lack decent living standards," Umm Omar told Enab Baladi.  
She added, "Safety and privacy when using sanitation facilities are regarded as a priority for many women and children."
Some landlords demanded between 500,000 and 1 million SYP as monthly rent for a ratty apartment. And others ask for 250,000 SYP for renting out a single room that is uninhabitable, according to what Enab Baladi gathered from the opinions of the displaced families from the Daraa camp. 
Displaced families say that they feel exploited by landlords, who have suddenly increased rent prices. This drove many to consider going back to their original areas and live in their homes, which are exposed to bombing and siege, instead of being exploited by "warlords."  
Inappropriate alternatives
The branch of the Syrian Red Crescent in Daraa governorate opened six sheltering centers. These centers housed around 304 families, while the local community hosted 5,500 families or roughly 27,500 people.
However, many displaced families are stuck with the best worst option, residing in the sheltering centers, because they cannot afford to pay high rents. At the same time, they do not want to live in the countryside, but, they want to stay in the city, close to their homes.
People taking shelter in these centers used to depend on their daily work for a living. Now, because of the Syrian regime's siege and attacks, those have lost both their jobs and houses.    
Withholding his name for security reasons, a displaced person from Daraa's Palestinian refugee camp said he has to work for an entire year in order to be able to rent an apartment in Daraa. Rising rental prices in Daraa show that the people of the same governorate are not helping each other overcome the crisis they are going through.
The 30-year-old displaced person, who is currently residing in one of the Syrian Red Crescent's shelters, added that given the current outbreak of the coronavirus disease(COVID-19), the shelters are considered a dangerous spot for the displaced persons because more than 100 families share a communal toilet in each of the shelters.
The UN has documented the displacement of 18,000 civilians from Daraa al-Balad, the neighborhood of Tariq al-Sad, and Daraa's Palestinian refugee camp.
High Commissioner for Human Rights Michelle Bachelet said on 5 August in a statement, "The stark picture emerging from Daraa al-Balad and other neighbourhoods underscores how much at risk civilians there are, repeatedly exposed to fighting and violence, and in effect under siege."  
Only pedestrians have been recently allowed out of Daraa al-Balad along the Saraya road. But, they are subject to strict security checks, according to the UN human rights office.
According to the UN rights office, OHCHR, "this has been the most serious confrontation since 2018 when Government forces established control over Daraa following various Russian-brokered reconciliation deals." 
Restrictions on civilians continue
The official spokesperson and representative of the Central Negotiating Committee in Daraa al-Balad, the lawyer Adnan al-Masalma said in a previous interview with Enab Baladi that the Russians are attempting to revive negotiations between the regime and the Central Negotiating Committee—this committee represents notables and the people of the region. They said that they would provide humanitarian aid to the displaced people after a new Russian official was appointed to manage the file of southern Syria.
On 11 August, a Russian delegation visited the sheltering centers in Daraa to count the number of displaced people and provide humanitarian aid.
However, providing humanitarian aid does not make the people of the region safe. They believe that Russians should exert pressure on the Syrian regime to stop using force against civilians.  
On 15 August, the Syrian regime forces dispersed gatherings of displaced people from Daraa al-Balad, waiting to cross to safe areas near the Saraya checkpoint separating the besieged Daraa al-Balad and the center of Daraa governorate, which is controlled by the regime forces.
The elements of the 4th Armored Division expelled civilians from their homes in Daraa al-Balad. They also turn them into military fortifications to be used in the battles taking place in the vicinity of Daraa al-Balad.
Daraa city is experiencing constant security tension against the backdrop of the recent military escalation. This is because the Syrian regime still believes that imposing strict security measures on civilians is the only way to hold its control over southern Syria, especially since the Central Committee in the city and the Security Committee- which represents the Syrian regime, failed to reach an agreement. 
if you think the article contain wrong information or you have additional details Send Correction