Basilia City project infringes on Darayya residents' property rights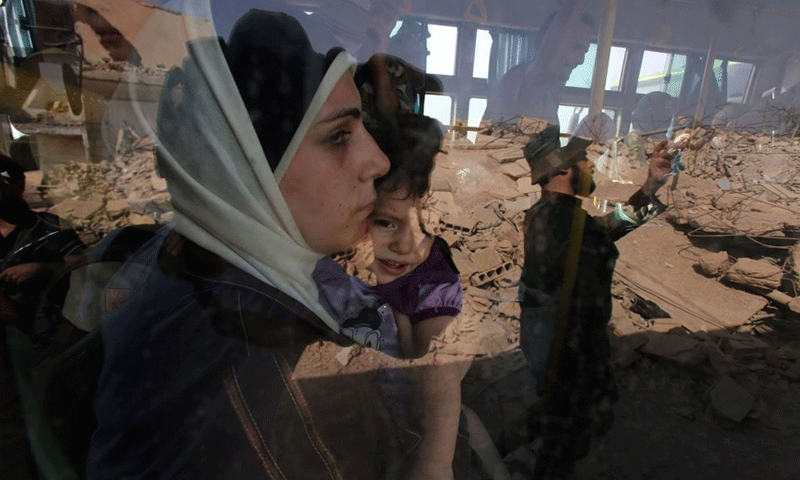 Last July, Damascus governorate announced the nominal values of the new equity shares due to rights holders in the Basilia City project announced in Legislative Decree No. 66 of 2012. 
Decree No. 66 provided for establishing two zoning areas within the general urban master plan of Damascus city. It aimed to redevelop unauthorized housing and informal settlement areas, according to detailed regulatory studies prepared especially for them.
The first zoning area includes the southeast of the two real estate areas, Mazzeh and Kafr Sousa, under the name of the Marota City project. The second zoning area includes south of the southern ring road of Mazzeh, Kafr Sousa, Qanawat Basateen, Darayya, and al-Qadam.
The Basilia City project (the second zoning area) extends over an area of 900 hectares and includes about 4000 properties.
The Basilia project includes a large number of eastern Darayya's real estates in Rif Dimashq governorate, in addition to a limited number of properties in Darayya al-Qabliyah (from Liwan to al-Dahadeel road to Daraa highway).
Syrian engineer Mohammed Mazhar Sharbaji, who previously served as the head of the Rif Dimashq engineers division, told Enab Baladi that under the Basilia project, real estate ownership has become represented by equity shares in commonly owned plots, which would jeopardize citizens' property rights.    
Property rights violations
Sharbaji said that the Basilia project does not recognize the property rights of Darayya's displaced residents. These people are unable to return home to object to property survey and description procedures that include a written description of the property and its boundaries, street address, location, and adjacent properties.  
Under Decree No. 66, rights holders who hold common ownership over plot shares in the Basilia City zone will receive equity shares based on the speculated value of the real property land area. Any objection by rights holders must be made in person, which contradicts Law No. 10 of 2018 that allowed relatives up to the fourth degree to object to the distribution of equity shares. 
The majority of Darayya residents have left Syria or become internally displaced in their country and lost access to their properties. Prompted by security concerns, these people will not be able to reach out to committees responsible for studying objections on the distribution of equity shares; therefore, they will lose the right to object and be left with no option but to sell the shares, ending any dreams of a comeback.  
Infrastructure facilities, such as streets, gardens, and open spaces, are deducted from rights holders' equity shares. 
The disparity in real estates' valuation 
According to Sharbaji, the Basilia project does not ensure a fair valuation of real property in the form of equity shares. Article 10 of Decree 66 stipulates that the compensated value should be equal to the property's real value before the issuance date of the decree. Any price increase to the real estate value that occurred as a result of the decree or commercial manipulation must not be calculated upon the determination of the new value. 
This would create a great disparity between the property's estimated and real value, depriving equity shareholders of getting an apartment at the Basilia project's buildings with the possibility of having alternative housing only.   
Alternative housing is a residential compensation allocated to property owners or occupants living within the implementation zone of Decree 66 and requested to evacuate. A property owner-occupant (a person who owns the home in which he/she lives) receives equity shares and alternative housing as compensation, while an owner who is not an occupant receives only equity shares. A property occupant (a tenant) receives alternative housing only.    
The determination of equity shares value would be unjust to rights holders, Sharbaji said, adding that the Basilia City project's implementation phase is taking place in 2021, while the real properties' nominal value and equity shares valuation was done in 2012. Back then, one meter of land was priced at 30 to 40 thousand Syrian pounds (1 USD was about 65 Syrian pounds in 2012). Today the USD's exchange rate is 3,725 Syrian pounds.     
The Basilia City project's land area is four times bigger than the size of the first zoning area, known as the Marota City project under Decree 66. 
Is there a need for the Basilia City project under current circumstances?
In August 2019, Damascus governor Adel al-Olabi announced the initiation of the Basilia City project with 750 million Syrian pounds as cost for the project's technical study and a 480 day implantation period. 
The Basilia project was declared as one of Damascus city's most prominent investment and development projects. Former Prime Minister Imad Khamis previously stated that he will not allow any stalling in the Marota City and Basilia City projects and that all obstacles to their implementation would be overcome. 
The Basilia City project is one of the real estate investment project models of the Syrian government's post-conflict reconstruction plan. The gravity of such projects is the fact that they do not recognize property ownership not registered in official cadastres and require hard-to-obtain documents as proof of ownership. Therefore, millions of rights holders would end up losing their rights within a supposedly fair, sustained, and inclusive reconstruction process.  
Projects similar to the Basilia project push real estate companies towards focusing on the urban facade at the expense of property owners' rights and needs. 
"Of course, we want our city to be modernized. We would not have objected to the Basilia project had it been implemented before 2011. Everyone desires a developed city, but the preservation of property rights must remain a priority," Sharbaji told Enab Baladi.     
Under the Basilia City project's general zoning plan and detailed urban development plan, Damascus governorate is entitled to make plot deductions to secure infrastructure facilities, such as roads, squares, gardens, parking lots, and alternative housing.    
The Basilia City project's urban structure would contain modern and luxurious skyscrapers for the society's elite instead of alternative houses, stores, and offices for those who lost their properties in the conflict.  
if you think the article contain wrong information or you have additional details Send Correction