Azaz local council establishes industrial zone to boost city's economy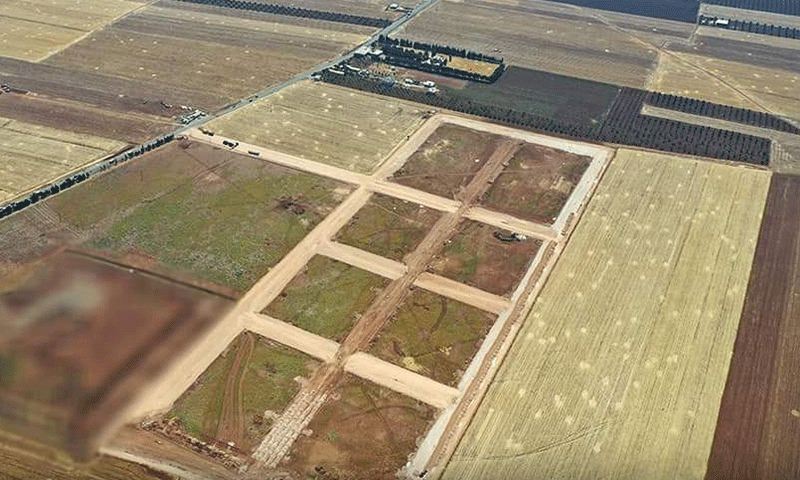 Azaz – Walid Othman
Azaz city's local council has announced the establishment of an industrial zone to the eastern part of the city on an area of 85,000 square meters divided into plots to set workshops and factories in an organized way. This move comes to encourage local industries and provide job opportunities in northwestern Syria. 
The industrial city to be established will serve as a suitable environment for industrialists to practice their work in an organized manner. It will be provided with all necessary services of infrastructure, buildings, and security protection, the local council's media office stated to Enab Baladi.
Anticipated benefits
The media office officials told Enab Baladi that industrial zone projects' primary benefits for the region include providing job opportunities to liberated areas' youth, reducing unemployment, investing in the workforce, and revitalizing the region's economy.
Industrialists wishing to invest in Azaz city's industrial zone will benefit from several advantages, mainly the low costs of raw materials and manufacturing compared to neighboring countries. In addition, industrialists' travel journeys to Turkey necessary for following up production processes will be facilitated upon entry and exit. 
The media office informed Enab Baladi that the industrial zone would encourage former industrialists to return to their previous activities in the opposition-controlled areas in northwestern Syria.
According to the office, if the project proves a success, the experience will be exported to other areas in the region "to help create a productive society." 
The office added that Azaz local council had provided many services and facilitation for the construction of the industrial zone, including infrastructure services of water, electricity, sanitation systems, and organized streets. The council has also facilitated the export of manufactured goods to Turkey and other countries.   
Nazir Ibrahim, a day laborer in Azaz city, told Enab Baladi that this move had been long-awaited by most of northwestern Syria's population.
Prospects for more jobs 
Ibrahim complained to Enab Baladi that he works daily for more than 12 hours in exchange for nearly 25 Turkish liras (TL = 2.96 USD) in porterage or the new housing projects' construction works.
He expressed his optimism in establishing big industrial zones, particularly in hiring labor force and providing many job opportunities to the region's youth, especially for unemployed craft workers.  
Ahmed Mustafa, an unemployed young man in Azaz city, told Enab Baladi that the region's youth are risking their lives attempting to illegally cross Turkish borders in search of work opportunities to escape life hardships of northwestern Syria.  
Mustafa added that the provision of job opportunities to young men would limit the proliferation of crimes and thefts in the region, noting that the high cost of living and lack of employment opportunities has led to repeated kidnapping incidents for ransom besides robberies. 
The northwestern Syrian region has been suffering from a shortage in job opportunities against high unemployment rates amid overpopulation and increased humanitarian needs caused by repeated waves of displacement to the region.
Supportive Turkey
Minister of economy in the Syrian Interim Government (SIG), Dr. Abdul Hakim al-Masri, considered establishing industrial cities in northwestern Syria as a very important step given the region's overcrowding population, shortage of work opportunities, and high unemployment rates.  
The minister told Enab Baladi that industrial cities would help develop an atmosphere of stability and put the region's economy on a higher growth path.   
Al-Masri added that industrial zones would ensure adequate infrastructure services and security protection to industrialists, besides facilitating financial liquidity from and to the region through depositing generated revenues in Turkish and international banks in Turkey. 
According to al-Masri, industrial cities provide unlimited investment opportunities, and industrialists can undertake all business projects, big and small.  
The industrial city project in Azaz city is not the first of its kind, as other ones were set in the cities of al-Bab, al-Rai', and Jarablus in Aleppo countryside, al-Masri said.
He added that establishing industrial zones in northwestern Syria will positively impact the region's economy by producing consumable and food materials to residents at prices lower than that of imported goods.
The Turkish government has been supportive of the idea of industrial zones to uplift the economy of northwestern Syria. It also promised export facilitations for goods manufactured in the region to Turkey and the rest of the world. 
Local councils in the cities and towns of Aleppo countryside held by opposition factions have been working on rehabilitating the region's infrastructure and supplying it with services under Turkey's supervision. 
Turkey supports civic matters in the northwestern Syrian region and directly runs the region regarding security and military operations. 
The Turkish government has been working on spinning economy's wheels in northwestern Syria by replacing the Syrian currency with the Turkish lira and importing Turkish goods into the region's local markets, besides supporting development, service, education, and relief projects.
if you think the article contain wrong information or you have additional details Send Correction