Water storage tanks claim lives of children in northern countryside of Idlib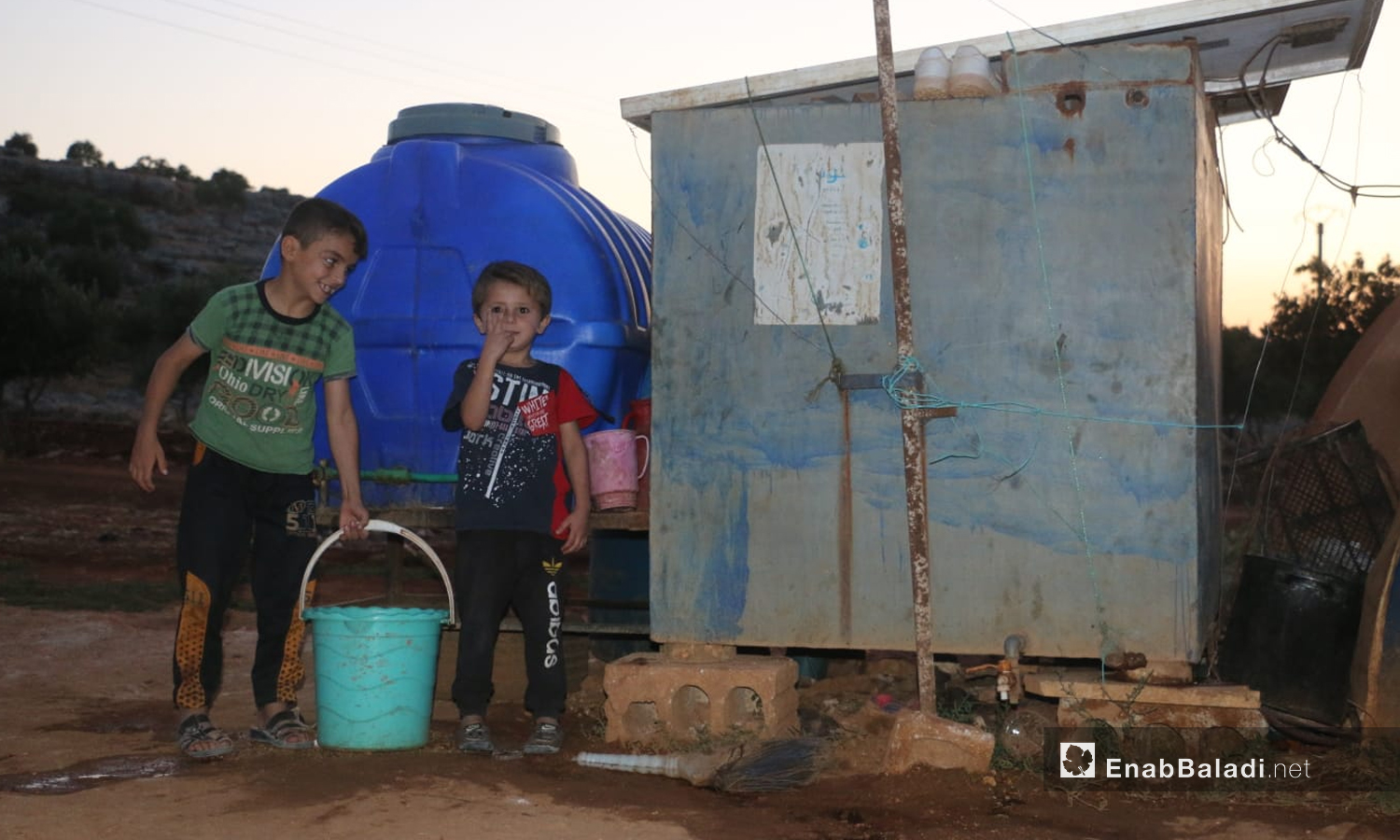 Idlib countryside – Iyad Abdul Jawad
Aya al-Halabi, 25 years old, was busy doing laundry when her two-year-old child, Ahmad fell into a concrete water tank.
The mother started crying for help after she failed to save her child on her own. Then, the neighbors gathered around her to urgently get the child out of the water tank and rescue him. Unfortunately, the child did not make it; he died on his way to the hospital. 
Ahmad was displaced from the western countryside of Aleppo, with his family, to the village of Shalakh in the eastern countryside of Idlib to be buried there after he collapsed in one of the water storage tanks scattered inside the homes of civilians in the village. Above-ground water tanks have been posing a great danger to children's lives. 
Frequent drowning incidents
Drowning incidents, especially among children, are frequently occurring in the wells and above-ground water storage tanks. They have become a widespread phenomenon in northwestern Syria, said the Director of the Media Office in the Southern Directorate of the Syrian Civil Defence (SCD), Muhammad Hamada.  
The statistics of SCD show that the scale of this problem seems to be serious. Since the beginning of this year, the SCD has responded to 10 drowning and near-drowning accidents. 
All of them were children. Eight died while only two children were rescued, according to Hamada.
The repeated waves of displacement coerced civilians to live in agricultural lands where wells and water storage pits spread, leading to an increase in drowning accidents.
Since most displaced families live in camps with poor services, they turn to installing water tanks next to their tents on the ground. Additionally, many parents at the displacement camps are busy doing their housework and cannot supervise their children, who are at a high risk of falling into a well or a water tank.
Tips to prevent drowning accidents
Few children survive near-drowning accidents, so parents must be aware of its dangers.
If wells and above-ground water tanks are not closed tightly after each use, and if they are left uncovered amid a lack of measures to provide a sufficient level of safety, this will lead to further children deaths. 
 The Director of the Media Office in the Southern Directorate of the SCD, Muhammad Hamada, said that people should spread the word about the existence of any open well or water tank that might endanger the lives of civilians. 
Farmers should also surround the wells sited inside their lands with a fence that prevents children from approaching them.
if you think the article contain wrong information or you have additional details Send Correction