Two reasons prevent Daraa residents from visiting dentists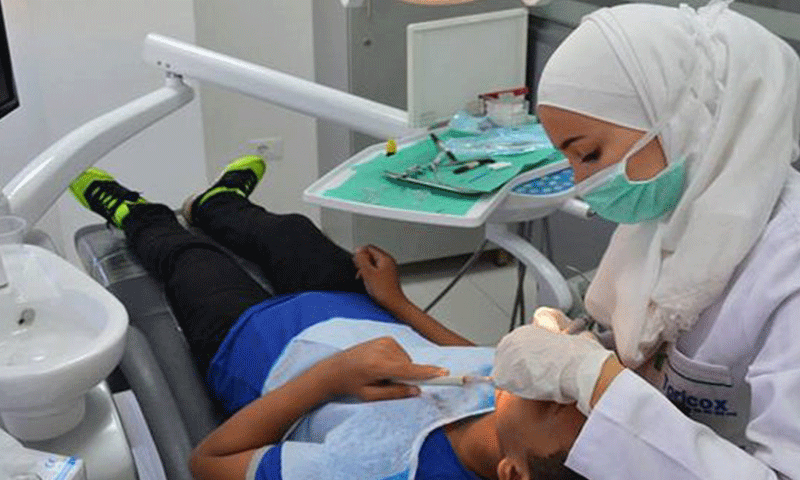 Daraa – Halim Muhammad
Mariam al-Mahmoud, a resident from rural Daraa, has been suffering from a toothache for months, but because she cannot afford to see a dentist she turned to painkillers to relieve the pain. However, as her toothache worsned these once magical pills seem to have lost effect. 
The dentist asked for 100,000 Syrian pounds (SYP-30 USD) to treat and repair just one tooth, al-Mahmoud told Enab Baladi. The materials used to fix a tooth cost 70,000 SYP, and the treatment cost is 30,000 SYP.  
Al-Mahmoud needs 600,000 SYP (185 USD) to get her six teeth fixed. She said that she has to put up with the pain because, with her tight finances, she cannot afford dental care and treatment. 
Like al-Mahmoud, Abdul Karim, an employee in the irrigation directorate, cannot afford to go to the dentist because his salary is insufficient to cover dental expenses. Therefore, he is waiting for his son to send him money to get his eight teeth fixed. 
Fixing one tooth costs two months' salary, Abdul Karim told Enab Baladi. In addition, the dentist asked Abdul Karim to make the full payment before completing the whole course of treatment. 
USD controls dental fees
Dental costs have risen dramatically in the southern governorate of Daraa, in line with a steep decline in salaries and living standards. In addition, the dental industry is affected by fluctuations in the value of the SYP against the USD because most of its raw materials are imported.
Speaking on the condition of anonymity for security reasons, a dental laboratory technician told Enab Baladi that the cost of dental manufacturing is affected by the wide fluctuations of the SYP to the US dollar exchange rates because raw materials designed for use in dentistry are mostly imported. 
The dental industry is also impacted by the high prices of manufacturing equipment, wages, and others.   
He said that the cost of providing dental restorations to cracked, broken, worn, and decayed teeth varies according to the material used; a zirconia crown costs 100,000 SYP (30 USD) while a ceramic crown is 70,000 SYP.   
An interview with the pro-regime al-Watan newspaper held on 28 December 2020 noted the high costs of dental care and dentists' non-adherence to the official prices. This prompted the head of the Doctors Association in Syria, Zakaria al-Pasha, to suggest that a contract be signed between the patient and the doctor to ensure that neither party would be cheated.
This contract regulates dental prices. Thus, the patient can file a judicial complaint in case the dentist breaches the contract.
Al-Pasha said that it is impossible to set a unified price for materials used in the dental industry because of their numerous different types. However, fees for dental treatment services can be set.
Fear of Coronavirus disease infection 
 In addition to the high costs of dental services, the outbreak of the coronavirus pandemic (COVID-19) has adversely affected people's demand for dental care and treatment. People are afraid of the fact that they might get infected with the COVID-19 when visiting the dentist. 
Therefore, Nabil, a 38-year-old resident of the western countryside of Daraa, told Enab Baladi that he is afraid of visiting the dentist for fear of getting infected with the COVID-19 even though he sold one of his livestock to have his teeth treated. 
"Even though I was able to save up enough money to visit a dentist, I am afraid of getting infected with COVID-19 during a dental visit. Therefore, I decided to delay my dentist appointment for nearly five months," Nabil said.
 In every dentist's clinic, there is a thermal sterilizer and multiple sets of treatment tools. Furthermore, dentists always wear face masks, sterilize dental instruments and chairs. 
Nonetheless, people are afraid of contracting the virus through unsterilized medical equipment. 
Muhammad al-Muhammad, a dentist from the city of Daraa, told Enab Baladi that foundations of preventive measures for infectious diseases are represented by sterilizing surfaces and wearing face masks. Only a small number of patients should gather in the reception area of dental hospitals and clinics. 
The dentists or the healthcare staff are responsible for performing sterilizing and carrying out preventive measures, al-Muhammad said.
He added that coronavirus disease could be transmitted from the patients to the dentists and vice versa. 
Most people who develop COVID-19 start noticing symptoms such as dry cough, fever, fatigue, shortness of breath; they should initially self-quarantine and see a special doctor. 
Nearly 1,320 positive cases of COVID-19 were recorded in Daraa, of which 1,200 were treated, while 64 resulted in death, according to data from the Syrian regime's Ministry as of June 24.
if you think the article contain wrong information or you have additional details Send Correction