Syria's Idlib: Syrian regime resumes bombing and kills seven children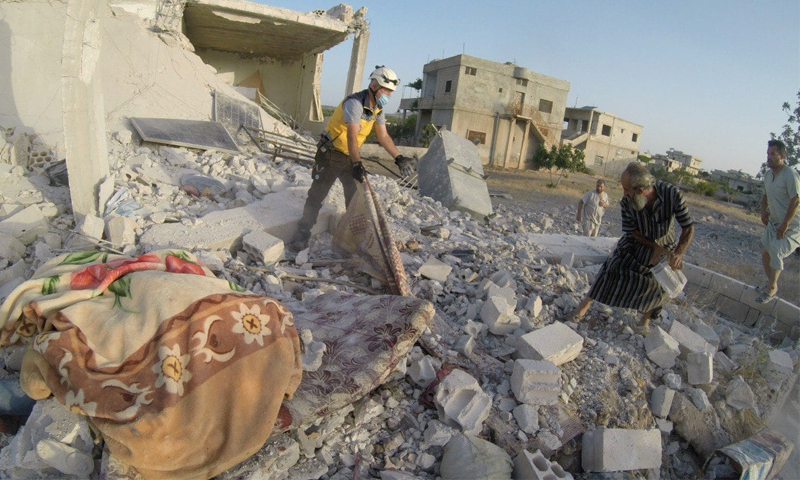 Eight civilians, including seven children, were killed. Nine others, including four children, were wounded by the Syrian regime's artillery bombardment on the villages of Iblin, Balion, Meshon in Jabal al-Zawiya, south of Idlib. This took place after its intense bombardment decreased since 24 June.
The opposition's Syrian Civil Defence (SCD) posted on Facebook today, on 3 July, that a father and his four children were killed in Iblin, in addition to a woman and two children. They all belong to the same family.  
The village of Balion was also bombarded, which led to the death of two girls. They were the children of the SCD volunteer Omar al-Omar and he and his wife were wounded. A child was killed in the village of Meshon, and four civilians, including a man, a woman, and two children, were wounded. All of them are from the same extended family.
The director of the Unified Observatory, Ammar Abu al-Hassan, who works in northwestern Syria, told Enab Baladi that around 7 a.m., the regime and its main ally Russia targeted the villages of Ibelin, Balion, and Mashon with seven Krasnopol missiles. Al-Hassan noted that all the targeted areas are populated by civilians and empty from any military presence.
After the bombing, the reconnaissance aircraft continued to hover over the region, which meant other places could be targeted.
The Syrian regime and Russia decreased their attacks on the countryside of Idlib and Hama, before the Russian Foreign Minister, Sergey Lavrov met his Turkish counterpart, Mevlüt Çavuşoğlu, on 30 June.
Russia and Turkey agreed to continue implementing the Moscow agreement signed on 5 March 2020, which provides for a ceasefire in Syria's Idlib governorate.
The Syrian regime and its backer resumed bombing in northwestern Syria before convening the 16th round of the Astana talks in the Kazakh capital, Nur-Sultan, between 6 and 8 July.
  The Syrian regime has escalated its attacks on opposition-held areas in northwestern Syria since 4 June, killing 35 people, including three children, a fetus, five women, and an SCD volunteer, and 76 others, including children and women, were injured.
if you think the article contain wrong information or you have additional details Send Correction