SDF to abolish forced conscription for a certain age group: leaks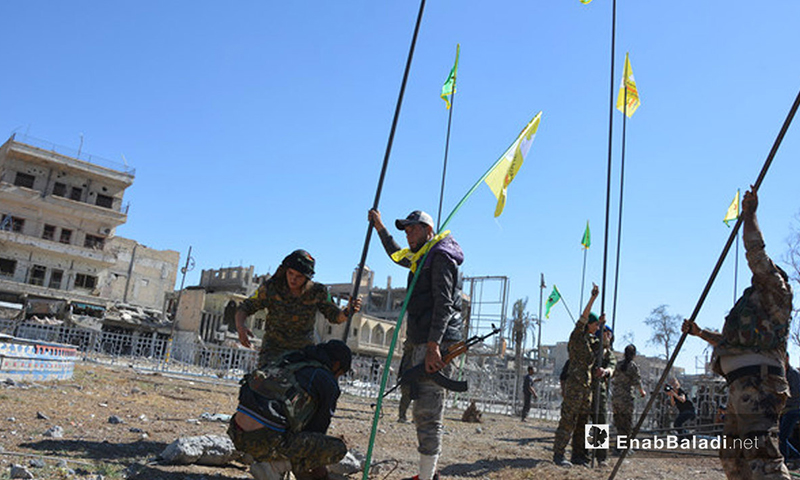 Raqqa – Hussam al-Omar
Muhammad al-Hassan, a 28-year-old teacher, has little hope to get his job back in the schools of Mahmudli town, in the western countryside of Raqqa. 
Al-Hassan lost his job because he refused to settle his situation and join the Syrian Democratic Forces (SDF) that control areas in northeastern Syria. 
Al-Hassan told Enab Baladi that he had to quit his job in his village's school because he wanted to avoid being forcibly conscripted. However, he is now a little optimistic that he could work again after rumors began to circulate that those born in the 1990s may be exempted from Self-Defence Duty—the name given to military service in North and East Syria— enforced by the SDF in areas under its control. 
A few days ago, leaks were circulated on local Facebook pages in northeastern Syria that those born in the nineties will be exempted from the Self-Defence Duty. However, no official decision was issued at this report's writing time.  
Raqqa's youth haunted by forced conscription
Al-Hassan said that exempting young people or part of them from forced conscription will significantly change their lives. However, they do suffer especially when the SDF launches a campaign to search for people wanted to serve in its ranks. 
The SDF imposes forced conscription on young men born between 1990 and 2003. As a result, many young males decided to quit their jobs or even leave northeastern Syria to neighboring countries, including Turkey, Lebanon, and Iraqi Kurdistan.
Jalal al-Khalaf, a 35-year-old resident of al-Diriyah neighborhood in Raqqa city, told Enab Baladi that his two brothers, who have been working in Turkey since 2017, are waiting for a decision to exempt them from the Self-Defence Duty so that they could be back to their city. 
Al-Khalaf pointed out that several young men wish to return to their cities in northeastern Syria. But, they cannot come back because they fear that they will get caught by the SDF, which will forcibly enlist them among its ranks. 
The People's Protection Units (YPG) enforced the law of Duty of Self-Defense (forced conscription) in 2014 after the Dohuk Agreement, which was signed by the Democratic Society Movement and the Kurdish National Council (KNC) in 2014.
The initial law, however, was amended in 2018, providing certain margins of liberty. The amendments were advantageous to specific groups, students—granted the right to deferment, mothers with only male children— depending on the mother's age— families of SDF dead fighters, siblings to Asayish and YPG fighters.
In June of 2019, the Autonomous Administration of North and East Syria (AANES) ratified the law of forced conscription in the areas it controls. It includes 35 articles in which the conditions of service, exemption, postponement, and all laws relating to those conscripted were specified.
Efforts to stop forced recruitment 
In the refusal of the forced conscription policy imposed by the SDF in areas of its control, several massive protests erupted in the city of Manbij, northeast of Aleppo, in early June, which resulted in deaths and injuries.  
The AANES responded favorably to the demonstrators' demands; it ended the compulsory conscription campaign waged in Manbij, east of Aleppo, since mid-May. The AANES also referred the law to study and discussion, following an expanded meeting between the city's clans and the SDF-affiliated Manbij Military Council. 
The head of the public relations office in Raqqa's civil council, Khaled al-Mousa, told Bisan, a local radio station on 16 June that the tribal sheikhs contributed largely to amending the law of duty of self-defense. 
Al-Mousa added that the military establishment formed a committee. The committee will issue amendments to the Self-Defence Duty within two or three days. These amendments hopefully will satisfy all groups. 
The abolition of the forced conscription imposed by the SDF was considered one of the most critical conditions set by the Kurdish National Council in the rounds of negotiations between Kurdish parties sponsored by the USA during 2020.
if you think the article contain wrong information or you have additional details Send Correction