SDF responds to Turkey's accusations of its responsibility for a "mass grave" in Syria's Afrin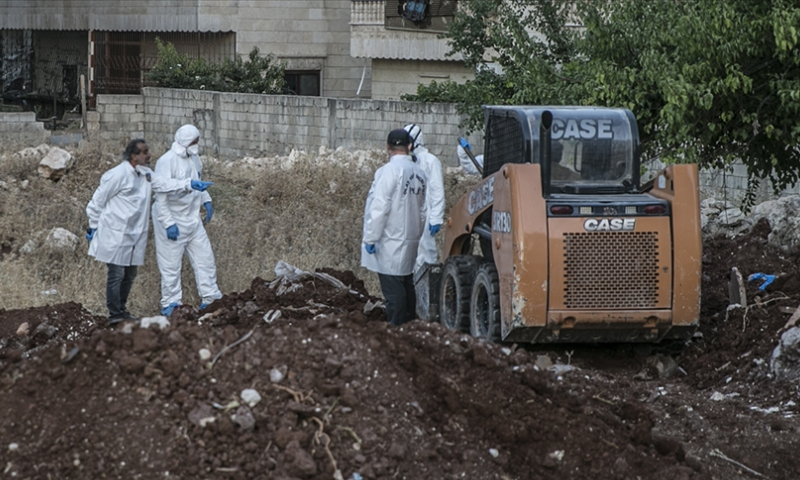 Mazloum Abdi, the commander in chief of the Syrian Democratic Forces (SDF), said that the "mass grave" that Turkey found in Afrin district, northwest Syria, belonged to the dead bodies of his forces who were fighting in the city before falling under the control of Turkey.
Abdi tweeted on his official account on Friday, 16 July, that Turkey is "excavating the grave of the martyrs, and presenting it to the global public opinion as a mass grave."
Abdi called on the international community to stop what he described as "Turkish practices" by digging up graves.
The Martyrs' Families Council (MFC) in Aleppo, close to the Autonomous Administration of North and East Syria (AANES), issued a statement on 16 July. The statement points out that this grave belongs to civilians, whose families or the AANES could not bury them in village graves when Turkey was attempting to control Afrin in March 2018."
According to the statement, the mass grave contained "the bodies of many civilians who were hastily buried, before the AANES left the district."
Relying on Google Earth images, the Kurdish affairs policy specialist, Alexander Maciver, said through his Twitter account on Thursday, 15 July, that the grave photos show that it was established between 6 February and 21 March 2018.
He stressed that it was dug days before Turkey took control of the city and uncovered bodies of "civilians and fighters from the Kurdish People's Protection Units (YPG)."
Two days ago, the Turkish Ministry of Defense reported discovering 35 bodies of people it said were "executed" shortly before Turkey's Operation Olive Branch conducted by the Syrian opposition factions with Turkish forces in the city of Afrin.
As excavation operations continued on 15 July, the number of unidentified bodies recovered from the discovered grave rose to 61, as announced by Rahmi Doğan, governor of Turkey's bordering Hatay governorate.
Doğan said that the local police, under the supervision of the Public Prosecutor, uncovered in Afrin a "mass grave" from a time when the YPG, the PKK organization's Syrian wing, controlled the region.
The Turkish Ministry of Defense launched Operation Olive Branch on 20 January 2018 to remove the YPG forces, which Turkey considers the military wing of the outlawed and designated "terrorist" Kurdistan Workers Party (PKK) from the strategic area.
In March 2018, the Turkish forces and the Syrian National Army (SNA) took control of the entire region of Afrin, and its outskirts, such as Sharran, Rajo, Jandris and other villages and towns.
Currently, the majority of the northern countryside of Aleppo is under the control of the Turkish-backed factions, and the area is administered by local councils linked to Turkish states.
if you think the article contain wrong information or you have additional details Send Correction