Qamishli: Market livestock prices deter locals from Eid al-Adha sacrifice ritual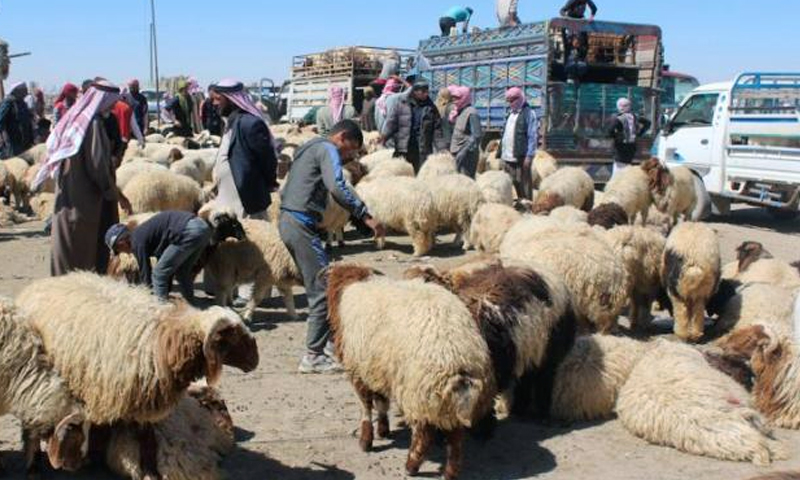 Qamishli – Majd al-Salem
In commemoration of Eid al-Adha, sheep selling markets in al-Hasakah governorate have witnessed an improvement in the selling and purchasing activity, as demand for livestock, mainly sheep and cows, have risen allowing stock breeders to compensate the losses of past months. 
The price hike of livestock and the deterioration of economic conditions throughout Syria have prevented many people from fulfilling this religious ritual. Still, some people were able to find ways to sacrifice an animal marking the Eid al-Adha feast.
Forty-four-year-old Khaled Mohammed, a merchant and cattle farmer from the Qamishli countryside, told Enab Baladi that the selling activity of livestock has been low in the last two months because of drought, which led to scarcity of pastures and a significant rise in fodder prices. 
This, in turn, has caused livestock prices to drop, with stockbreeding becoming a very demanding and challenging job. A single sheep price has fallen to nearly 250,000 Syrian pounds (SYP = 76 USD) before rising again in recent days.
Nowadays, the cost of one sheep ranges between 300,000 and 400,000 SYP (91 and 122 USD), while the price of a ram (a male sheep) is between 400,000 and 600,000 SYP (122 and 183 USD), Mohammed said.
Amer al-Hussein, aged 38, from al-Qahtaniyah countryside, told Enab Baladi that the recent livestock price increase did not compensate breeders for their previous losses. Livestock farmers paid high costs to tend to their cattle and sold them at low prices amounting to 150,000 (SYP = 45 USD) during the past month.
A far-fetched desire
Livestock price rise has denied Qamishli residents from orchestrating Eid al-Adha's sacrifice tradition.
Thirty-one-year-old Abdul Salam Mohammed said to Enab Baladi that he could not afford to sacrifice an animal in his late father's name, who passed away recently, nor could he distribute meat to the poor because of dire economic conditions and lack of financial resources. 
Abdul Salam was saddened by the matter, but he hoped to perform the sacrifice ritual in the coming years, just like many other people he knows to have faced the same financial hardship.
Other people were luckier than Abdul Salam and managed to get an animal to sacrifice in Eid al-Adha, including Hassan al-Abousi from Qamishli. He received a ram from one of his father's friends and decided to sacrifice it in the name of his late father, who died not long ago.  
Al-Abousi told Enab Baladi that he bred the ram and fed it well, then he had it slaughtered and distributed its meat among the poor, adding that if it were not for his father's friend's gift, he would not have been able to sacrifice this Eid.
Amer al-Hajji, an Islamic Studies teacher at one of Qamishli schools, who oversaw the distribution of meat of numerous sacrificed livestock to needy families over the past years, said that poor families eagerly wait for Eid al-Adha to get their share of meat.
Al-Hajji added that an abundance in sacrifices means that there will be lots of meat distributed, increasing poor families' chances of receiving meat from more than one source. 
He added that the ongoing worsening economy would deprive many needy families of having meat in their meals. Meat is sold at high prices at butcher shops, with one kilo sold at 20,000 (SYP = 6 USD), while the price of one kilo of chicken is 5,500 (SYP = 1.6 USD).
Alternative solutions to afford sacrifice ritual's cost
Some people in al-Hasakah governorate buy young sheep aged less than six months at prices lower than that of full-grown ones. They tend and fatten them until they are sacrificed.
Some households with family members as refugees in neighboring countries or in Europe receive remittances to buy animal sacrifices. The depreciation of the Syrian pound against the US dollar and the Euro has benefited them, with 1 USD equalizing 3,180 SYP and 1 Euro exchanged at the rate of 3,747 SYP, according to the Syria Pound Today website.
Money transfer and exchange companies' businesses flourish during the days leading up to Eid al-Adha, with many Syrians abroad sending their relatives remittances to help cover Eid's expenses. 
Al-Hasakah is famous for exporting livestock to other governorates or neighboring countries, mainly Iraq. On 7 June, the local Deir Ezzor-based Furat newspaper reported that the number of livestock in al-Hasakah is approximately 1,400,000 sheep and 72,000 cows.
Still, many livestock breeders complain about the lack of support they receive, particularly in terms of fodder and affordable veterinary vaccines and medicines, which made the cattle market, on which many people in al-Hasakah rely, characterized by volatile prices.
if you think the article contain wrong information or you have additional details Send Correction