Promising sales of seedlings at Syria's Qamishli despite numerous challenges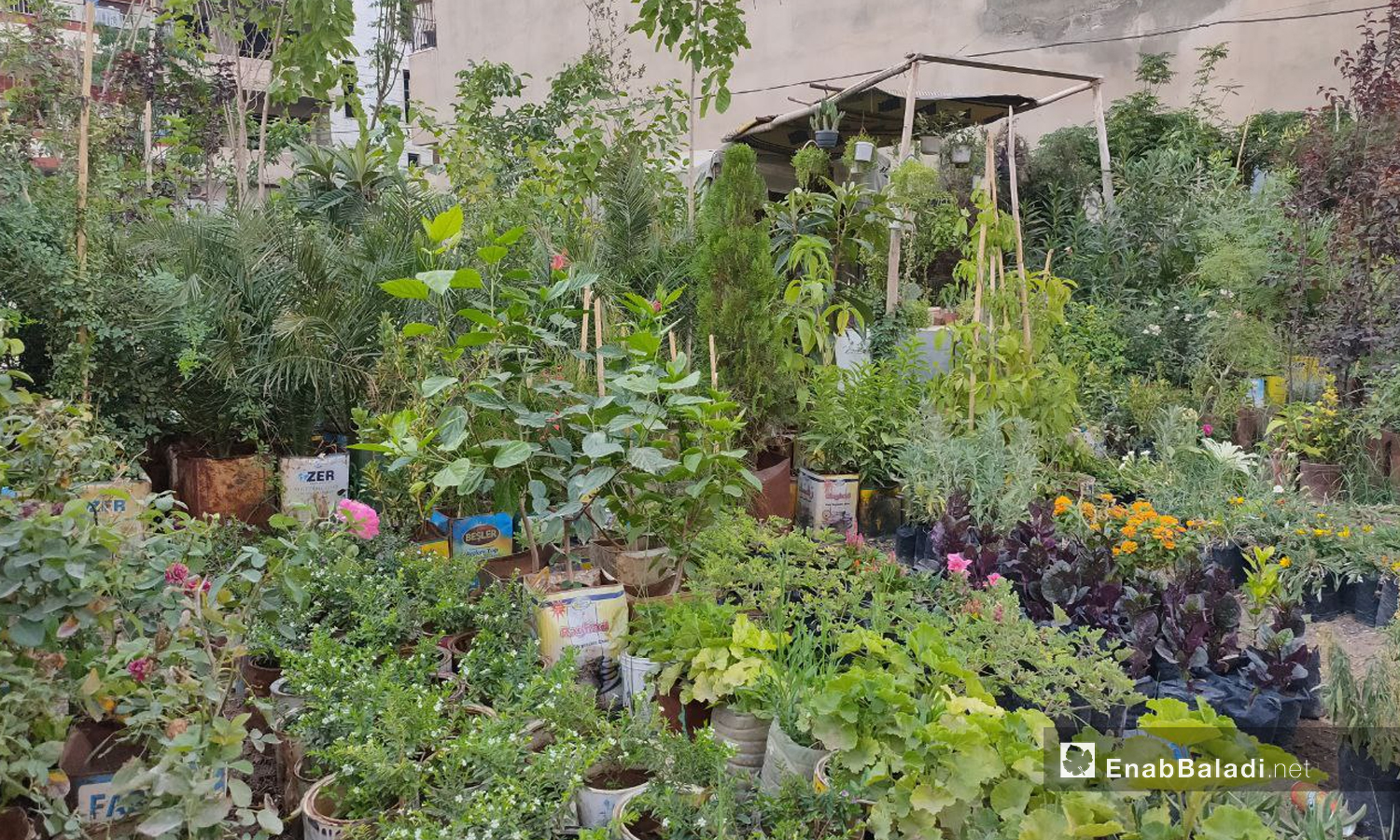 Qamishli – Majd al-Salem
Thirty-nine-year-old Ibrahim Mohammed checks out a group of ornamental tree seedlings and chooses the prettiest among them to place on the balcony of his apartment in Qamishli city. Ever since Mohammed moved to the city, he kept visiting the plant nursery, which opened two months ago near his neighborhood. 
Mohammed also buys a group of forest and fruit-bearing trees to send to his family living in one of the al-Hasakah governorate's villages, where they will be planted in the house's garden. 
The city of Qamishli and the rest of the al-Hasakah governorate's areas have seen a rise in the numbers of private plant nurseries over the past months. The region's dire financial conditions did not preclude its residents from buying various types of seedlings.
Hussein Mohammed (aged 50), who owns a private plant nursery, has opened another nursery in Qamishli city after noticing a considerably increased demand for seedlings in the Qamishli city and its countryside.
The two nurseries have proven profitable for Hussein, who gains nearly 2 million and 500,000 Syrian pounds in sales every week (SYP = 765 USD).
Organizations' contribution to seedlings' sales
Dozens of international organizations and local associations operate in al-Hasakah governorate. They provide various services, including those related to the environmental and aesthetic appearance of the region.
The organizations undertook many tree planting projects in roads' median strips and cities' main entrances, requiring large quantities of seedlings, which helped plant nurseries' work flourish, selling thousands of forest, fruit-bearing, and ornamental trees. 
Hussein pointed to the Green Tress initiative led by a group of volunteers in cooperation with the local community to produce and plant four million trees over several phases in different areas of al-Hasakah. 
Mukhles al-Ali, who is 45 years old and owns a plant nursery for five years, said that April, May, and June witness the highest demand for seedlings of all kinds.
Al-Ali added that many people's decision to set their own farmlands outside the governorate cities has resulted in great demand for seedlings, particularly palm, cypress, pine, Thuja orientalis, olive trees, pomegranates, loquat, vines of different types, as well as ornamental flowers.
According to al-Ali, the prices of these plantlets range between 5,000 and 10,000 SYP ( 1.5 and 3 USD) for fruit-bearing trees and between 2,000 to 3,000 SYP (0.613 and 0.92 USD) for ornamental flowers.
Challenges encountered by plant nursery owners 
The city of Qamishli contains ten private plant nurseries, three nurseries belong to the de facto authority in the region, the Autonomous Administration of North and East Syria (AANES), and one nursery is run by the Syria government's Ministry of Agriculture and Agrarian Reform.
Al-Ali told Enab Baladi that the region's plant nurseries' owners face certain difficulties and challenges, particularly after repeated lockdowns imposed by the authorities as a preventive measure to curb the spread of the novel coronavirus (COVID-19) pandemic. 
Intermittent curfews have caused plant nurseries' owners significant losses and suspended their selling activity. In addition, lockdowns hindered planters from taking care of their plants leading to their death, particularly seedlings of ornamental flowers, which require special care and wither in a short period of time if not provided daily attention.
The work of plant nurseries was also affected by the increasing prices of fertilizers and agricultural inputs, especially after the Agricultural Cooperative Bank in Syria issued a decision in June stopping the sell of fertilizers to farmers at the subsidized price.
The bank set the sale price of a ton of superphosphate fertilizer at 1 million and 112,000 (SYP = 340 USD), the price of 1 ton of urea fertilizer at 1 million and 366,000 (SYP = 419 USD), and the selling price of ammonium nitrate fertilizer ton at 789,600 (SYP = 242 USD).
Another problem encountered by plant nurseries owners, according to al-Ali, is the difficulty of securing a permanent source of irrigation amid soaring temperatures and long power cuts, which affect plantlets' and seedlings' quality. 
The proliferation of roadblocks set by various controlling parties and the long wait required for searching vehicles while transporting seedlings and plantlets from other governorates, such as Aleppo, Idlib, Damascus, and Homs, have resulted in the death of large quantities of plants.   
if you think the article contain wrong information or you have additional details Send Correction