Primitive cultivation methods maximize output and profits of farmers in Raqqa countryside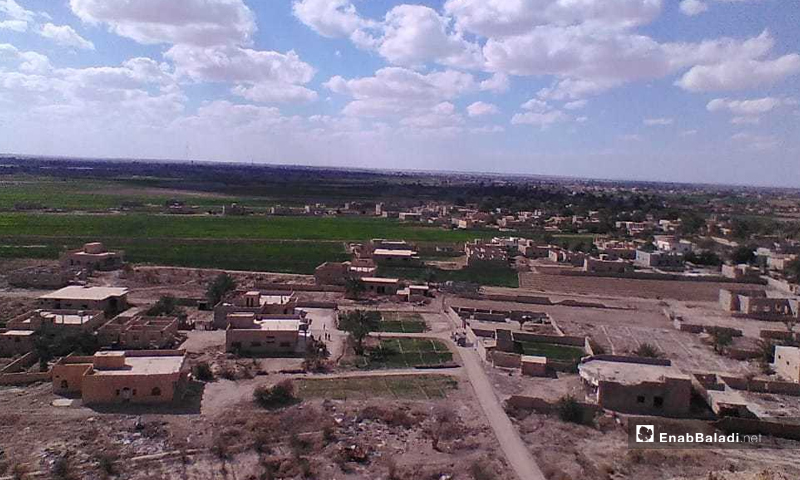 Raqqa – Hussam al-Omar
Thirty-seven-year-old Jabir Fattih walks behind a horse-driven plow, holding its handles while it turns the soil and uproots weeds surrounding cotton shrubs somewhere in Hazimah village of the northern countryside of Raqqa governorate. 
Fattih told Enab Baladi that he resorted to the traditional horse-drawn plow to spare the costs of hoeing workers who remove weeds from around the shrubs using a hand tool called the hoe.
Fattih added that "the costs of growing any crop are onerous and beyond the financial capacity of farmers who are already burdened by the high costs of living."
Hoeing workers charge 1,200 Syrian pounds (SYP = 38 US cents) for one hour's work in Raqqa's countryside. 
Farmers in the Raqqa countryside found themselves forced to resort to primitive cultivation methods that ceased to be used several years ago to reduce costs of labor force needed to grow crops, the expenses of seeds and fertilizers, besides the charges of hoeing and soil cleaning.
Cultivation and gambling are alike in Syria, results are unpredictable
Other farmers in the Raqqa countryside have adopted different traditional methods in harvesting their crops to maximize their agricultural output and reduce financial costs.
Khedr al-Ali, a farmer in his forties from the al-Khatuniyyah village in the western Raqqa countryside, hired some workers to harvest his wheat crops with scythes, so he can later use the wheat residues (wheat straw) left from threshing the crops and turn them into fodder and organic fertilizers. 
Al-Ali told Enab Baladi that he sought ways to increase crop yields after predicting low agricultural produce.  
Al-Ali said that working in the agricultural sector throughout Syria has become like "gambling," as farmers can never decide for sure whether their planting seasons' financial gains would be at the required level or below.
Wheat straw is sold at a price between 400 and 500 (SYP = 16 US cents) and is used as livestock fodder and for making mud bricks, which became popular in recent years in many Syrian areas, particularly after the price increase of construction materials, often sold at the US dollar. 
Farmers are hiring workers to harvest their crops by the use of scythes, other traditional agricultural hand tools used for mowing grass or harvesting crops. Workers charge farmers by the hour at the price of 1,200 (SYP = 38 US cents), or by dunum, with a harvesting cost of 20,000 (SYP = 6 USD).
Fertilization methods and other factors impacting agriculture in northeast Syria
One of the new methods used by Raqqa farmers is applying fertilizers to the entire root zone area underneath the plant surface, while previously fertilizers were applied to the surface of the soil and uptaken by plants' roots through rainfall or irrigation water.
Agricultural engineer from Raqqa, Hussein al-Rajab, said that applying fertilizers directly to the roots of the plants is an efficient method of good results for both farmers and crops.   
Al-Rajab told Enab Baladi that direct fertilization reduces the amounts of fertilizers used in an agricultural season to half sometimes. This fertilizer application method helps nutrients dissolve and penetrate through the soil to the roots far better than indirect fertilization through rainfall or irrigation water. 
The governorates of Raqqa, al-Hasakah, and Deir Ezzor in the Jazira region were considered Syria's source of food security until 2011, the outbreak date of the Syrian revolution. The military, economic, and social changes that took place in the Jazira region in the last decade have severely affected the region's agricultural wealth and resources.   
Some farmers have accused the Autonomous Administration of North and East Syria (AANES), the de facto authority in the region, of buying crops at prices, not in line with efforts and costs paid by farmers. They also accused it of manipulating determined prices despite the availability of payment centers and financial resources generated from oil revenues and taxes imposed on imported goods to AANES regions.
Drought has also caused crops such as wheat and barley to drop in quantity affected by the sharp decline in the groundwater level of the Euphrates River, which adversely impacted irrigation projects in the Raqqa countryside.
Since the beginning of the current year, the Euphrates River's flow level into Syrian territories has decreased to 181 cubic meters a second, despite the existence of a 1987 signed protocol between Syria and Turkey committing the latter to release a monthly average of 500 cubic meters of water per second to Syria.
if you think the article contain wrong information or you have additional details Send Correction