Jordan and Syria reoperate Jaber-Nassib border crossing: Here are the details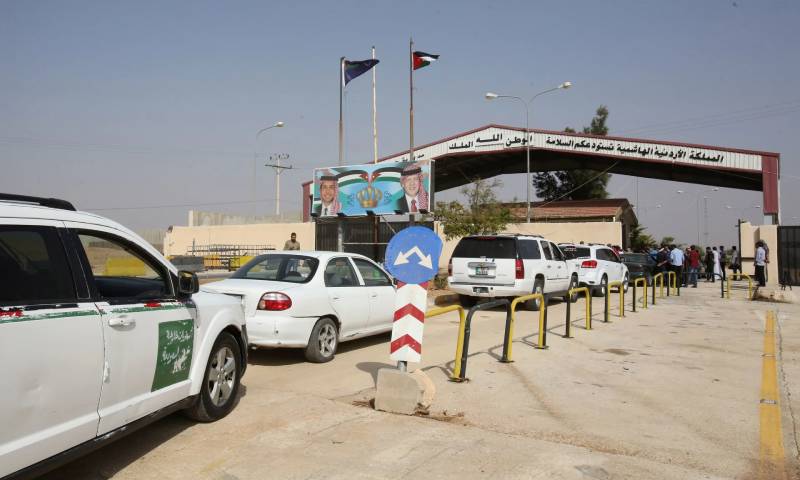 Jordan's Ministry of Interior announced it will fully reoperate the Jaber-Nassib border crossing with Syria in early August.
On Wednesday, 28 July, the Jordanian interior minister, Mazen al-Farrayah, said that the Jaber-Nassib border crossing will be put into full service next Sunday.
The ministry also said that some previous restrictions on the crossing's activities will be eliminated, including the Back-to-Back system used earlier for shipping goods and transporting passengers.
As of next Sunday, Syrian truck drivers will be capable of advancing into Gulf countries themselves.  Previously, Syrian drivers were not allowed into Jordan and were forced to unload their goods and reload them onboard Jordanian trucks.
Trucks also will be allowed two-way movement between Syria and Jordan, in addition to transit trucks coming from Syria headed to Saudi Arabia.
Additionally, people of various nationalities will be granted access to Syria without needing a permit from Jordanian authorities, at a rate of 100 passenger vehicles a day.
These measures, interior minister al-Farrayah said, will be put into effect "under the directives of Prime Minister Bisher al-Khasawneh, he laid down during a visit to the [Jaber Crossing] Center on 8 July, as well as after logistical arrangements were made in cooperation with Syria."
Syrian al-Watan newspaper yesterday cited an unnamed source from the Ministry of Interior of the Syrian regime's government as saying that Jordan and Syria have agreed to allow vehicles and cargo trucks, loaded with Syrian goods, to enter Jordanian territories and head from there to Gulf countries without having to swap vehicles, resorting to Jordanian trucks that used to take goods to their destinations.
Passengers coming from Jordan to Syria and vise versa have to present border crossing authorities with a negative PCR test for COVID-19, or a document proving they have been immunized against the virus.
These measures were discussed weeks ago, with the first call between the interior minister of the Syrian regime's government, Mohammad al-Rahmoun, and his Jordanian counterpart, al-Farrayah. The two ministers discussed "joint coordination" to facilitate the passage of transit trucks and passenger vehicles between the two countries.
The ministers communicated two days after the King of Jordan, Abdullah II, said that the head of the Syrian regime, Bashar al-Assad, "will remain for a long time."
King Abdullah II added that "so the system is still in place, and we have to be mature in our thinking, should we achieve a change of the system or a change of behavior?"
The Syria-Jordan relations underwent several shifts since 2011. Jordan supported the armed opposition groups in Southern Syria. However, when regime forces captured the region, Jordan started assessing resuming ties with the Syrian regime, particularly after the Nassib border crossing was reopened.
if you think the article contain wrong information or you have additional details Send Correction