Iran intensifies attacks on US bases in Syria to win nuclear negotiations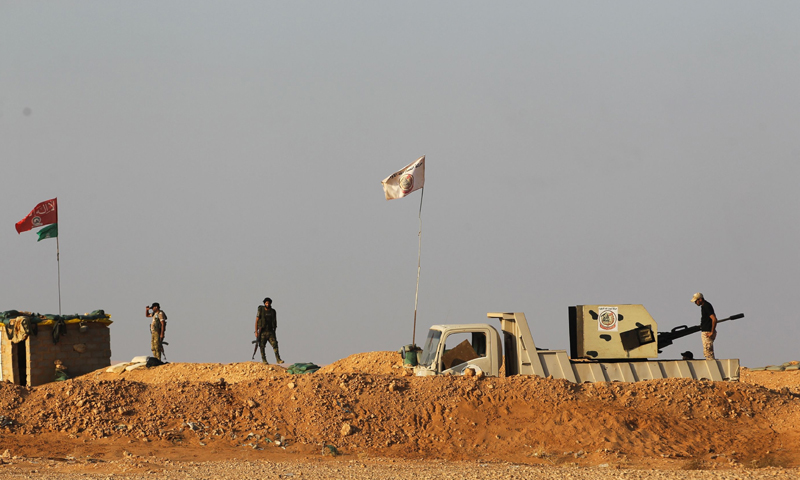 Enab Baladi – Jana al-Issa
United States' bases in Syria and Iraq have been heavily targeted over the past two weeks, with the US Defense Department (the Pentagon) blaming Iran for the attacks.
In a press briefing held on13 July, Pentagon Press Secretary John F. Kirby responded to a question regarding Iranian attacks by saying, "These attacks are dangerous and potentially lethal, and the Pentagon takes them seriously."
The recent attacks indicate that Iran has been planning on escalating its military targeting of US bases. On 13 July, Reuters cited three sources from Iran's Islamic Revolutionary Guard Corps (IRGC) and two Iraqi security sources who said that IRGC chief Hossein Taeb headed an Iranian delegation to Iraq and urged Iraqi Shi'ite militias to step up attacks on US targets during a meeting in the Iraq capital, Baghdad, last week.
Iranian officials advised the Iraqis not to go too far in their attacks on US forces in Syria to avoid a big escalation, Reuters quoted the sources.
Reuters cited a senior official in the region, who was briefed by Iranian authorities on Taeb's visit, that Taeb met several Iraqi militia leaders during the trip and conveyed "the supreme leader's message to them about keeping up pressure on US forces in Iraq until they leave the region." 
Would Iran force US troops out of Syria and Iraq?
A report by the Iranian al-Alam news TV channel entitled "Messages of the Five Targeting Operations Against American Occupation Bases in Syria" mentioned on 16 July that Iran's long-term motives behind these attacks are to force US forces out of Syria by "popular resistance adopted by Iran through the attacks."
Meanwhile, the short-term Iranian target is to pressure the US to "change its policy in Syria and ease sanctions," the report said.
Iranian affairs researcher Alaa al-Sa'id told Enab Baladi that the Iranian targeting of US bases in Syria and Iraq does not put any pressure on America to leave these countries.
Al-Sa'id added that the US withdrawal from any country is not subject to Iranian pressures or the pressures of other sides. Such a decision is "purely American," taken according to US interests with the aim of protecting national security.
Syrian writer and political analyst Zakariya Malahfji told Enab Baladi that Iranian attacks are not up to the aim of forcing US troops to withdraw from their bases in Syria or Iraq. Iran is involving itself in shenanigans, targeting US bases to win a pressure card on negotiating tables.
Iran's attacks in Syria coincided with fiercer ones in Iraq targeting US interests there, opening the door to the possibility of Washington withdrawing its troops from the country it entered in 2003 to overthrow the regime of former Iraqi president Saddam Hussein.
On 17 July, the US Associated Press news agency reported that a meeting between US President Joe Biden and Iraq's Prime Minister Mustafa al-Kadhimi would take place in the White House on 26 July.
The meeting comes at a pivotal point in the US-Iraq relationship, and amid growing concerns about more frequent attacks against US troops in Iraq and Syria, the Associated Press said.
Since Biden took office in January, there have been at least eight drone attacks targeting the US presence, as well as 17 rocket attacks, according to the Associated Press.
An ostensible objective
Al-Sa'id said that Iran's claim that its attacks aim to pressure the US to ease economic sanctions against the Syrian regime is nothing but an "ostensible objective."
He added that Iran's real objective behind attacking US bases in Syria is to use the Syrian regime's forces on battlefields and drain their sources in case Iran was attacked back.
Since the US imposed the Caesar Syria Civilian Protection Act, also known as the Caesar Act, entailing sanctions on the Syrian regime, Iranian officials released many statements rejecting US sanctions claiming that they "affect the lives of Syrian people."
The statements also mentioned Iran's assistance and support to the regime in the face of US sanctions in various sectors, chiefly oil derivatives.
New presidency, new goals
On 19 June, Ebrahim Raisi won the Iranian presidential elections after receiving the highest percentage of votes with 63 percent of the voters.
Al-Sa'id said that Iran's new presidency and intensified attacks are interrelated in the sense that the new presidency led by Raisi wants to show itself strong at the beginning of its term. 
Raisi wants to appear strong to silence his opponents, on the one hand, and to send a message to the US on Iran's force to ease pressures related to nuclear talks in Vienna, al-Sa'id added.
Political analyst Malahfji pointed out that Raisi is a hardliner who is accused of several war crimes and that his election to the presidency indicates Iran's intentions of escalation. 
The new Iranian presidency is trying to pressure the US indirectly to win the Vienna talks between Tehran, the US, and world powers on reviving the 2015 nuclear deal in Vienna, which restricted Iran's nuclear activity in exchange for lifting international sanctions.
In July, the US base in the al-Omar oil field in the eastern countryside of Deir Ezzor was targeted three times, according to the state-run Syrian Arab News Agency (SANA).
Pentagon Press Secretary John F. Kirby denied the targeting of the US base in the al-Omar oil field and said that there were no military exercises for the US-led International Coalition Forces (ICF) in the area.
Iran has officially declared on many occasions that its presence in Syria is for advisory reasons at the Syrian government's demand. However, since its early intervention in Syria, Iran has supported the regime politically, militarily, and economically and expanded its influence in Syria during the past years in various military, economic, and cultural fields.
if you think the article contain wrong information or you have additional details Send Correction