Informal camps: Latent threat to cultivation in Idlib's countryside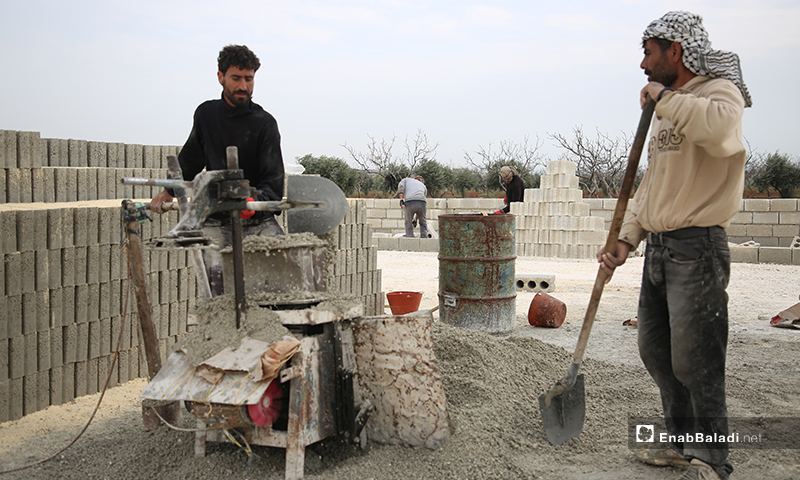 Enab Baladi – Iyad Abdul Jawad
Forty-two-year-old Yasser al-Ali has been leasing out his land, which he used to sow with wheat and barley for five years to a group of internally displaced people (IDPs) in Kafr Aruq village of northern Idlib countryside. 
The agricultural land, which had an area of 10 dunums (1 hectare), was chosen to be a campsite for IDPs due to its closeness to residential areas and highways. Soon, a camp of concrete housing units was set there without a pre-planned zoning study, al-Ali told Enab Baladi.
The ongoing displacement to northern Syria has transformed arable areas in Idlib's northern countryside into slums of cemented housing units. The stone-walled units are being built to meet IDPs' needs for shelters without contemplating the adverse effects of unregulated construction or unplanned urban development. 
The need for proper housing
Ibrahim al-Mahmoud, a forty-five-year-old displaced man from Sheikh Idris village in Saraqib city, told Enab Baladi that IDPs in Kafr Daryan village in Idlib's northern countryside had rented an agricultural land of 8 dunums (0.8 hectares) near Sarmada city for 700 US dollars a year.
Al-Mahmoud said that everyone has the right to proper housing, and securing adequate shelters for the displaced is necessary; hence, establishing informal camps on arable lands could be a temporary solution to the housing problem pending the return of the displaced to their original areas.  
In September 2020, the Turkish Humanitarian Relief Foundation (İHH) announced that it had completed the Peace Village's first phase in the al-Zouf area in Idlib's western countryside. The İHH  completed the construction of 50 concrete housing units and delivered the finished units to the orphans' families in the area.
According to the official website of the İHH, the organization started building the village in two phases to build 100 cement houses in the al-Zouf area. The İHH completed the first stage and was working on finishing the second stage houses' construction, including 50 housing units.
The İHH website quoted the Information Official of the organization's work in Syria, Salim Toson, saying that the village is built in a location close to the Turkish-Syrian borders. 
Toson said each house's general area is 40 square meters and includes two rooms, a kitchen, a bathroom, a toilet, and a small garden surrounding it. Toson also indicated that the organization is planning to build a school and a mosque in the village.
The Peace Village is one of about 30 housing projects supervised by the İHH in the northern regions of Syria as an alternative to the displaced people's tents and provides the IDPs with their minimum humanitarian needs.
Reduced farmland areas threaten food security in northwestern Syria
Displaced people's right to housing has impacted the ability to provide food resources to residents due to agricultural lands' transformation into informal campsites.
Agricultural engineer Hassan al-Abs told Enab Baladi that cultivation requires certain factors, the most prominent of which is the availability of arable lands. However, areas being leased out for building concrete units are essentially fit for animal husbandry and growing annual crops.
Idlib governorate's areas of agricultural lands have decreased significantly after the Syrian regime regained control over several villages in Idlib's southern countryside in March 2020. The proliferation of informal camps has also damaged agricultural produce and reduced crop production, al-Abs said.
Reduced farmland areas lead to reduced food resources, al-Abs said, adding that unregulated construction works could cause land degradation or soil erosion. 
Al-Abs pointed out that the problem of soil run-off will necessitate additional rehabilitation costs for affected farmlands; therefore, people must be made aware of the problem of urban sprawl on farmlands. In addition, relevant authorities in the region must work on finding solutions to regulate camp construction away from agricultural lands. State or non-arable lands can be allocated for building concrete camps or residential villages for IDPs. 
Government intervention
The assistant director of camp affairs in the Syrian Salvation Government (SSG) 's Development Directorate in Idlib, Mohammed Abboud, said that the directorate has "formed a committee including members from the Ministry of Agriculture and the Ministry of Development and Humanitarian Affairs to count the number of informal camps and move their inhabitants elsewhere."
According to Abboud, the established committee has started relocating some settlers of informal camps set on arable lands to state-owned lands, while others were moved to residential camps built during the past period under the supervision of competent engineers. Moreover, work is underway to complete the relocation of the remaining camps' inhabitants to other sites to finalize the project. 
Unless Syrian displaced people regain their rights to their houses, lands, and possessions, they will continue to suffer to secure shelters, and there will be a greater need for housing projects that could meet their most basic needs, mainly the right to a decent house.
if you think the article contain wrong information or you have additional details Send Correction