Harassment against civilians in Aleppo's Autonomous Administration-controlled neighborhoods by Baqir Brigade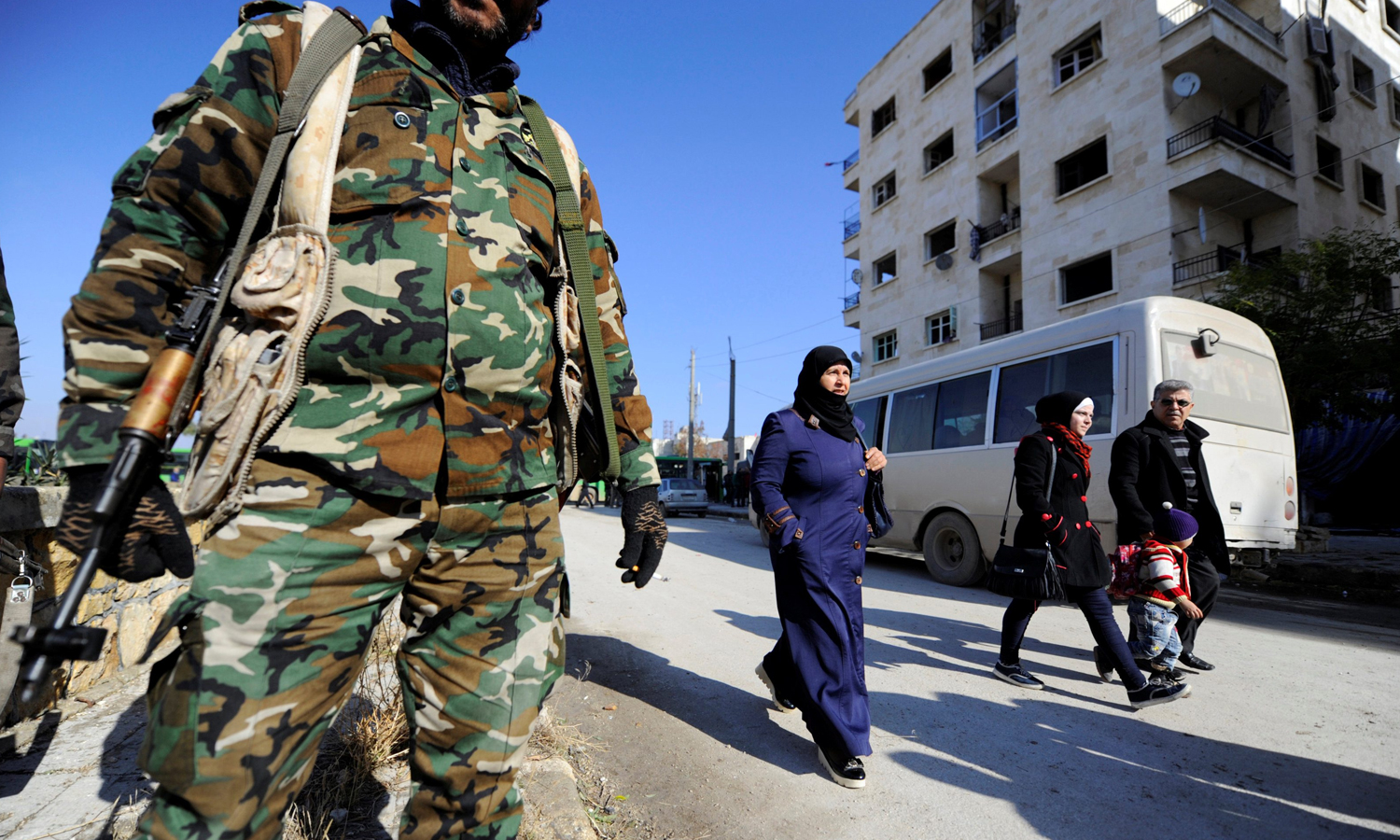 Aleppo – Saber al-Halabi
Adeeb, who works at a power company from early morning to afternoon, fears passing through checkpoints set by the Syrian regime forces and the Baqir Brigade around Aleppo's neighborhoods controlled by the Autonomous Administration of North and East Syria (AANES). 
Adeeb told Enab Baladi that he was subjected to harassment several times trying to pass through checkpoints surrounding the Sheikh Maksoud neighborhood and that on one occasion he was so close to being arrested on the al-Ashrafiyah neighborhood's security barrier. 
During the arrest attempt, Adeeb was beaten by the Baqir Brigade militiamen simply for being Kurdish, he told Enab Baladi, adding that the brigade elements arrest residents exiting AANES-controlled neighborhoods in Aleppo. 
The Baqir Brigade elements have been reported to clamp down on residents of AANES-held areas in Aleppo city, including Syrian Kurdish people working in regime's government departments, in an attempt to provoke AANES fighters and incite clashes and confrontations. 
Even though some of the checkpoints set around neighborhoods under the influence of AANES in Aleppo city are managed by elements from the regime's State Security Branch and the pro-regime militia of the Baqir Brigade or by the Air Force Intelligence Branch, the regime's security branches elements are taking no action towards harassments or arrests taking place at these checkpoints by militiamen against civilians, mainly Kurdish ones.  
Inhuman abuses
Thuraya, a resident of the al-Ashrafiyah neighborhood, recounted to Enab Baladi how she was denied permission to pass the checkpoints and exit her area to undertake an open heart surgery. She said that her critical health condition, hospital papers, and medical test results did not help persuade militia members, causing her to miss her surgery appointment scheduled for 26 last June. 
Thuraya resorted to the Syrian Arab Red Crescent organization (SARC) to help her exit her neighborhood and have the surgery but to no avail. As a result, her surgery appointment was delayed once again, leading to further deterioration in her health.   
In desperation, Thuraya offered money to the regime checkpoints elements to allow her to pass, but they did not accept. 
It is worth noting that Aleppo's neighborhoods that are controlled by AANES and surrounded by regime forces barriers are witnessing relative calmness, and there are no current clashes or tensions to justify the occurring harassments.    
Security branches' elements patrol Kurdish neighborhoods for arrests
Enab Baladi has been told that elements of the Syrian regime's security branches have been wandering Aleppo's neighborhoods daily and arresting wanted people from AANES-controlled neighborhoods in the city.   
An informed source from the regime's Air Force Intelligence Branch in Aleppo told Enab Baladi that security elements receive orders of arrests on a daily basis and that these orders cannot be challenged or disobeyed.   
The source added these manifestations of abuse against civilians are intended, and in the case of any objection, disobeying elements would be placed in the security branches' detention centers for violating higher orders.
Until 1 July, nearly 132 civilians were arrested while exiting or entering neighborhoods controlled by AANES in Aleppo. 
The arrests were carried out under high commands directed to security branches' elements, the source said, adding that Baqir Brigade militiamen have also arrested civilians in Aleppo.  
The Baqir Brigade's arrests are carried out arbitrarily and unbacked by lists of wanted names to enrage AANES fighters and drive them into renewed clashes.
These provocations did not lead to direct clashing. The Baqir Brigade elements mobilized and prepared themselves to break into quarters controlled by AANES but received no support, so some fighting groups withdrew and abandoned fighting alongside the Brigade, Enab Baladi was informed by matching security sources. 
AANES has gained control of the neighborhoods of Sheikh Maksoud, al-Ashrafiyah, and the Youth Housing on Aleppo's Castello road since 2013. Three years later, AANES handed over the neighborhoods of Baedeen, Hulluk, al-Haidariya, Sheikh Khader, Bustan al-Basha, and Karam al-Zaitounat, which it entered following opposition factions' exit from the city, to the regime forces in exchange for support to counter Operation Olive Branch launched by Turkish forces on Afrin in March 2018.
if you think the article contain wrong information or you have additional details Send Correction