Fiscal deficit forces Assad regime to manage subsidies in three ways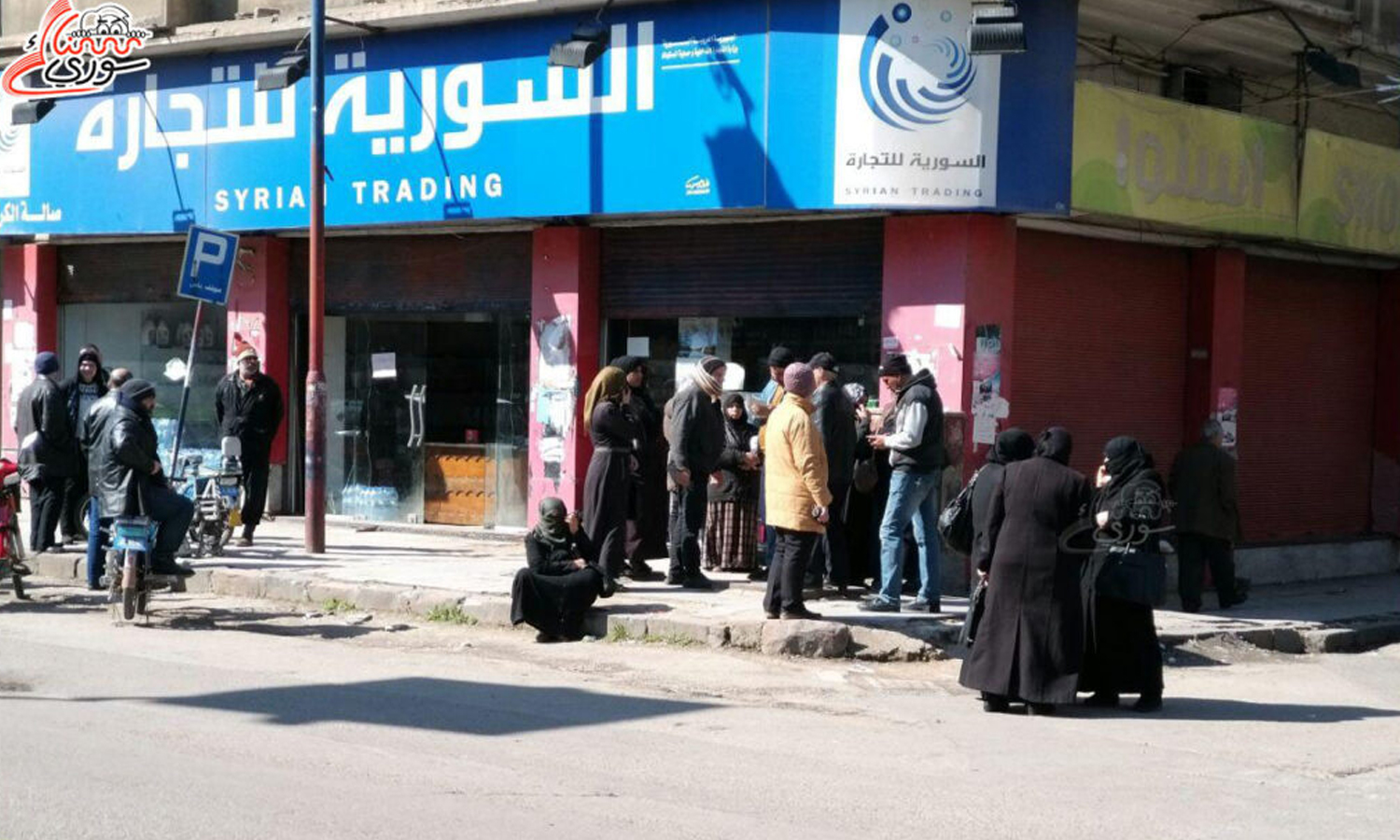 Enab Baladi-Zeinab Masri
The Syrian government is maneuvering between increasing prices, removing subsidies on specific products, and reducing the quantity of subsidized goods sold to citizens in its areas of control at a price lower than the market price. This is an attempt to curb deteriorating living conditions resulting from its failure to manage the Syrian economic crisis.
Battling with this bleak financial reality, citizens demanded the Syrian government to increase their salaries and control price hikes in the market.
Citizens noticed that the Syrian government has taken to increasing prices of certain subsidized products or decreasing their quantities implicitly and without an official announcement, boosting their financial burden to provide for their families and leaving them baffled to find alternatives and cover living costs. 
An increase in prices
The Syrian Trade Establishment (STE) has recently raised the price of one kilo of sugar from 500 Syrian Pounds (SYP-0.15 USD) to 1,000 SYP (0.30 USD), and the price of one kilo of rice from 600 SYP (0.18 USD) to 1,000 SYP (0.30 USD). The government will distribute these two subsidized items at their new prices starting from 4 July.  
Three days before the Syrian government announced new increases in subsidized products, including sugar and rice, pro-regime Al-Watan newspaper prepared Syrian citizens for this price increase by arguing that "the climbing international prices" have a significant consequence on the available quantities of foodstuffs, leaving the government unable to finance the subsidized items.
Al-Watan pointed out that the STE obviously suffers from great difficulties securing subsidized materials. Furthermore, the STE experiences an additional fiscal deficit given the instability of the world food price index, the high costs of securing goods globally, and the increased shipping and packaging costs. This would affect the government's ability to "intervene positively" to support low-income families and markets as well.
After a surge in sugar and rice prices, al-Watan quoted on 28 June, the Director of Prices at the Ministry of Internal Trade and Consumer Protection, Ali Wannoua, saying that a study was conducted in the Syrian regime's Ministry of Oil and Natural Resources to raise the prices of gas and diesel.  And this cannot be regarded as a secret; numbers should be studied and calculated. Then, a decision can be made.  
A funding crisis restricts the regime
Karam Shaar, a Syrian economist, and researcher at the Middle East Institute (MEI), based in Washington, told Enab Baladi that it is clear that Syrian citizens in regime-held areas are negatively affected by the decrease in subsidies due to their low salaries. However, when the Syrian government increases the prices of subsidized products, this seems illogical and "unreal" because the government already imports these products in USD. However, the government has to raise the prices of subsidies due to higher importation costs.   
Shaar added that the Syrian government's expenses during this year are mostly non-investment (operating expenses). The Syrian government is in a difficult financial situation; it can no longer support imported products like before. The government's ability to spend is deficient. But simultaneously, it is trying to focus on spending on subsidized goods at the expense of investment, which has almost stopped. 
The researcher added that spending on one individual for the current year is the lowest ever—the government has spent 227 USD per head—compared with the government's spending in 2010. In 2010, the government spent around 735 USD per person. 
This indicates that the Syrian government knows in advance that it will not spend amounts like it used to spend previously on one individual, according to Shaar.
The Syrian government set allocations of salaries, wages, and compensation at 1,018 billion SYP, social support allocations at 3,500 billion SYP (3,256 SYP is equal to  1 USD), and the National Fund for Social Aid allocation at around 50 billion SYP. Fifty billion SYP is allocated to the Agricultural Production Support in the general budget for the fiscal year 2021, which was proposed by the People's Assembly of Syria at 8,500 billion SYP and approved by the head of the Syrian government, Bashar al-Assad in December 2020.  
A study entitled "2021 budget reveals the depth of Syria's economic woes," issued by Atlantic Council on 1 December 2020, by researchers Karam Shaar and William Christo, stated that the Syrian government will spend nearly three times less on citizens in areas under its control in 2021 than it did in 2010, notwithstanding that only about half of the number of people living under its control—11.7 million in 2020 versus 21.4 in 2010.
The study indicated, "the continual decline in Syria's budgetary spending reflects a shrinking revenue base from which Damascus can draw. In 2021, total revenue is a whopping 83 percent lower than the pre-war budget of 2010. The composition of total revenue has changed as well."
According to the study, "current spending" will mainly serve social support programs, such as fuel and food subsidies and the wages of public sector employees, who make up about a third of the workforce.
On 29 June, the Syrian government agreed to grant the STE an advance of 43 billion SYP to secure rice for distribution via the smart card system, al-Watan reported. 
Reducing subsidies 
The Ministry of Internal Trade and Consumer Protection will implement a new mechanism for distributing bread through smart cards, following a rationing system as of 12 July in the governorates of Latakia, Tartous, and Hama. This new system will also be implemented in the governorates of Damascus, its countryside, Daraa, Quneitra, and As-Suwayda.  
Through this new rationing system, each citizen will be able to take his/her daily allocation of bread from the nearest selling point at any time he/she chooses. 
A citizen can get only 10 bundles of bread over four weeks. This means that an individual's bread allocation has been reduced by almost half without explicitly announcing this.
The citizen has the right to choose the best selling point for him via an application designed to include the names of those wishing to receive their subsidized bread rations via smart cards.
The sale of subsidized bread will be prevented for those not registered at a selling point. Deputy Minister of Internal Trade and Consumer Protection of the Syrian government, Rif'at Suleiman, said in a previous interview with al-Khabar TV last April.  
Last March, the Syrian government reduced fuel subsidies for private vehicles through "the Win" application for smart card system to become 75 liters instead of 100 liters per month for each vehicle. 
The government had previously reduced the heating fuel subsidies from 100 to 60 liters, on 19 January 2020, without making an official announcement as well.
Removing subsidies on some products
In early February, the Ministry of Internal Trade and Consumer Protection expanded the smart card system to include subsidized prices for rationed quantities of tea: 400 grams for a family of three members, 600 grams for a family of four or five members, and 1,000 grams for a family of more than five members for only one time every two months. The ministry set the subsidized price of tea at 12,000 SYP per kilo. 
This only lasted for three months. Then, the government removed tea from the list of subsidized products distributed through the smart card system due to delays in the arrival of tea supplies, the STE General Director, Ahmad Najm, said on 2 May.      
Similarly, the distribution of the subsidized oil stopped at the end of last April due to high prices and the cessation of supply that made procurement of materials difficult, Najm justified.
What is the smart card system?
The smart card system provides a mechanism for selling fuel, basic foodstuffs, and bread to Syrian families at a subsidized price and with specific allocations according to the number of family members.
The smart card is a project implemented by Takamol Holding, and it is owned by Muhannad al-Dabbagh, Asmaa al-Assad's cousin, with a 30 percent share, while her brother, Firas al-Akhras, owns the largest share.
Takamol Holding charges sums of money for each distribution via the smart card; 5 SYP for each bundle of bread, and 25 SYP for each food item distributed in the halls of the STE.
if you think the article contain wrong information or you have additional details Send Correction