Arabic Majlis in northwestern Syria: when heritage and living conditions collide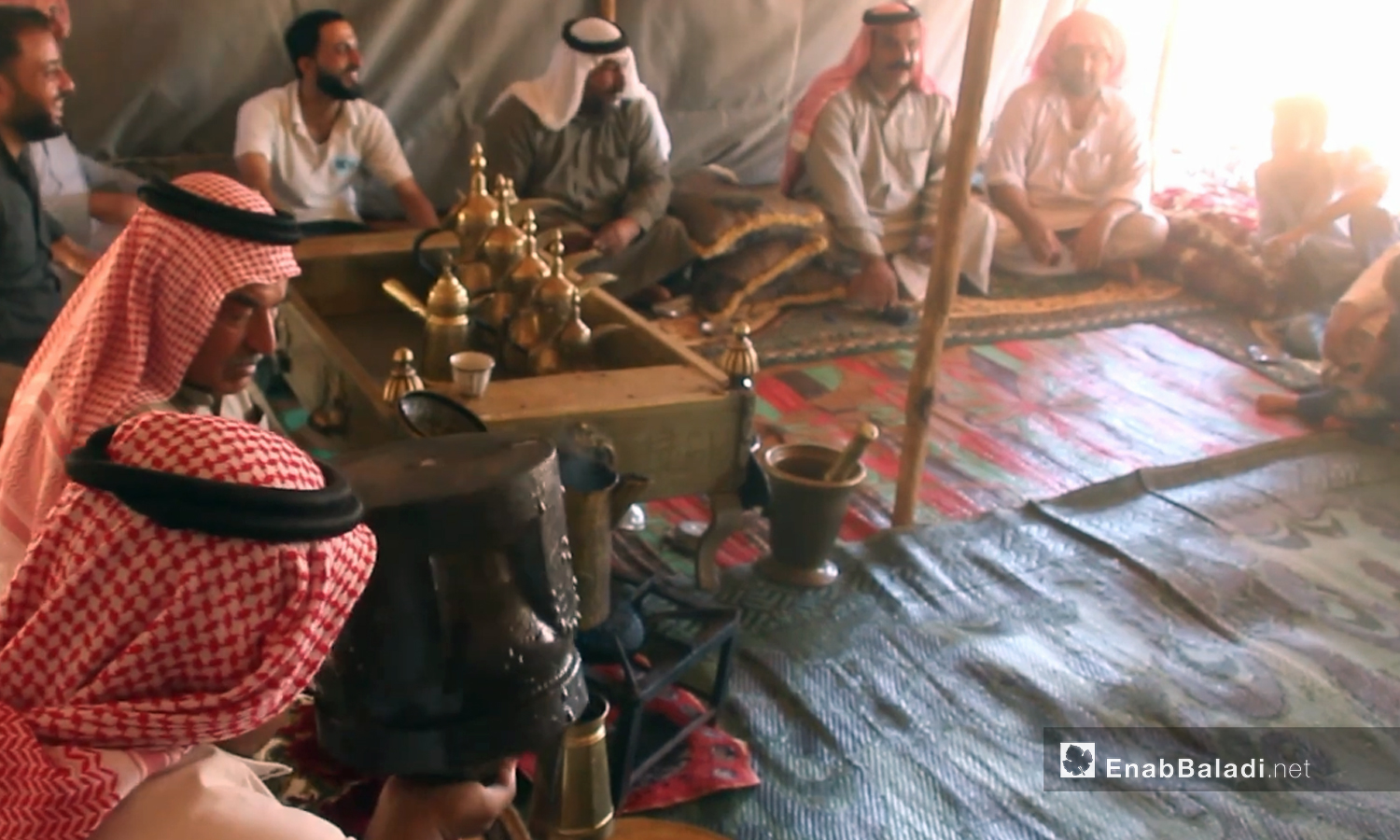 Enab Baladi – Khaled al-Jeratli
The traditional Arabic Majlis has been a preferable sitting design for many Syrians who opted for this oriental styling of furniture in their houses due to its aesthetic value and comfortableness. These appealing characteristics of the Majlis have pushed homeowners to request Majlis decors at costs far more expensive than that of modern living rooms.  
Urban development and shrinking of living spaces have decreased demand for the traditional Majlis style; still, a considerable proportion of Syrians continue to use the Majlis floor sofas in their houses, particularly in guest rooms. 
Today, this sitting decor is widely used in northwestern Syria. People there use the Majlis not out of preference but because it is easily moved during the repeated journeys of displacement. The reality of constant move and lack of stability has made this model of sitting a necessity, not a luxury. 
Other people in the region resort to the Majlis, desiring to recall and preserve heritage.
The Majlis is at the heart of Arab values; it reflects their generosity and hospitality. It is designed to accommodate large numbers of visitors compared to modern living rooms of wooden tables and armchairs. 
Guests of all ages visit this traditional seating space. In Bedouin culture, the Majlis has a separate entryway isolated from the main entrance of the house, specially designed in this way to welcome people in need or visitors and provide them adequate hospitality. 
The Majlis tradition passed out to Syria from nomadic Arab tribes who moved from one place to another carrying their light furniture with them. Since then, the concept of oriental furniture became widespread and popular among Syrians.
Traditional sitting designs fit displacement conditions
For a decade long, villages and cities in northwestern Syria witnessed vicious military offensives by the Russian-backed Syrian regime forces. The offensives allowed the regime to recapture large areas resulting in the displacement of over 72,000 persons, a report released in June 2020 by the Syria Response Coordination Group (SRCG) mentioned. 
Some of the displaced have set tents and taken shelter in the open; others managed to rent houses in de-escalation zones near the Syrian-Turkish borders, while some settled in makeshift formal and informal camps in the Syrian north. 
Abdul Salam al-Karuzi, a camp manager on the Syrian-Turkish borders, told Enab Baladi that many displaced families who live in houses had furnished them with the Arabic Majlis. 
Al-Karuzi said that for many displaced people, it is a matter of preference; they opt for the Arabic traditional furniture style because it is cheap and easily transported. This style is also favored by some camp inhabitants who are descended from Bedouin Syrian tribes. 
The Arabic Majlis is an ample space with carpets on the floor and cushions and mattresses against the walls. At the middle of the Majlis, there is usually a coal stove or fireplace and coffee-making pots, locally known as "dallah." The Majlis' walls are covered by curtains which are often of matching colors to that of the carpets.
In 2015, the United Nations Educational, Scientific and Cultural Organization (UNESCO) inscribed the Arabic coffee and Majlis on the Representative List of the Intangible Cultural Heritage of Humanity at the tenth meeting of the organization held in the Namibian capital, Windhoek.
Humble but necessary: Arabic Majlis in displaced people's shelters
Thirty-two-year-old Mahmoud, who lives in a displacement camp in northern Idlib and is experienced in traditional Arabic furniture, told Enab Baladi that for ten years now, displaced Syrians have been denied the luxury of seeking colorful and beautiful furniture. They can barely find enough furniture to help them survive the cold of winter or the heat of summer.
Fortunately, floor sitting furniture can be moved easily upon moving, which is crucial, particularly with Syrians' unstable living situations having to change their residence repeatedly over the last ten years.   
Despite Mahmoud's great experience in fabric designs and fillings used inside the Majlis' mattresses and cushions, he owns a humble Majlis of a single wool mattress used for sitting and sleeping.
A simple mattress design is even cheaper if made with humble materials such as cheap fabric, wool, or foam. It is also easy to carry in cases of displacement, which makes it very common among Syrians, particularly those living in displacement camps.
According to United Nations estimates, out of a population of about 4 million people in northwestern Syria, there are nearly 2 million displaced from different parts of the country.  
Sitting on the floor: the scientific approach
Journalist Vybarr Cregan-Reid wrote on the BBC Future website, "Future historians looking back on the Anthropocene_ a unit of geological time referring to the period in which human activities have had a tangible impact on the Earth's ecosystems_may see the defining technology of our modern period as the chair rather than the computer, and how this piece of furniture is having a major impact on our bodies."
He added, "We live at a time when sitting is sometimes being described as 'the new smoking,' we know that spending too much time in chairs is bad for us. Not only are chairs unhealthy, but like air pollution, they are becoming almost impossible for modern humans to avoid."
The International Journal of Occupational Safety and Ergonomics has published an article in which it mentioned that anecdotal and clinical evidence has shown that different ways of sitting place different physical pressures on our bodies, as sitting in the same position for a long time usually affects the region below the back, called the lumbar area of the spine, and the characteristics of pelvic motion. This is thought to lead to long-term health problems, such as arthritis.
The US medical journal Healthline website discussed the benefits of sitting on the floor, which encourages natural stability, increases body flexibility and causes less hip tension. In addition, sitting on the floor allows many postures that can be easily switched, causing muscles to stretch and be more active. 
Even though sitting on the floor may have benefits, doing it incorrectly could cause problems, according to the medical journal that listed the side effects as follows:
Placing extra stress on the joints.

Reducing blood circulation in the lower limbs.

Causing poor posture and back pain.

Exacerbating existing joint problems.

Creating difficulty upon standing up or sitting back again.
if you think the article contain wrong information or you have additional details Send Correction