Security threats and worsening living conditions drive youth to abandon Quneitra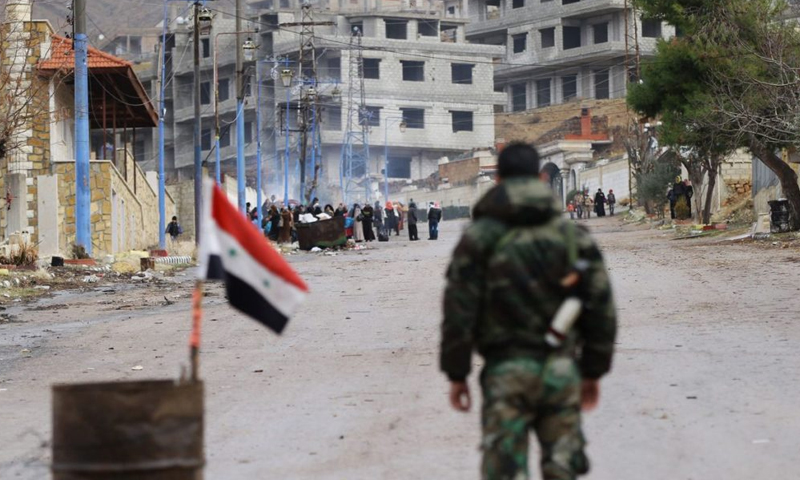 Enab Baladi – Quneitra
"If we had known that things would get worse, we would have taken green buses to the north," said Bilal al-Nuaimi.
Al-Nuaimi told Enab Baladi that many young people regretted staying in Syria's southwestern Quneitra governorate—re-controlled by the Russian-allied Syrian regime under a "settlement agreement" in mid-2018—due to the worsening living conditions and poor security. 
Moreover, the Syrian regime continues to threaten Quenitra residents with military action, which triggered increasing waves of forced emigration. 
Al-Assad's alleged victory disappoints many
"They told me that I might die, be arrested, or injured during my escape journey," said Nour al-Sayed. However, all this did not prevent me from taking this journey. 
After passing through the route connecting his governorate, south of Syria, with the Turkish-controlled areas in the north, Al-Sayed arrived in Turkey.
Driven by "desperation," al-Sayed, along with eight other men, braved the dangers of the journey north to Turkey in pursuit of safety and stability. 
 Al-Sayed told Enab Baladi that the election held on 26 May, in which Bashar al-Assad was re-elected to a fourth term in office, was one of the new drivers to leaving his war-torn country Syria.
Poor living conditions, fear of security prosecutions, military service, and tightening measures of the Syrian regime and its checkpoints were among the leading factors that made his life in Syria "impossible."
When the Syrian regime forces, with Russian air support, regained control over Daraa and Quneitra governorates in southern Syria about three years ago, they imposed a "settlement agreement" on young males who wish to remain in their areas, granting them a deadline to join military service, while providing them a card that allows its holders to pass through the security checkpoints without being arrested. 
The deadline for enlisting in the Syrian regime forces was extended on 5 April to one year. However, many young people fear that they would be arrested by the Syrian regime anytime soon if the deadline passed and they did not join the regime forces.
The security problems were not over as many families in the town of Umm Batnah in the eastern countryside of Quenitera, adjacent to the Israeli-occupied Golan Heights, were forced to leave their homes due to the violence that resulted from the tensions that began with an attack on a checkpoint run by Iranian militias on 1 May. In retaliation, the town was bombed for weeks. 
And with the presidential election campaign, threats escalated to party teams and security barriers to close polling stations in several villages and towns of the governorate.  
Their "dream" road
Al-Sayed said that the moment he arrived at his destination was just like "a dream," especially that he could succeed in crossing areas controlled by the Syrian regime and 23 security checkpoints without being caught.
Al-Sayed and some young people agreed with a smuggler in the area to help them leave Syria safely. They got in the car of a person holding a security card belonging to the Air Force Intelligence, which allowed them to pass through the checkpoints without revealing their identities or being questioned.
"Whenever I approached a checkpoint, I felt terribly terrified and the smuggler reassured me, repeating sentences such as 'please do not worry, there is nothing to be scared of, we are almost there.'" Then, within a few hours, they made it. Then, they had to get into another car to areas under the control of the Turkish-backed Syrian National Army (SNA) in the northern countryside of Aleppo.
After reaching the areas under Turkish control, al-Sayed and his associates had to wait until it got dark in order to get into one of the SNA military vehicles, which transported them into Turkish territory.
Not everyone can afford smuggling money  
Several young people cannot afford the smuggling money estimated at nearly three thousand US dollars. 
Withholding his last name for security reasons, Nawras, 30 years old, said that in addition to his fear of arrest at regime-run checkpoints, as happened with many young people, he cannot pay large sums of money to the smugglers in order to flee Quenitera. 
The "majority" of the young people who emigrated from the governorate sold many of their properties to secure the smuggling fees.
 Asmaa told Enab Baladi that her mother had to sell her golden necklace and a dunum of agricultural land to get her brother out of Quneitra.
Abu al-Baraa, a human rights activist from rural Quneitra who declined to use his full name for security considerations, explained that the Syrian regime's security measures in the area are just an attempt to "empty the south of its youth, and clear the scene for those who cooperate with its forces and Iranian ones."
The area adjacent to the Israeli border is witnessing a spread of Iranian and Lebanese Hezbollah militants. Therefore, it was repeatedly targeted by the Israeli army over the course of the Syrian war. 
if you think the article contain wrong information or you have additional details Send Correction