Red Crescent: Syrian regime's tool to control cross-line humanitarian aid to northwestern Syria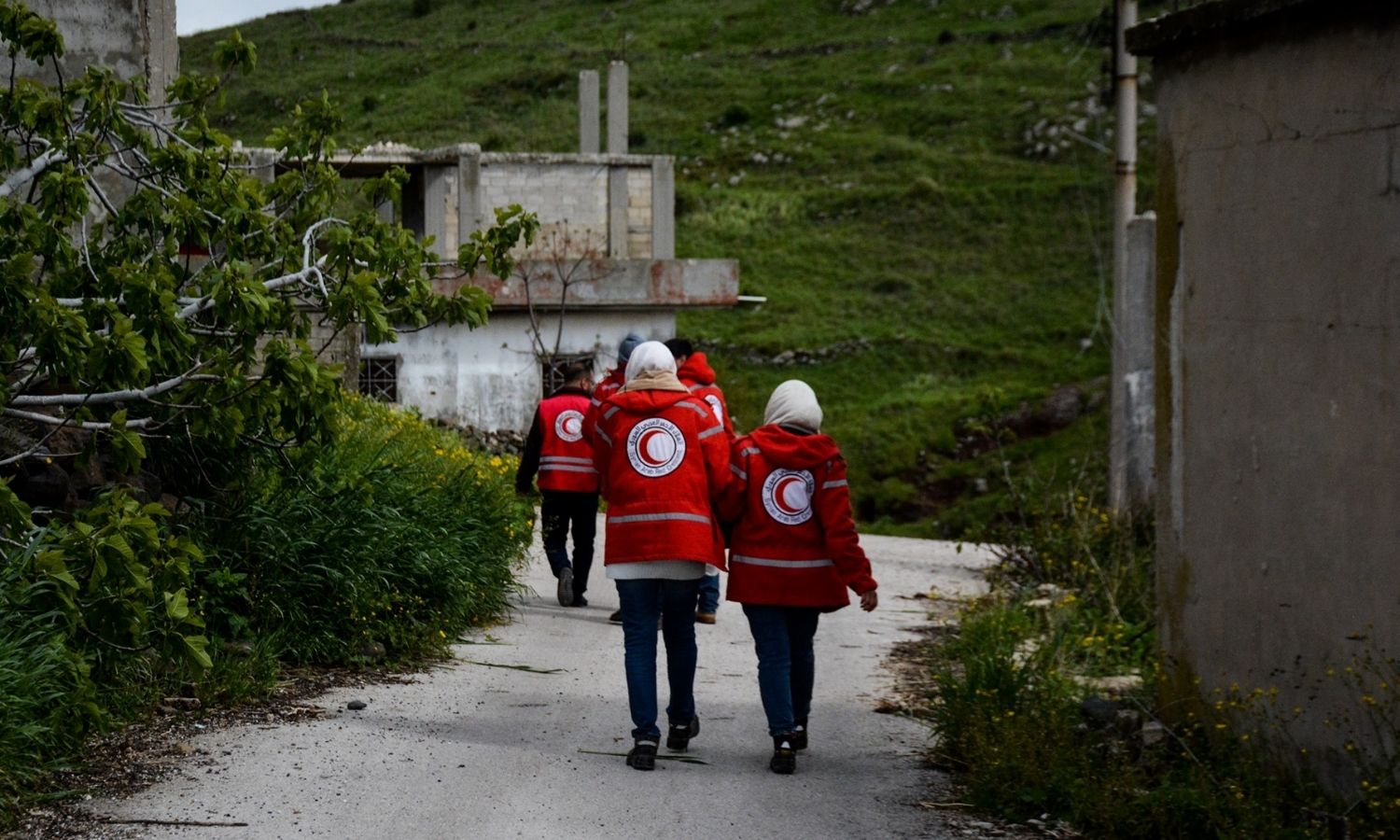 Enab Baladi – Diana Rahima
"It will be like a big snowball getting smaller instead of becoming larger as it rolls down to us." This is how Mohammed Ali al-Khani,  displaced from Khan Shaykhun camp to the Umm Jurn camp in Kafr Aruq of Idlib countryside, described the new condition of humanitarian aid allocated to northwestern Syria if the Syrian Arab Red Crescent (SARC) was internationally accredited for assistance delivery inside Syria.
Al-Khani wondered, "How could we ever hope to receive life-saving aid by an organization aligned to Bashar al-Assad who displaced us and killed our loved ones?"
As the United Nations Security Council (UNSC) session on the renewal of authorization of the Bab al-Hawa border crossing, the last humanitarian lifeline to northwestern Syria, will be held on 10 July, alternatives provided by the Syrian government and its Russian backer are becoming limited to relief organizations and institutions influenced by the Syrian regime.
SARC is the top candidate to be likely accredited by the UNSC to deliver aid to Syria's northwestern region that is outside of the regime's control in case of the shut down of the Bab al-Hawa crossing.
SARC, however, is not as much welcomed locally as internationally because of the regime's influence and infiltration in SARC's senior appointments and working mechanism for aims of political nature.
Until recently, UN humanitarian relief assistance has been entering northwestern Syria through the Bab al-Hawa crossing under UNSC Resolution 2533 of 2020, which will expire on 10 July of this year.
The UNSC's upcoming session is expected to discuss whether to extend the effect of Resolution 2533, amend it, or cancel it in case of a Russian veto against the continuation of cross-border aid delivery to northwestern Syria through the Bab al-Hawa access.   
In 1991, the UN General Assembly adopted Resolution 46/182, which designed the blueprint for today's international humanitarian system by creating an operational response mechanism in cooperation between UN agencies and governments in need of aid.
The Syrian government and Russia have continually urged for the application of Resolution 46/182, which stipulates, "Humanitarian assistance should be provided with the consent of the affected country and in principle on the basis of an appeal by the affected country."
The resolution also reads, "States whose populations are in need of humanitarian assistance are called upon to facilitate the work of UN organizations in implementing humanitarian assistance based on the principles of humanity, impartiality, and integrity."
Russian efforts to help Syrian regime control aid deliveries
On 14 June, two days before the meeting with United States President Joe Biden in Geneva, Switzerland, Russian President Vladimir Putin made an interview with US channel NBC, during which he addressed the Syrian border crossing issue, saying that "Humanitarian assistance should be given through the central government. It shouldn't be discriminated against," according to the NBC transcript of the interview. 
Putin also said, "If there are grounds to believe that the central government of Syria will plunder something, well, set up observers on the part of the International— Red Cross and— Red Crescent to oversee everything," according to the NBC.
On 23 June, Russia's Foreign Minister Sergey Lavrov threatened a Russian veto at the UNSC's upcoming session on 10 July, that would prevent the UNSC from renewing the mandate of the Bab al-Hawa crossing as the last aid corridor to northwestern Syria.
Lavrov said that since April 2020, Russia had seen continuous attempts to block joint humanitarian convoys by the UN, International Committee of the Red Cross (ICRC), and SARC to northwestern Idlib from Syria's capital Damascus by Hayat Tahrir al-Sham (HTS), with the connivance of Ankara.
SARC: Syrian regime's arm in the humanitarian response file
An expert in Syrian civil society organizations spoke to Enab Baladi on the condition of anonymity, saying that SARC is not a credible organization and that despite its cadres' dedication to humanitarian work, they are eventually tied down to the organization's policies. SARC's administration has been accused of corruption and agency for the Syrian regime; thus, it cannot be trusted to fairly distribute humanitarian aid inside Syria. 
The expert, who is well informed with UN mechanisms for assistance access, added that corruption reports against SARC have no weight in keeping it away from delivering aid and that only powerful countries like Russia or the United States can issue a decision preventing SARC from being mandated such a task.
He added, the US-Russian consensus, besides the Turkish-Russian consensus, is allowing SARC to pass its agendas despite all corruption reports against it.    
If SARC was mandated for aid delivery to people in need throughout Syria, certain mechanisms could be put in place to reduce corruption or prevent the regime from controlling it. 
Nevertheless, these mechanisms no matter how good would prove weak, modest, and meaningless as long as the regime continues to influence SARC's work.
Previous humanitarian response experiences for SARC 
Humanitarian activist Diaa al-Zamel told Enab Baladi that Syrians had a bad experience with SARC, particularly during the siege imposed by the regime on their areas.
Al-Ghouta besieged by SARC and the Syrian regime
SARC was the only organization authorized to deliver medical, relief, and humanitarian aid during the regime's siege of Eastern Ghouta region between 2013 and 2018.
Back then, the besieged people of Ghouta suffered heavily, for they had no access to the simplest and most basic necessities of life, including medical requirements of syringes or serum. SARC's response was weak compared to the scale of tragedy and suffering, according to al-Zamel, who had previously filled positions in Syrian medical organizations.
Madaya: starvation under the sight of SARC
The activist also talked about the tragedy and starvation that took place in Madaya town in 2015. Women, children, and elderly people were among those besieged by the regime and they were left to starve near SARC's offices. This has left Syrians with a harsh and negative impression of SARC.
Al-Zamel added, if the Ghouta scenario got repeated in northwestern Syria, there is no guarantee that SARC would not do the same thing and limit aid access to people, following the orders of the Syrian regime.
Northeast Syria: minimal assistance deliveries by SARC
 According to al-Zamel, the biggest evidence of SARC's failure in managing humanitarian response in regions outside the regime's control is the scarcity of assistance it provided in northeast Syria that is controlled by the Syrian Democratic Forces (SDF) in comparison to the amount of aid provided there through the cross-border mechanism.   
Aleppo: poor humanitarian response
In 2012 and 2013, SARC undertook relief activity in Aleppo governorate and provided aid less than one in a thousand of what was secured by cross-border assistance for no reported reason.
Idlib: an experience not worthy of note
In Idlib, the humanitarian assistance hub at the center of the UNSC's discussions, SARC has distributed aid but not at the level of people's suffering or needs, which caused the organization to lose its credibility and stature.
Humanitarian work in Syria must be subject to monitoring and accountability by communities where relief organizations operate and donors who can cut off their funding when service provision is weak, al-Zamel said.
Still, governments should have the upper hand in holding humanitarian organizations accountable for poor performance. In Syria, holding SARC liable by the Syrian government is off the table.
United Nations succumb to the Syrian government
Natasha Hall, a senior fellow with the Middle East Program at the Center for Strategic and International Studies, told Enab Baladi that her talks with high-level UN officials working on the Syrian response plan made her believe that Syria is the first case in which the UN succumbed to government pressure to deliver aid convoys via a regime's affiliate entity such as SARC.
When top-tier employees in SARC tried to deliver assistance to opposition-held areas and resisted government efforts to stop them, the regime had them forced out of the organization, and in some cases, arrested and tortured them.
According to Hall, the regime has caused SARC employees to be dismissed for simply opposing it; therefore, it would be very difficult to enforce a mechanism preventing corruption within SARC.
She added, SARC was required to work in close coordination with the regime's security apparatus, and its teams were ordered to take out some assistance from convoys bound for opposition areas.
In Daraa and Quneitra, civil society organizations were either dissolved or removed from the two regions and replaced with SARC after the regime regained control in 2018.
As soon as SARC started aid response operations in Daraa and Quneitra, its workers were accused of refusing to deliver assistance to those with links to opposition groups, despite reconciliation agreements in place. 
Why SARC cannot be trusted to manage aid deliveries in Syria?
Hall said that SARC's coordination with the regime's security services jeopardizes the lives of assistance recipients in northwestern Syria, particularly that two-thirds of the region's population is displaced from areas controlled by the regime. 
Many northwestern Syrian people have relatives in regime areas threatened with arrest if the regime got hold of the beneficiaries list, allowing the regime to persecute their relatives or justify cutting off assistance from them.
Moreover, cross-line UN convoys heading from Damascus to northwestern Syria under SARC's supervision have been at risk on several occasions. On 19 September 2016, the Independent International Commission of Inquiry on Syria (IICI) reported that the Syrian air forces had "meticulously planned and carried out" an attack on a joint UN-SARC convoy, killing 18 civilians and destroying up to 650,000 US dollar worth of aid supplies designated for the opposition in Aleppo.
Russia leads the Syrian regime back to UN agencies
On 26 May, UN aid chief Mark Lowcock appealed to the Security Council not to cut off the cross-border aid "lifeline" to some three million Syrians in northern Syria.
On 22 June, Russia's Foreign Minister Lavrov said that Russia had received information that UN agencies providing humanitarian assistance to northwestern Syria "are currently actively working on alternative routes of humanitarian deliveries in the event the cross-border point 'Bab al-Hawa' is closed."
Lavrov said representatives of the UN World Food Programme (WFP), which supplies 80 percent of cross-border deliveries, "have already agreed with Damascus and keep seeking the agreement by Ankara to fill WFP's warehouse in the town of Sarmada in the (Idlib) de-escalation zone via cross-line delivery."
He added that the UN World Health Organization (WHO) "is inclined towards a similar option" for delivering medical supplies including coronavirus (COVID-19) vaccines, as both WFP and WHO have "well-organized cooperation with the Syrian authorities." 
These Russian moves come in conjunction with Moscow's endeavors to reintegrate the regime within UN agencies, most notably WHO's Executive Board, where the regime was elected a Member State for a three-year term in the 74th session of the World Health Assembly (WHA74).
SARC under accusations in Idlib and other Syrian regions
SARC is a Syrian humanitarian independent nonprofit organization founded in Damascus in 1942 and admitted to the International Committee of the Red Cross (ICRC) in 1946.
SARC is a community-based organization working in coordination with the International Federation of the Red Cross (IFRC), the ICRC, and UN agencies.
SARC is also reported to have ties with the Syrian regime because its main aid deliveries are concentrated in areas controlled by the regime.
The regime's influence over SARC can be seen through position appointments. In December 2016, Khaled Hboubati was appointed as head of SARC by a decision of Former Prime Minister Imad Khamis after amending Article 20 of the Syrian constitution allowing Khamis to choose one out of four candidates for the organization's board of directors.
In 2019, the Syria Justice and Accountability Center (SJAC) issued a report in which accusations of corruption and discrimination in aid deliveries were directed against SARC. The organization was accused of depriving civilians of assistance in southern Syria, despite the settlement agreement in force.
The Syrian government dissolved about 100 civil society organizations operating in southern Syria from late 2012 until mid-2018 and replaced them with SARC.
The affected organizations provided services and support to war-affected civilians in southern Syria and sometimes in other regions.
In northern Syria, the Ministry of Justice of the Syrian Salvation Government (SSG) suspended the activities of SARC in Idlib in March 2020, following complaints of financial corruption and fictional projects by local councils and organizations against SARC.
The local councils of Azmarin, Kafr Takharim, Ras Elhisn, Harem, Sarmin, Khan al-Sabil, Darkush, and al-Janudiyah in Idlib announced their refusal to cooperate and work with SARC, calling for its team expulsion and ban of its activities, as well as taking appropriate measures against them. 
These anti-SARC positions in both Idlib and its countryside were triggered by accusations against SARC of transporting regime forces and pro-regime militia members to battlefronts in the organization's ambulances and participating in their funerals during the recent military campaign launched against Idlib.
if you think the article contain wrong information or you have additional details Send Correction