Ophthalmology center opened in opposition-held Idlib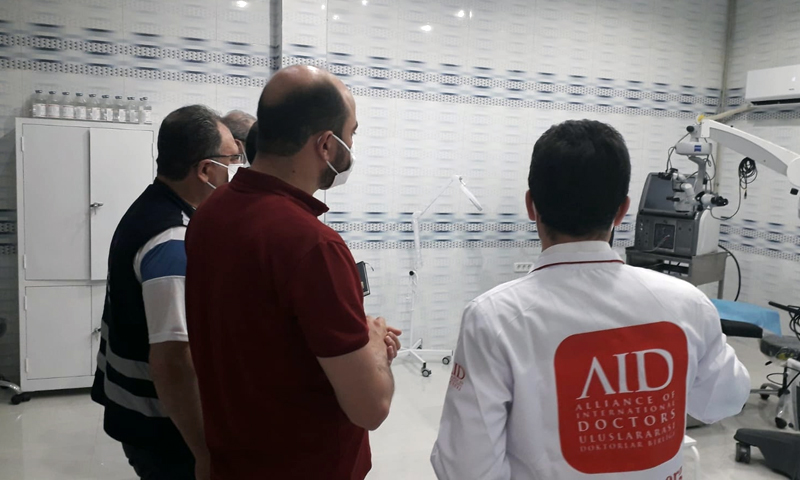 Enab Baladi – Idlib
Hatem Ibrahim spent the last few years trying to find an ophthalmology clinic or a department in the hospitals of northwestern Syria to get treatment for his sick mother. 
Ibrahim, who was displaced from the Ghab Plain, north of Hama, to Aqrabat Camp on the Syrian-Turkish border, hopes that the situation will get better with the opening of the Idlib Ophthalmology Center in the town of Sarmada, north of Idlib. 
Ibrahim told Enab Baladi that his mother has diabetes, which caused her eye bleeding.
 He spent most of the last year looking for safe treatment in many public and private medical clinics in northern Syria. But his search was futile. Instead, he incurred financial burdens that he could not have borne without the help of his friends and relatives. Now, Ibrahim's mother needs lasik eye surgery. 
Months of waiting
On 15 June, Idlib's Health Directorate, Turkey's İHH, and AID humanitarian relief foundations opened Idlib's Ophthalmology Center, which provides free eye treatment services. The center also includes a department specialized in treating cataracts.
Head of the Secondary Care Department in Idlib's Health Directorate, Dr. Yahya Nehme, told Enab Baladi that opening a cataract center is an urgent need in northwestern Syria.
The Secondary Care Department in Idlib's Health Directorate is concerned with the affairs of hospitals and clinics. 
Centers and hospitals in opposition-controlled areas suffer from tremendous pressure regarding cataract surgeries. According to Nehme, if a patient needs cataract surgery, he must wait for one to two months, and sometimes up to six months. 
What is a cataract?
A cataract is an eye disease in which the eye's clear lens becomes cloudy or opaque, causing a decrease in vision.
Most cataracts are caused by normal changes in the eyes as people get older.
Advanced age is a significant risk factor for the development of cataracts. In addition, the prolonged use of high-dose steroids needed to treat uveitis patients is also considered a risk factor. 
Cataracts can be hereditary. Some infants are born with cataracts, known as congenital cataracts. They are generally caused due to the infection of the mother during pregnancy with rubella or because she was taking antiviral drugs.
Cataracts can be removed only with surgery. The surgery removes the cloudy lens that is causing the cataract, either by laser or pulling the lens and putting others.
Northwestern Syria has two cataract treatment centers; the first is located in the village of Barsha, northwest of Idlib. It is currently not funded and provides its services as a kind of charity. The second is a center in al-Hikma hospital in Maarrat Misrin, Idlib, and suffers from great pressure.
In addition to the two centers, there is the eye department at Bab al-Hawa Hospital on the Syrian-Turkish border. Still, it is often overwhelmed with carrying out emergency operations.
Sarmada's ophthalmology center relies on local anesthesia when carrying out surgical procedures. However, there is no general anesthesia, according to Doctor Yahya Nehme.
Nehme indicated the opening of a prosthetic rehabilitation center next to the ophthalmology center. It provides its services free of charge and within an automated and archived system and by specialists.
The prosthetic center focuses on the upper and lower extremity amputees. The center can handle 20 to 30 limbs per month. In addition, this center offers maintenance and repair services for people with artificial limbs in the event of a repairable malfunction.
Meanwhile, the ophthalmology center can initially receive 2,000 patients, the Director of the Information Office at IHH, Louay Zeidan, told Enab Baladi.
Many medical organizations are active in opposition-controlled areas. They play an essential role alongside health directorates and medical bodies, whether through their work with de facto or independent governments in providing health services. 
The support constitutes an essential pillar for activating the health sector, which the salvation and interim governments cannot easily obtain because they are government bodies whose legitimacy is not recognized internationally.
In the opposition-controlled areas, there are specialists capable of performing various surgical procedures. But, the chemotherapy sector suffers from a shortage of surgical specialists. Also, there are no complementary therapies except for breast cancer treatment because, in 2020, a breast cancer treatment department was opened. 
Some surgical procedures such as liver resections and some eye surgeries are difficult to perform in northwestern Syria. Therefore, they are performed in Turkey. 
There are more than 45 hospitals, 38 specialized medical centers, and 65 primary health care centers in Idlib governorate.
if you think the article contain wrong information or you have additional details Send Correction