How will electricity change life in Idlib?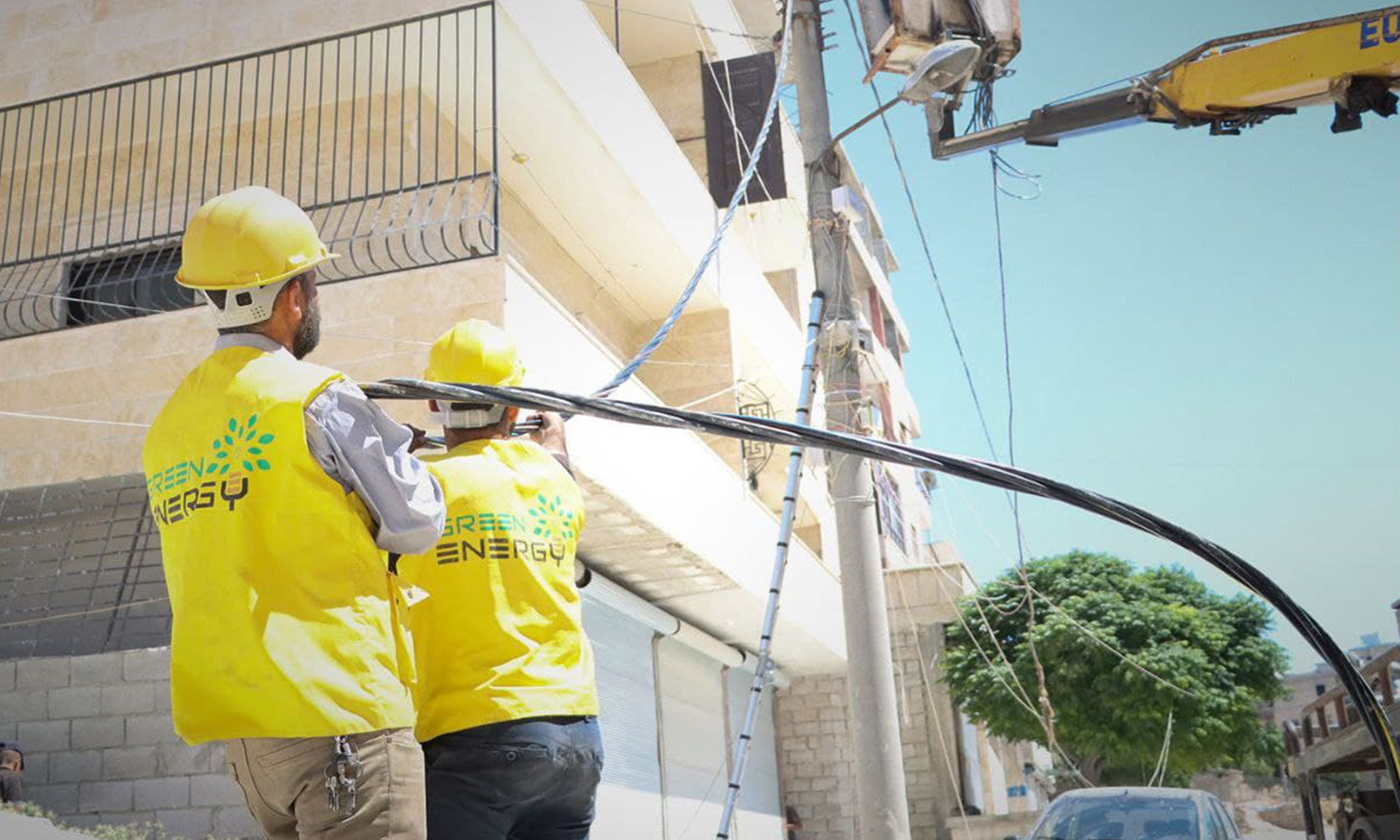 Enab Baladi – Jana al-Issa
Syria's war-battered Idlib governorate now has access to 24-hour uninterrupted electricity after months of work by the Syrian Green Energy company. 
The Green Energy company announced that it started to supply the city of Idlib with power last May after years of notable wide-scale power outages. 
Electricity is one of the sectors most adversely affected by the war in Idlib. And therefore, people sought alternative solutions to adjust to life with almost no electricity. The majority stopped using basic home appliances such as refrigerators and laundry machines.   
After the city of Idlib is supplied with electricity, its residents are no left with two options- relying on regular electricity or its alternatives, which could be less costly. 
Provision of services 
Muhammad Abu al-Nour, who lives in the city of Idlib, seemed to be optimistic about having access to electricity because it could improve the quality of life. He is even thinking of buying some household appliances such as a laundry machine, a refrigerator, and an iron. 
Abu al-Nour said that after the city is supplied with electricity, other local services could be improved. For example, water could reach homes more easily than before. 
However, he believes that the government's decision to install street lights from the grid in the governorate of Idlib is not a priority. Using electricity to deliver water to homes is much more important for the area residents.
Hussam Zanra, who shares Abu al-Nour's view, said that he now could use electrical appliances that need large amounts of electricity to run, such as a hairdryer, a washing machine, a fan, and a refrigerator. Zanra used to rely on ampere electric service (the name locals use to refer to generators' electricity) to lighten the house. However, he was afraid to use such appliances that could be easily damaged due to the frequent power cuts and power surges.   
Zanra believes that the electricity supply and distribution will help him get an electric bike, which is better for commuting than a traditional motorcycle, the most common mode of transportation in the region.  
Aws al-Zeer, the owner of a sewing factory in the city of Idlib, told Enab Baladi that he is so grateful for supplying industrial electrical power to his factory because it saved him more than half of the electricity bill. 
Al-Zeer added that his factory's average monthly electricity bill used to be 5,000 Turkish Lira (approximately 2 million SYP-618 USD). Now, it is no more than 1,200 TL (half a million SYP-145.5 USD). Furthermore, more access to electricity means more working hours and greater productivity. So now, al-Zeer could compete in the market. 
How is electricity delivered to Idlib and its countryside? 
The Green Energy company to establish and invest in electric power projects in all their types was established in 2014 in the governorate of Aleppo, in the name of GE Power. In 2019 the company GE Power was merged with the company Green Future for investment under the name of Green Energy.
The Green Energy Company is not operating in the northern or eastern countryside of Aleppo, which is provided with power by two companies: AK Energy and STE Energy.  
The General Manager of the company, Omar Chakoroq, pointed out that the company's works are briefed  in three primary activities:
The Green Energy company establishes and implements electric power projects.

The company also maintains the infrastructure of the electrical networks and stations.

It invests in and distributes electric power. 
The General Electricity Company, affiliated with the Salvation Government, announced an agreement with a Turkish private company to deliver electricity to the governorate of Idlib in March 2020.
The company stated, at that time, that it had signed an agreement through a private Syrian company, with a private Turkish company, to supply electricity to Idlib and its countryside.
In recent years, Turkey has worked to deliver vital services and create investment projects, especially in the northern countryside of Aleppo, most notably electricity, through private companies that invest in the region, benefiting from government facilities.
Solar panels are less expensive
Contrary to the previous opinions, Abdullah al-Najjar, a resident of Idlib city, chose to remain dependent on alternative energy technologies to provide his home with power because they cost less than regular electricity.  
Al-Najjar told Enab Baladi that he has two large batteries and three solar panels. They generate enough power to run what he needs from electrical appliances due to his batteries' good stock.
However, providing electricity access in Idlib as a whole may facilitate life somehow. Abdullah could be tempted to subscribe to this service temporarily during the winter months. This is because solar panels could be charged less in the absence of sunlight needed to generate electricity, al-Najjar said. 
In previous winters, al-Najjar relied on fuel to run a portable generator and deliver electricity to his house for specific hours.
Most Idlib residents depend entirely on solar panels as the main source of electrical energy in the summer.
 The average cost of equipment— including solar panels, batteries, and inverters—required for installing a solar power system is around 500 USD. 
The inverter is used to convert the direct electric current produced from the solar panels and stored in the batteries into an alternating current of 220 volts, suitable for running domestic electrical appliances.
The prices of solar panels vary according to their quality. The minimum price for a new modern panel is about 80 USD, and the used European panel is about 50 USD. One house needs a minimum of two solar panels to charge the batteries and turn on the lights. 
What is the company's plan?
The General Manager of the Green Energy company, Omar Chakoroq, told Enab Baladi that the company plans to deliver electricity to all areas in Idlib, but gradually. First, the company will start with the densely populated areas close to the transfer stations, namely Idlib, Salqin and al-Dana, and Sarmada.
Then, the company will extend electricity to other towns and cities, including Jabal al-Zawiya, Jisr al-Shughur, and the contact lines with the Syrian regime-controlled areas.
Chakoroq added that the citizen has to buy a new prepaid electricity meter. There are two types of meters: a single-phase meter and a three-phase meter.    
A single-phase meter is 350 TL (39.9 USD)and its subscription fee is 100 TL (11.4 USD) while a three-phase meter is 900 TL (102.6 USD)and its subscription fee is 400 TL (45.6 USD).
The price of electricity is 90 Kuruş (Kuruş refers to cents) per kWh for households and one Turkish Lira for business. 
A blessing turned into a curse
Abdullah al-Najjar, who resides in Idlib, considered providing new services to Idlib, such as electricity and others, is usually associated with an increase in the cost of living. Some people exploit the provision of news services in the city to raise prices of almost everything, including products and services. Many landlords also increase the rents of their houses and stores provided with the new services. 
Al-Najjar confirmed that the prices of electrical appliances have increased significantly even before they become in high demand. Thus, having electricity access to Idlib has turned from a blessing into a curse for those who do not want to subscribe to this service.  
if you think the article contain wrong information or you have additional details Send Correction