Catfish low prices increase demand in Daraa markets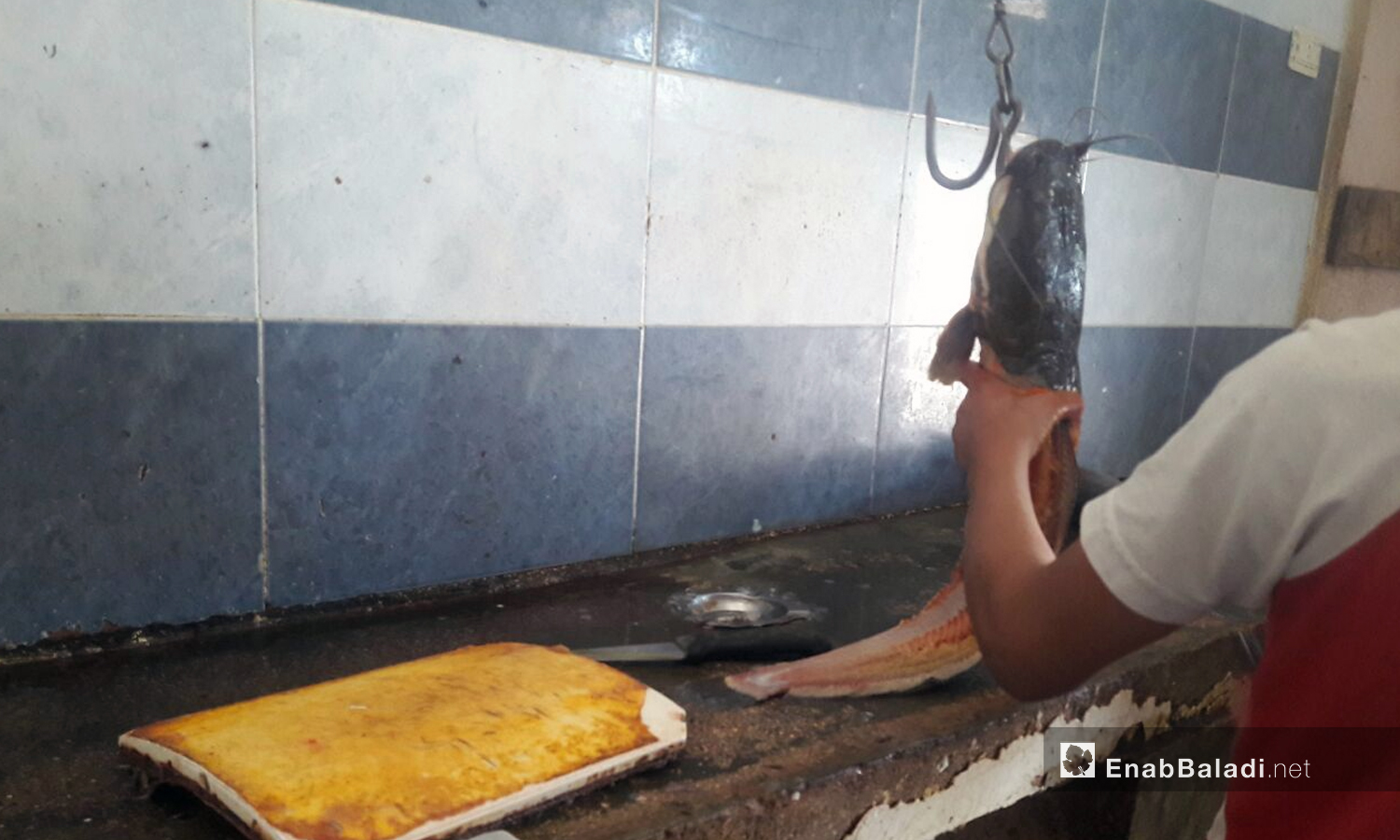 Daraa – Halim Muhammad
Iman, a housewife from Daraa governorate, put the fish in a large bowl after scaling and cutting them. Then, she scrubbed the fish with salt, rinsed them in water and vinegar, washed them, coated them in flour and spices, and fried them. "Any woman can prepare a delicious fried catfish dish after spicing them well." 
The escalating prices of most food commodities in Daraa and low purchasing power have forced residents to seek unfamiliar food varieties to feed their families, with catfish becoming one of the most current prominent dishes in Daraa, coming all the way from the Orontes River in Hama governorate, central Syria, to Daraa residents' tables in the south.
Price over taste
"I can serve my family a fish meal, but only if it was prepared with catfish," thirty-three-year-old Iman from Muzayrib town in the western Daraa countryside told Enab Baladi.
Iman's family of four needs four kilograms of catfish to prepare a meal, worth 12,000 Syrian pounds (SYP = 3.8 USD), half the cost of any other fish kind. To fry the fish, Iman must use cooking oil costing about 8,000 SYP (2.5 USD).
Iman has her own recipe when it comes to flavoring the fish. She soaks them in a mix of spices, vinegar, and garlic and leaves them in the fridge for a whole night before frying them the next day. According to Iman, the high cost of other fish types is what keeping the residents from buying them, not the taste of this fish or that. 
A kilo of catfish is sold at up to 3,000 SYP (around 1 USD), while a kilo of carp fish has reached the price of 7,000 SYP ( 2.2 USD), and a kilo of tilapia has hiked to 14,000 SYP (4.5 USD).
Fish sellers told Enab Baladi that they sell fresh fish displayed in large fish tanks to customers who buy their desired type, which became catfish lately. 
Thirty-five-year-old fish seller, Fares from Muzayrib town in western Daraa attributed the high demand for catfish to its affordable price in line with Daraa residents' purchasing power.  He said, "I sell way more catfish in comparison to other types every day," adding that fish are shipped on a daily basis from the Orontes River in Hama to Daraa's fish markets. 
Another forty-year-old fish seller from Tafas city in Daraa's western countryside named Hani said that he prefers cooked fish in the oven to that fried and that his favorite kind is tilapia or carp, but catfish is also tasty when baked in the oven and its price is somehow appropriate.  
Hani added that most food commodities' prices have increased across the province. Still, a catfish meal is cheaper and a better choice than chicken, as one kilo of raw chicken, is sold at 6,000 SYP (about 2 USD).
Catfish are low in fishbones and thrones, making this type a safer choice to consume, especially by children. Catfish live mainly in freshwater and belong to the bony fish order Siluriformes. They are scaleless and covered by bony dermal plates on their skin. Their life expectancy outside water is few hours longer than other fish species.
As for twenty-eight-year-old Zaher, the relatively cheap price of catfish makes it an unfavorable option due to concerns regarding its source. He fears that it might be brought from dirty fish ponds or those contaminated by wastewater, adding that he would rather buy other fish types despite their higher cost.
In recent years, humanitarian needs worsened in Syria along with poverty rates. In a briefing presented on 26 May, the United Nations (UN) Special Envoy for Syria Geir Pedersen said, "The tragic irony of Syria is that humanitarian suffering is increasing, despite the relative calm, compared with earlier years of the conflict."
Around 40 percent of Syrians cannot afford food expenses, as half of the population surveyed by the UN are minimizing their food rations to allow bigger amounts for their children. 
if you think the article contain wrong information or you have additional details Send Correction