Raqqa's agricultural economy at brink of collapse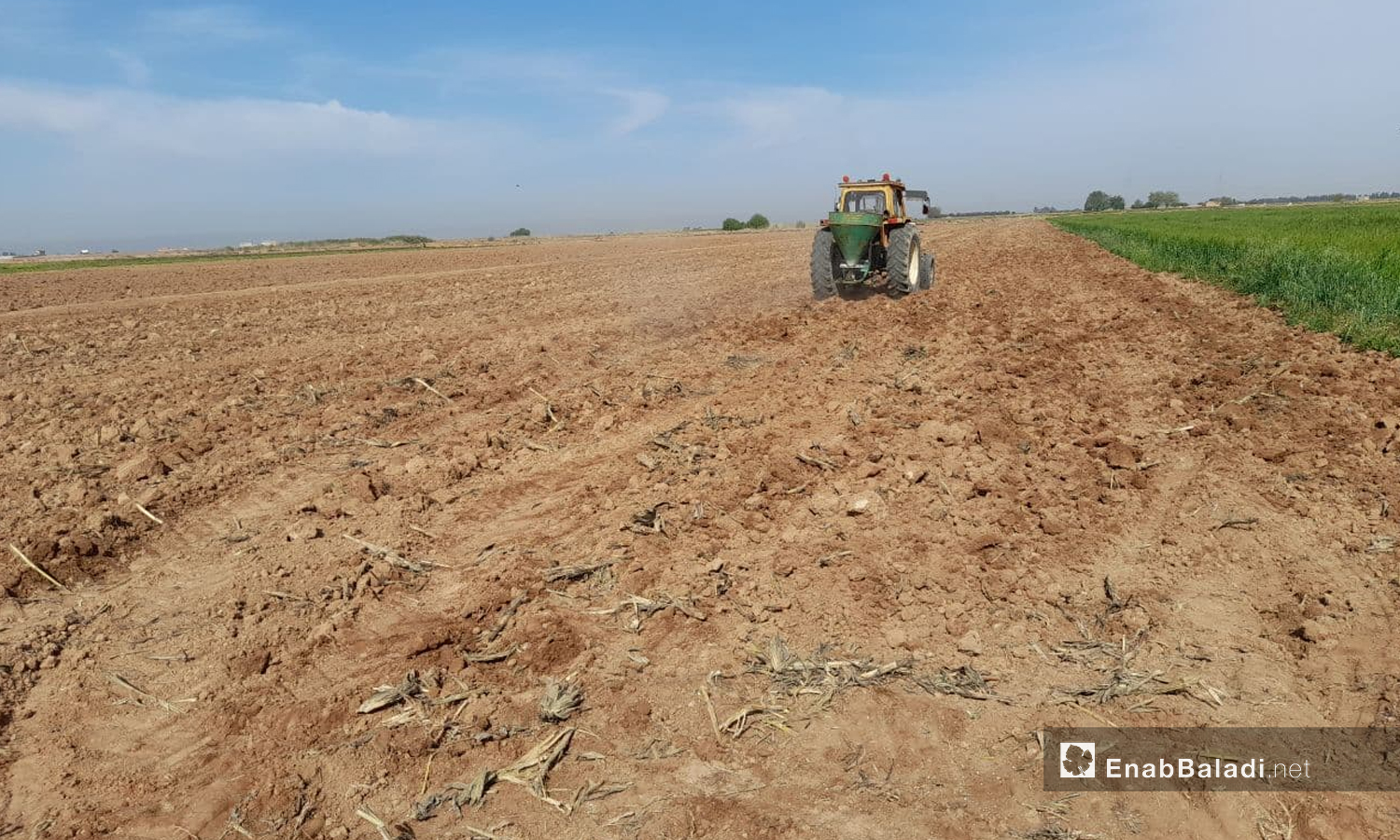 Enab Baladi- Nour al-Din Ramadan
Farmers in Raqqa province are anticipating a season of major losses that will affect their living conditions, particularly as they depend on agriculture as their chief source of income.
Most of the farmers in Raqqa, in the eastern region of Syria, get agricultural supplies from retailers and merchants on the condition that they pay them the money after the cultivated crops are sold.  However, the decline in production this year may prevent farmers from meeting their debts.
Cotton and threats of Soil salinization
One of the major challenges that farmers had to battle with this year was soil salinization, which prevents water infiltration. Many farmers had to give up on cultivating large swathes of their farms, sometimes amounting to a third of the land's overall area.
Salinization is the extreme increase in soil's contents of salt, which gradually turns the affected piece of land inarable. In Raqqa, salinization resulted from improper management of irrigation and drainage systems, which were abandoned without any cleaning operations. These systems consist of streams and small waterways that pass through farms in Raqqa.
Based in the Salhabiya village in the western countryside of Raqqa farmer Ahmad al-Khalaf told Enab Baladi that the high level of soil salinity is caused by the accumulation of water in certain farms, which in time transform into swamps because drainage systems are neglected.
Ahmad fears that salinization levels will continue to spike, increasing the area of inarable lands if relevant authorities keep ignoring the problem.
Based in the Khatounia village, west of Raqqa, farmer Khaled al-Khamis, told Enab Baladi that he had submitted several requests to the Agriculture and Irrigation Committee (AIC) of the Raqqa Civil Council (RCC) to clean up the drainage systems in and around his village, for the systems had become an actual threat to agricultural lands. However, none of the concerned agricultural authorities have taken any measures in this regard since 2013, ignoring farmers' pleas.
On the condition of anonymity, an AIC member told Enab Baladi that the committee has received farmers' complaints and several projects were launched to clean up the systems, which ultimately failed to solve the problem because these systems expand over large agricultural areas.
He added that the last 10 years have drained the Raqqa agricultural sector, pointing that the systems spread over 400 km while the AIC has six agricultural machines, only four of which are actually operable. The machines cannot cover the necessary cleaning and maintenance work.
High cost, water shortage
Cotton farmers that are not fighting salination are struggling with high costs of cultivation and lack of irrigation water, due to the low level of the Euphrates River's water. These two factors herald a season of low production, especially since cotton cultivation requires an abundance of irrigation water.
This year, Muhammad al-Hussein, a farmer from the southern countryside of Raqqa, was forced to cultivate only 20 dunams of cotton, which is less than half the area he planted last year, 50 dunums.
He told Enab Baladi that the cost of cultivating one dunum this year may hit nearly half a million Syrian pounds (SYP), after it was 200 thousand SYP last year, given the devaluation of the Syrian Pound.
From Mansoura town in the western countryside of Raqqa, farmer Ahmad al-Ali told Enab Baladi that he preferred not to cultivate cotton because cotton is involving great risks, given the costs of agricultural supplies and lack of irrigation water. He, instead, cultivated coriander, an economic choice of a crop that is rain-fed.
Hussein al-Rajab, an agricultural engineer from the southern countryside of Raqqa, said all summer crops are facing a real threat this year due to irrigation water shortages. He added that agricultural specialists need to come up with a comprehensive agricultural plan for the region.
He warned that the region's agricultural sector might collapse if real solutions were not found that would save the remainder of the season's crops.
The AIC's member told Enab Baladi that farmer-aid packages are limited to subsidized diesel at a price of 75 SYP per liter and fertilizer at 17.5 USD per bag of fertilizer (50 kg). The member attributed the lack of agricultural assistance to the AIC's limited resources.
Wheat is not better
Even though good rainwaters boosted farmers' wheat production this year compared to 2020's production— adversely affected by wheat fires— 2021's crops are not that promising. Farmers, including Muhammad al-Najim, had to restrict cultivation to smaller plots.
Muhammad, 40, told Enab Baladi that he planted 20 dunums this year, compared to 50 dunums last year, due to high prices of seeds, fertilizers and pesticides, as well as the depreciation of the Syrian pound against the dollar.
The AIC's Prevention Office warned farmers of wheat pests early this year and recommended them to spray crops with the necessary pesticides, no matter how expensive substances are.
Engineer al-Rajab told Enab Baladi that the area of land cultivated with wheat will decrease compared to the past three years due to the high cost of agricultural production and the scarcity of water.
He sounded the alarm that farmers may abandon their lands and turn to other professions that generate better income, causing a decrease in the number of agricultural crops this year.
Syrian Jazira region, for decades, has been the country's strategic crop cultivation center, especially wheat and cotton crops.
Wheat war is coming
The poor harvest promises a race between government bodies to obtain the largest quantity of agricultural products from farmers. Struggle over crops continues since last year when the Syrian regime and the Autonomous Administration both attempted to attract the Jazira regions' wheat farmers to their side while imposing several restrictions on wheat trade.
Many indicators introduced this year's wheat competition, including the circular issued by the Administration's  Economic and Agriculture Commission (EAC), which prohibited wheat trade or monopoly.
The circular warned farmers and merchants against the transfer of wheat and barley without a "certificate of origin" that only the Administration's agricultural directorates and committees can issue, with an official shipping letter obtained from the Agricultural Community Development Company.
Late 2020, the regime's Minister of Agriculture, Muhammad Hassan Qatana, promised that 2021 would be the wheat year in Syria, but the Farmers' Union expressed concern early this year that the crop will be adversely affected because most of the cultivated wheat depends on irrigation water that has been less available.
In 2019, the agricultural sector needed over 40,000 liters of fuel, while the regime managed to allocate farmers only 60496 liters. This year, the sector's needs for fuel marked 368 million liters.
Given Syria's current population, authorities would need two million tons of wheat annually to secure bread shares, and about 800,000 tons for other uses including the production of bulgur, pasta, freekeh, semolina, and various food products.
According to UN data, 90 percent of Syrians live below the poverty line.
Furthermore, in a 23 March report, the Food and Agriculture Organization of the United Nations (FAO) stated that Syria, along with 18 other countries, is facing risks of food insecurity.
The United Nations World Food Program (WFP) spokeswoman Elizabeth Byers warned of an unprecedented food crisis in Syria, caused by the COVID-19 outbreak, noting that nine million and 300 thousand people in Syria lack sufficient food.
---
Hussam al-Omar, Enab Baladi correspondent for Raqqa, contributed to this article.
if you think the article contain wrong information or you have additional details Send Correction