In Syria's Qamishli, life burdens force women to take up strenuous jobs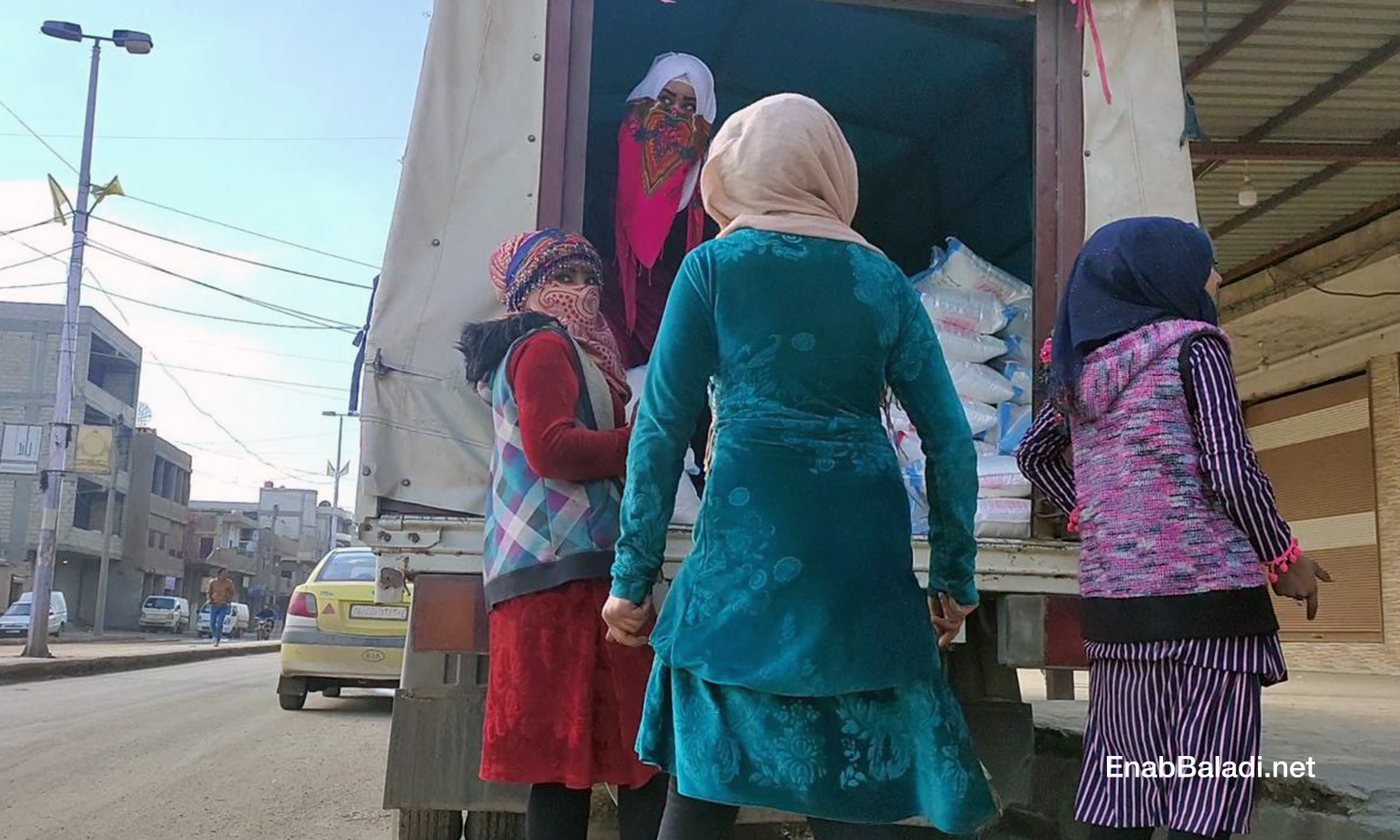 Al-Qamishli-Majd al-Salem
In al-Qamishli city, locals are now used to seeing dozens of younger women unloading the contents of food cargo trucks, carrying over 20 k bags —of rice, burghul, and other stuff—on their shoulders to storages and basements.
These women have been taking up jobs on the wholesale market, fed in with commodities and goods coming from Syrian regime-held areas or from northern Iraq through the Simalka crossing in al-Malikiya area, which the Syrian Democratic Forces (SDF) runs.
Unusual preoccupation
Itab Radwan, 20, told Ena Baladi that she has been loading and unloading goods for nearly four months. "It was difficult in the beginning," she said because she was not used to doing such heavy work, but she learned to cope with it in time.
Itab is one of a group of workers, consisting of 10 to 15 women. The crew is managed by a man, who plays the women's agent. He secures them jobs, agrees on the wage with merchants or owners of warehouses where commodities end up, and provides the women with transportation means from and to their homes. This agent is paid about 6000 Syrian Pounds (SYP) for each shift the women carry out, in exchange for brokering between the workers and the merchants, as well as overseeing their job.
Some young women have been working as porters for over a year, coming from the al-Alaya neighborhood in Qamishli and from the city's southern and eastern suburbs. However, Itab said that there has not been any official body to censor the kind or weight of loads these women handle, not even to make sure that underage girls were not doing that heavy lifting.
Itab said that her job is not seasonal and does not have a specific time during the day. "Trucks might unload at 6 A.M. or 12 P.M. It often takes us two to three hours without a break to finish the errand. The wage remains the same for morning and night shifts. We are paid about 5000 SYP (1,5 USD) for every shipment we tackle. We might do two or three such shipments every week."
Itab, a breadwinner, said that a week might pass without a single shipment to unload. This happened throughout April due to the measures imposed by the Autonomous Administration to curb the spread of COVID-19. In such cases, Itab works on farms, collecting or tending to crop, or even weeding in return for 4000 SYP per six hours.
No alternatives
Siham Eid, 18, from the Alaia neighborhood in Qamishli, has been working with a women porter crew for nearly a year. She told Enab Baladi that she was forced to take up this odd job after her father died, leaving her and her mother with two little siblings. Siham is the only breadwinner for her family who like the rest of the region's population is enduring extreme poverty, the "great" rise in commodity prices, and the depreciation of the Syrian Pound's value, which hit the mark of 3300 SYP per dollar in April.
Siham does not have an education that would help her find a better job. She dropped out of school after her father's death and most of the women with whom she works share the same fate. "They have all lost their breadwinners and are stricken by poverty."
Siham added that she tried to find an alternative, such as learning sewing or hairdressing, but courses were expensive and starting a business on any of these two professions would have needed a capital that she could not afford. A sewing machine's price ranges from 500,000 to one million and 500 thousand SYP, depending on the condition and quality of the machine.
Siham suffered from back and neck pain, and often got bruises from carrying bags, which weight sometimes caused other women several fractures.
Dr. Alwan Awaid, a general surgeon, told Enab Baladi that a woman's bones are smaller and less dense than a man's, the same applies to the muscle mass, making a woman's body unprepared for heavy work.
In 2020, when the Autonomous Administration decided to have storefronts painted the same color in the city of Qamishli, women did most of the painting work. Shop owners agreed with a women crew to paint their stores, without the Administration interfering as to determine the wages or impose on the owners providing women workers with protection supplies, such as masks or gloves.
Women organizations, a "limited" role
Siham has not been informed of women's support organizations in the area, nor their activities. All she wanted from international organizations or local associations was to provide her with "a food basket," which she only got once in 2020.
Some charities tried to find alternatives to the arduous jobs that women are forced to do, such as the al-Bir Charity. This local organization started sewing workrooms and training programs to teach women the profession and help them start a small business of their own. The charity also provides women with raw materials, including fabrics and threads, to produce clothes that they can sell on the local market or to refugee camps. Part of the sales' revenues goes to the women working within the sewing workrooms.
However, the revenues of the swing workrooms remain "insufficient", as they target only a limited number of women beneficiaries, while always at the risk of funding cuts, which are recurrent. Each workroom employs a maximum of 20 women, said Khazna Hassan, 25.
Khazan, one of the workroom's beneficiaries, said that this initiative enabled her to quit her previous job in a restaurant. She used to clean tables and do the dishes for seven hours in exchange for 3000 SYP per day.
Despite the limited benefits of the initiative, Khazneh believes that being part of the sewing workroom project went all "well" for her and it is better than working in restaurants. She added that she can now even start her own private business if she could get herself a sewing machine.
Hanaa Khlaif, a worker with the International Rescue Committee (IRC), told Enab Baladi that the organization has launched several initiatives to support women in the region and teach them some "suitable" professions, such as sewing, embroidery and cooking.
She added that at least a hundred young women from the countryside of Qamishli and al-Qahtaniyah received vocational training over January and February. The organization assigned the women trainers, provided raw materials, and paid transportation and food allowances throughout the one-month training.
She pointed that "the number of women wanting to register for these courses is always greater than the organization's capacity. This has been limiting the number of beneficiaries."
Of the other initiatives implemented by the IRC were also small projects for women in rural areas, including raising cows and establishing a home garden, thus selling homemade products on the market.
In 2016, the Autonomous Administration established the Workers' Committee with the aim of "protecting workers' rights." Hamida Farman, an administration official at the women's office within the committee in the al-Jazira region, told Ronahî TV, on 15 June 2020, that up to 10,000 women are registered with the committee.
She added that "the jobs women are doing are imposing various difficulties on them because these jobs basically require physical effort which does not fit the woman's physical structure that differs from the man's, structured to endure the hardships of work."
She noted that the Workers' Committee is increasingly seeking to "regulate women labor, develop it for the better, and is defending their legitimate right to work. The [committee] is also working to provide women with jobs that require less [physical] effort."
if you think the article contain wrong information or you have additional details Send Correction