Bureaucracy delays pricy burials in Syria's Aleppo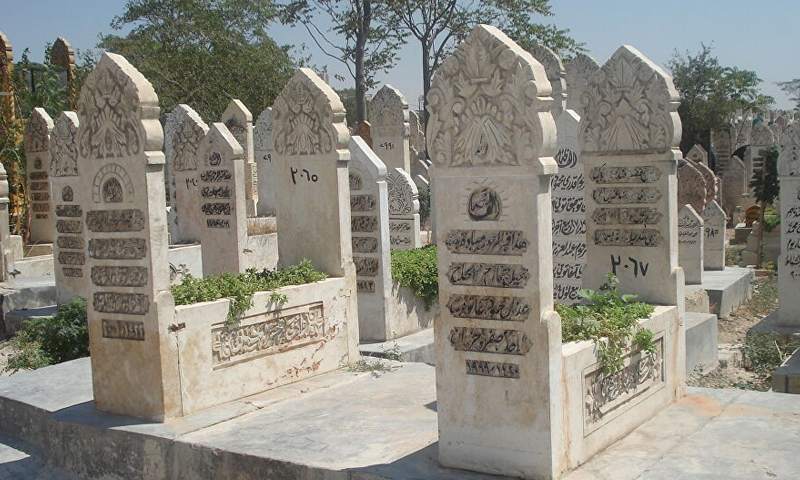 Aleppo-Saber al-Halabi
After his mother passed away, Amer figured out that he cannot afford to bury her in a cemetery relatively close to his place of residence. Burials in Aleppo have become more complicated and increasingly expensive.
 Amer told Enab Baladi that after his mother died from a stroke, he suffered due to bureaucracy predominating government departments while trying to obtain a medical certificate stating the cause of death to initiate burial procedures.  
After he obtained the documents required for the burial process, he faced another obstacle, a costly one. Amer pointed out that an unused grave costs around 400,000 Syrian pounds (124 USD) while an old one is over 140,000 SYP (44 USD).
"I refused to bury my mother in a hole filled with human bones. Instead, I chose to bury her in our village's cemetery," Amer, in his thirties, said. 
To his misfortune, the cost of burying his mother in a new grave in his village, Tell Hasel, in the southeastern countryside of Aleppo, is equal to the cost of a used grave in the city of Aleppo. 
Honoring the dead has to wait 
Burials are only authorized when there is a medical report or death certificate approved and stamped by Aleppo's Doctors Syndicate. Aleppo bereaved clients have to deal with complex procedures at the concerned department, which often causes burial delays. 
 Burials in the city of Aleppo require carrying out a lot of procedures. A family member or another adult relative of a dead person should first go to the mukhtar of the neighborhood and the supervising doctor, to correctly determine the cause and date of death.
The deceased's family or relatives cannot carry out burial procedures unless they obtain all the required documents. But, the burial department is now suffering "from great pressure due to the large number of deaths related to COVID-19 infection," an employee in the department told Enab Baladi.
Coronavirus imposes new measures
Scores of graves are dug daily in approved cemeteries inside and outside the city of Aleppo. In the New Islamic Cemetery, between 50 and 70 graves are dug every day.
More than 20 of these graves are dedicated to those who died of coronavirus infections. Their bodies are tightly wrapped; their family or relatives are not allowed to approach them, Mahmoud, a gravedigger, told Enab Baladi. 
The dead COVID-19 patients are buried "in designated plots within the cemetery." The price of a single grave was not more than 200,000 SYP before coronavirus hit Syria (116 USD according to the exchange rate of the SYP against the US dollar at that time). Graves' prices in the local currency increase in line with an increase in the COVID-19 death toll. 
Prices of graves vary between the city and the countryside of Aleppo. Graves in the city of Aleppo cost at least 50,000 SYP (15 USD) while graves in the countryside cost around 20,000 SYP in March 2020.   
The number of people who have been infected with coronavirus throughout Syria, since March 2020, has amounted to 24,000, according to the data recorded by the Syrian regime's Ministry of Health. 
About 3.5000 coronavirus cases were recorded in Aleppo. Only 200 deaths were reported, while Aleppo residents say that the numbers are much higher.
---
Sources' names are withheld in the article for security reasons 
if you think the article contain wrong information or you have additional details Send Correction