Amid common life challenges, youths are responsible for advocating Syrian causes in diaspora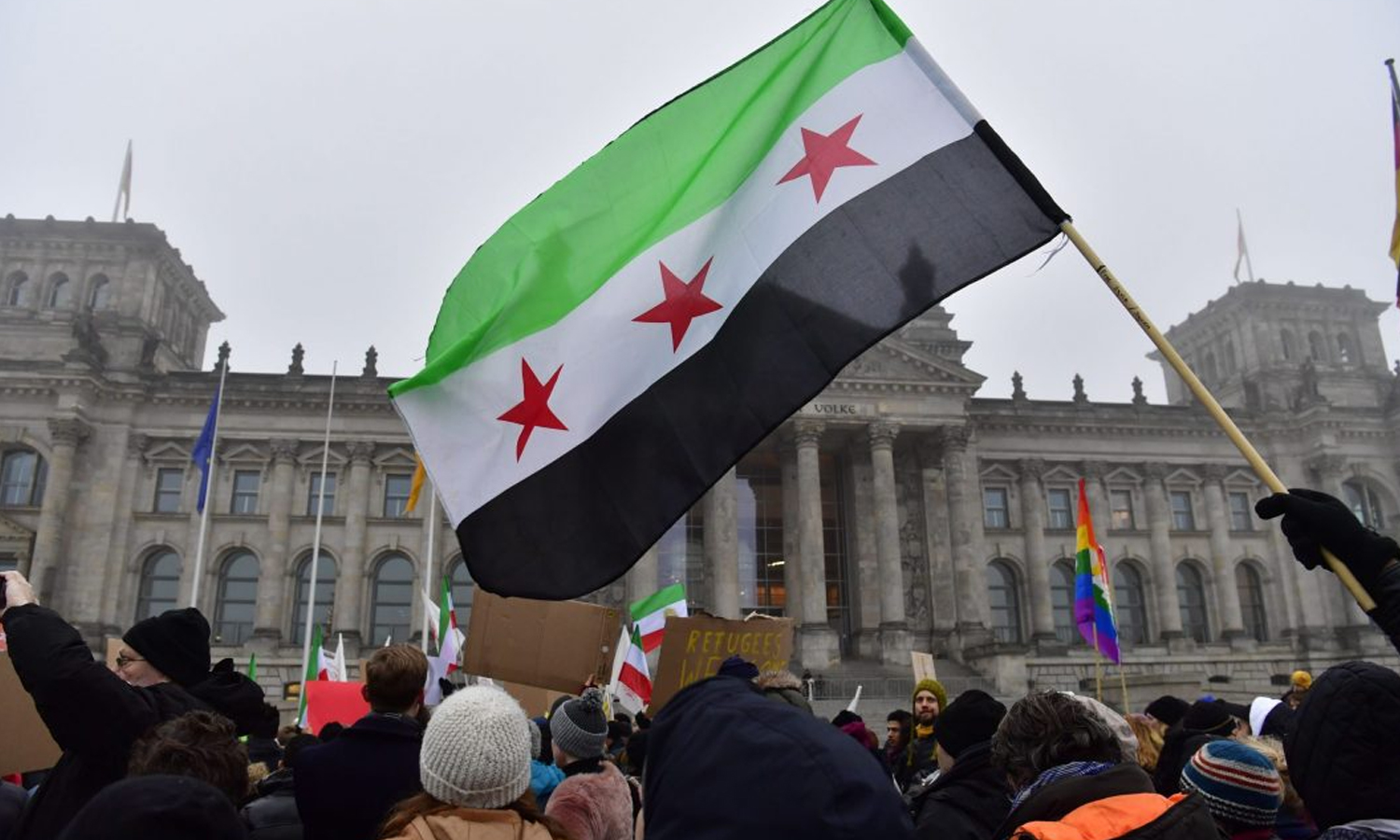 Enab Baladi – Saleh Malas
"Honestly, I sometimes feel that my belonging to Syria is a heavy burden to bear. I often wonder how much easier life would be if I was born in a different country on the other side of Planet Earth. Maybe I would face typical problems, problems that any person is prone to in a regular life. I wish I could only experience  emotional and physical health problems in addition to financial ones. This is because we, Syrians, face all these daily life challenges, but combined with a big challenge called war. Our responsibility is to continue our revolution and call war criminals to account. We assumed the full responsibility of the Syrian revolution at a very young age and we will continue to shoulder this responsibility on every step of our journey into the future." 
Ghazal al-Dokr, aged 25 years, told Enab Baladi that she has a sense of belonging to Syria and its political issues. These include the call for transitional justice, the release of detainees, and the demands of peaceful protesters who took to the street in 2011, including the change of the Assad family's regime with a peaceful transfer of power and the establishment of a State of law based on democracy and respect for human rights. 
Al-Dokr, who fled the violence in Syria for Germany in 2015 when she was 19 years old, said she could not stop comparing different aspects of quality of life in Germany with those in her country of birth, Syria. She questions herself constantly, especially when she encounters a set of different behaviors and activities during her daily university life in Germany, "if we tried, for example, this method, so would we have avoided mistakes that we should not have made?"
Al-Dokr cannot ignore what is happening in Syria at all levels. But at the same time, that makes her weary; she can hardly focus on her personal responsibilities in securing a suitable life in the city where she settled, especially as she decided not to return to Syria with criminals who have not yet been held accountable.
Syria mired in conflicts and disasters
The work for better Syria was linked politically, economically, and culturally to those who lived in Syria and were in constant contact with its issues and crises. However, thousands of Syrians have left their country at a young age with their families; they are growing up and acquiring intellectual and emotional experiences outside their home country. In other words, circumstances did not give them a chance to build any solid memory, which is supposed to be translated later into an efficient interest in the general affairs of their country. Thus, Syria's crises and issues could be within the scope of their priorities and focus during their daily life. 
Syria is facing one of the biggest humanitarian catastrophes in its modern history. Its economic, human, and social capital have been destroyed. Furthermore, national identity has fractured due to the proliferation of various forces throughout the country. With their political and military influence, these forces control the conflict areas, causing societal and cultural losses and persuading part of the Syrian youth to engage in military operations. 
According to the United Nations Children's Fund (UNICEF), about five million Syrians have been born since 2011, of whom nearly one million were born as refugees in neighboring countries.
Numerous Syrians have taken refuge in different parts of the world, especially in the EU countries.
According to a survey conducted by the Operation and Policy Center (OPC), many Damascus residents strongly wish to emigrate and settle abroad. This can be regarded as a warning to a new refugee crisis, which clearly has not ended. Syria will possibly face a demographic loss mainly among the productive and scientifically qualified age group. This poses a threat to the restoration of social stability in Syria. 
It is difficult to guess what the political, economic, and social future of Syria holds due to the instability of the situation. At the individual level, reality raises several questions, such as whether the Syrian issues that need the advocacy of the thousands of individuals who left Syria early in their lives will turn into new crises. And will they be aware of these new issues or have any role in shaping their future?
A generation fully conscious of its struggles
Al-Dokr, one of those who left Syria at a young age, said that she does not feel that she will forget or relinquish her Syrian identity over time. "Honestly this is what I feel."
At this stage of her life, the least that she could do is "watch news to remain capable of understanding what is happening. Nonetheless, I, as a human being, have the right to stay away for a while from what is going on in Syria as a self-rest."
Syrian journalist and civil society activist Kholoud Helmi told Enab Baladi that she does not have any concerns that interest in Syrian issues, especially human rights ones, will fade away in the future because a large part of the Syrian youth who arrived in Western countries carry their problems with them so that the world can hear their voices.
"Several Syrian people in the EU countries do not work mainly in politics. But, they do use their work as a platform, even at a small scale, to educate the host community through awareness-raising sessions about the great repression Syrians have been subject to and the reasons behind the outbreak of the revolution. I do believe in these people." Thus, the momentum for the Syrian issue "will not die," according to Helmi.
Advocacy for Syrian causes can be limited to specific groups of a cultural nature. Its task is to bring these causes together to continue what was started in 2011, Helmi believes.
Maybe only specific groups of a cultural nature will advocate the Syrian causes and work to unify and bring them together to continue what was started in 2011, Helmi believes. 
She continued, "I am aware that when a person gets tired, he tries to start a new life in the place he settles down. Several young people, who gave themselves a break from the Syrian crises and settled down in their new countries, started to return to highlight and defend their cause by various means."
According to Helmi, Syrian politicians and human rights activists should understand that when their work is a political activity, they could organize young Syrians in Western countries in conglomerates to know how to continue this activity.
These conglomerates, such as student and culture conglomerates, can take compelling and straightforward forms simultaneously. Actually, some conglomerates, but on a small scale, are established. These conglomerates should be expanded further to reproduce dialogues of collective memory about understanding what happened and pave the way for new forms of advocacy, as recommended by Helmi. 
 Syrians in European countries have realized the importance of building civilian communities. Some young Syrians have already organized civil society organizations in European cities, and others initiated an idea bearing the character of the Syrian-European grouping that includes Syrians in the whole European continent.
Reaching a comprehensive justice that satisfies the needs of victims of human rights violations in Syria and their family members is a long-term process. It includes cumulative stages and will pass by different generations, in which the historical narrative of what happened in Syria develops precisely to prevent misinformation that seeks to rob the rights of victims and survivors.
Preserving Syrian culture is an essential factor
In Western asylum countries, there is an absence of activities that promote the Syrian culture. Syrian families ignore teaching their children about their culture sufficiently, as they spread out increasingly to a patchwork of different communities. And all these together can be seen as a real challenge from the viewpoint of the Syrian social researcher Muhammad Sallum to continue advocating Syrian issues.
Salloum told Enab Baladi that those who left Syria for Western countries in recent years at a young age and did not learn much about their culture have to live between different cultures: their Syrian culture and the culture of their new society. They are considered first-generation immigrants. This generation will still feel a sense of belonging to Syria and its issues. However, for those born in Western countries, their level of belonging and awareness of the Syrian culture and its problems will depend on their first reference; their family. Their family should have the ability to develop this sense of belonging in their awareness and perception.
Syrians born in Western countries will live in a society whose main characteristic is that it is a mixture of many different nationalities. To retain their Syrian identity, they should preserve their linguistic and cultural heritages until they become second nature. This is because advocacy does include not only politics but also culture and arts.  
Salloum stressed that if this point were not taken into account seriously in the absence of well-established and transparent cultural blocs that could develop their tools in the countries of asylum, this would lead to a break in the political, cultural, and human experiences, which were gained during the Syrian revolution and even before that.  
"We are that generation. All of us are lucid enough to understand and remember all the crimes that have occurred around us. At the same time, we were young enough to be affected in a way that does not allow us to forget or hide our interest or our anger," al-Dokr said, thinking of the best strategies for advocating the issues that Syria is currently going through. She wants to be an influential person by making the surrounding communities aware of what is really going on in Syria.
At the same time, she has a great desire for mastering the German language. She wants to be more aware and mature to start initiatives aimed at supporting Syria and conveying the voices of Syrians. She also wants to educate the Syrian community inside or outside Syria about several important issues that the community does not have sufficient awareness of. "Prominently, women's rights for sure, because I truly believe that the liberation of women from the current oppression is the key to our liberation as whole societies, and without it we will reach a dead end."
if you think the article contain wrong information or you have additional details Send Correction