Syrian merchants refuse to consent to new bank withdrawal limits, which are stifling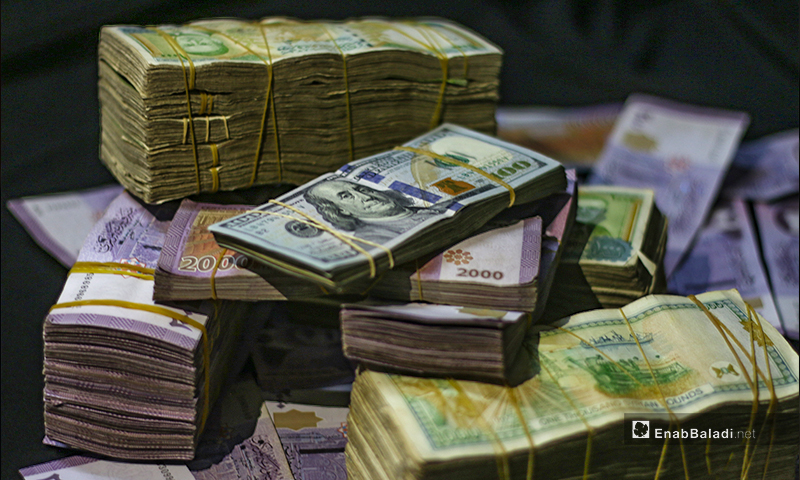 Homs – Orwa al-Mundhir
Last March, Syria's economy experienced one of its most turbulent downturns as the Syrian pound hit its lowest value since 2011, prompting the Central Bank to intervene with monetary policies aimed at controlling financial liquidity in markets and banks. 
Although the Central Bank of Syria (CBS) announced a fixed daily cash withdrawal limit of 15 million pounds (5,500 USD at the time) from its branches in November 2020, merchants and businessmen told Sky news that the limit was capped again to two million pounds (571 USD) in the capital Damascus. Enab Baladi also monitored similar limit curtails in the governorates of Aleppo and Homs, to one million pounds (285 USD) and 200 thousand pounds (57 USD) respectively.
Security checkpoints and patrols boosted readiness to curb the circulation of cash throughout the country, capturing citizens carrying sums over 5 million pounds (1,428 USD), meticulously searching vehicles in order to apprehend violators.
These crackdowns are ordered to force Syrians to rely on bank accounts and certified money transfer companies for carrying out financial transactions and stop dollar hoarding after the sharp depreciation of the Syrian currency, for the pound slid to about 5,000 to the dollar last March.
The CBS is attempting to regulate the Syrian pound's exchange rate against foreign currencies by imposing stricter measures on cash withdrawals and money transfers. The bank is, thus, set to acquire all accessible amounts of the Syrian pound, freeze as much of it in bank vaults, and keep it within the banking channels for as long as possible, denying owners withdrawals. However, these measures pose a real challenge to merchants and bank clients. 
Unannounced decision
No official or unofficial local media agency has reported any CBS official statements, neither by the governor nor representative staffers, regarding the new policy of tightening capital controls and limiting bank withdrawals. Ironically, the news about the cap on cash withdrawals from bank accounts was leaked by Sky News and Radio Monte Carlo. 
Enab Baladi learned from matching source accounts that the daily withdrawal limit was reduced to 200 thousand Syrian pounds in Homs.
An employee at Cham Bank said that the CBS issued a circular to all banks, fixing the daily withdrawal limit to two million pounds, at the end of  March. On the first of April, the bank withdrawal was limited to only two hundred thousand for all types of accounts. However, the bank did not impose restrictions on transferring funds from one account to another, whatever the amount is.
The sudden decision to cap the withdrawal limit confounded companies and store owners alike because they were not accustomed to e-payment but rather to cash.
Rushdy, a member of a procurement committee in a company in Hassia's industrial city, told Enab Baladi that the decision was "baffling" and made the company unable to pay its financial obligations to merchants who do not have bank accounts. Besides, most merchants want to get paid in cash for their products, not via account transfers. 
Rushdy confirmed that most companies lack cash flow today, adding that as a precautionary measure to preserve cash in the companies funds,  finance departments issued instructions that procurements be paid through bank transfers, not in invoiced cash. He added that these measures are challenged when certain service providers do not have bank accounts, such as maintenance workers, who accept only cash. 
Merchants against e-payment
On the heels of the new withdrawal limitations, many merchants and traders have been insisting to take the value of bills in cash, refusing to get payments through money transfers to their bank accounts because they cannot withdraw their deposits freely.
Mohsen, a merchant in the city of Homs, is one of these merchants. He refuses to conduct financial transactions through bank transfers and demands cash for the commodities he sells. He told Enab Baladi, "It is illogical that the sum of five million Syrian pounds is allowed to enter my bank account, while I can withdraw only 200 thousand pounds a day. It would take me 25 days to withdraw the whole sum. I want to highlight that companies' invoices are mostly massive. So, it would take me months to withdraw money and pay any large invoices with cash after the new decision."
The decision had a negative impact on all market activities, including real estate sales and purchases.  
Abu Mahmoud, a resident of the city of Homs, told Enab Baladi that he sold his apartment in the al-Waer neighborhood for 120 million pounds (34,285 USD) and deposited the money in the Islamic Bank, intending to buy another apartment. 
Abu Mahmoud could not convince any house owners to sell him their property after the decision because people are refusing to receive money through bank transfer, insisting on getting paid in cash.
The Syrian pound has been recording volatile exchange rates over March and April, trading approximately 4,730 to the US dollar in mid-March, recuperating to 3,375 per 1 US dollar on 17th, and fluctuating again ten days later, until it rested at 3,500 in early April. 
if you think the article contain wrong information or you have additional details Send Correction