Russians reforming Syrian regime army through military training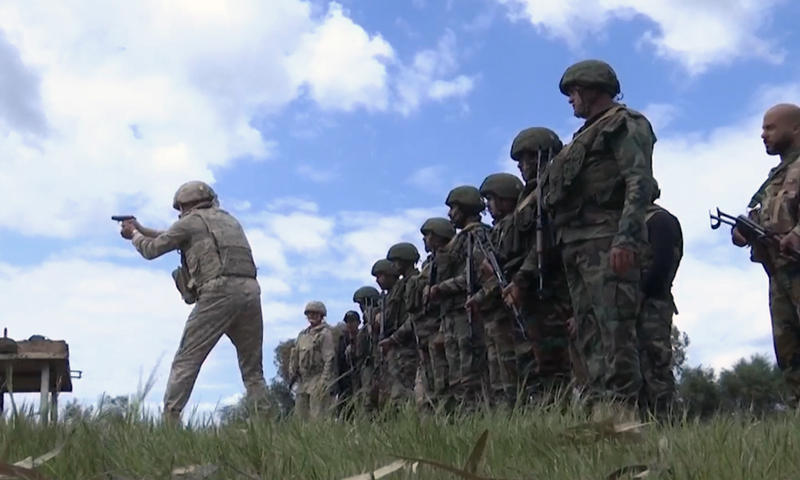 Enab Baladi – Ali Darwish
Since the beginning of the current year, various Russian media outlets have focused on covering military training sessions conducted by Russian experts and officers for Syrian regime forces. The sessions included training on small arms and light weapons, military exercises with helicopter air maneuvers, and simulations of military attacks.
Syria's front lines have witnessed relative calm since the signing of the Moscow ceasefire agreement on 5 March 2020 between Russia and Turkey. The agreement, however, was breached by the Syrian regime and Russian repeated bombing of opposition-held areas in northern Syria and limited advancement attempts that opposition factions were able to repel and cause casualties among the regime and Russian special forces.
Russia is investing in the cessation of hostilities through rehabilitating and training the Syrian regime army as part of its previous efforts to restructure the regime military to harness its enhanced potentials in the future and counterbalance Iranian infiltration, experts told Enab Baladi in a previous report.  
Small arms and light weapons training
On 14 April, Russian government media published a video showing elements of the special forces of the regime's army undergoing small arms and light weapons training with Russian-made Kalashnikov rifles and Makarov pistols near Lattakia governorate in western Syria.
Kalashnikov rifles and Makarov pistols are no strange weapons to regime forces, with the rifle being the most widely used and proliferated individual weapon in Syria.
Head of the Information Unit at Omran Center for Strategic Studies, Nawar Shaban, commented on the small arms and light weapons training by saying that for the Russians, the regime's military body is under-trained, unorganized, and unqualified for heavy weapons; therefore, they decided to limit their training to "light and medium weapons which are enough for the current stage." 
Shaban added that the Russians' training does not aim to develop the regime army as a fully-fledged institution but fill certain capacity gaps and restructure and reform it.
"The Russian endeavors, however, are badly timed as Syria remains in conflict and are better postponed to after the end of the conflict to make use of the luxury of time and security," Shaban said.
Shaban said that the Russians are unlikely to succeed in restructuring the regime's army given their past experience in southern Syria and Homs northern countryside, "where the Russians failed in reorganizing the regime's military body as a whole and succeeded in reforming part of it."
"This indicates clear imbalance in military structure, which is founded on ununified bases _fragmented with different affiliations and goals_ which the Russians will not be able to mend."
In July 2018, the Syrian regime and opposition made a settlement agreement backed by Russia in Daraa governorate. Back then, Russia integrated the Shabab al-Sunna faction (Sunni Youth) led by Ahmed al-Awda into the Russian-formed Fifth Corps and announced a new formation under the name of the Eighth Brigade.
Still, assassinations continued to take place in Daraa and targeted officers and elements from the regime's security and military forces, as well as civilian and military figures from the opposition.
In 2020, 296 persons were killed in 417 assassinations in Daraa. Another 69 people fell victim to assassinations during the first quarter of 2021, Enab Baladi monitored monthly reports by the Daraa Martyrs Documentation Office.
The Russians view themselves as investors in many sectors in Syria, and military reform and training are one of their investments. They realize that their non-involvement or overseeing of the regime's army will open the door to corruption or to other regional forces like Iran to control its manpower and structure, Shaban said.
Russia is investing heavily in the regime military's transformation and reconciliation process for future steps. Russia worked on integrating certain military formations, such as the Iranian-affiliated Quds Force, into the regime's army. The Quds Force and other military groups were incorporated in military education and training sessions by private security companies linked to Russia. 
Shaban pointed out that Russia's approach is in contrast to Iran's strategy regarding the regime's military institution. When Iran first interfered in the Syrian army, it brought together its affiliated auxiliary militias, changed their names, and included them in the military institution. Nevertheless, these armed units, such as the National Defense Forces (NDF), maintained their undisciplined militia mentality and refused to merge with the regime's army institution. 
Russian-designed training for regime forces
The Russian army conducted land-based and air combat military simulation training with helicopters for Syrian regime forces on 22 March, in which elite regime forces were selected under Russian experts' supervision on the borders of Hama and Aleppo governorates.
On 9 February, Russian officers conducted a series of military exercises for Syrian tank forces in Aleppo province. 
Russian-made tanks (T-62 and T-72) were used during training. "These tanks are the backbone of the Syrian army armored units and were adapted to the guerrilla warfare tactics of the armed groups, by adding additional armor plates and locally made anti-tank missile jamming devices to them," Russian TASS News Agency reported.
In mid-January, Russian military experts trained elements of the artillery battalion of the Fifth Corps on artillery radar detectors.
The Russian Defense Ministry's Zvezda TV channel cited Russian trainer Roman Gaurav as saying that the training aims to educate battalion elements working in reconnaissance detachments and artillery forces to have their support in future direct confrontations.
Last January, the Russian military organized training on smoke bomb camouflage and shoulder-held rocket launcher skills. In December 2020, Russian and Syrian regime forces carried out air, sea, and ground attack repulsion simulation in Tartus port.
Russia supports the Syrian regime militarily and economically. It announced its official military intervention in Syria alongside the regime on 30 September 2015.
if you think the article contain wrong information or you have additional details Send Correction